Steve Bannon's 1/5 Comments Resurface as Pelosi Says He Should Be Jailed Over Subpoena Refusal
House Speaker Nancy Pelosi said Sunday that Steve Bannon should be jailed for refusing to comply with a subpoena in the investigation of the January 6 Capitol riot, as comments he made a day before the violent event resurfaced.
Bannon, an ally and previous advisor to former President Donald Trump, said earlier this month that he would not comply with the subpoena issued by the House select committee investigating the insurrection by arguing he is protected under "executive privilege."
In response, the Democratic-led House voted to approve a criminal contempt referral against Bannon on Thursday, forcing the Justice Department to now decide whether or not he will be prosecuted. The legislative chamber voted 229-202, mostly across party lines, to approve the criminal referral.
On Sunday, Pelosi addressed the issue during an interview on CNN's State of the Union, answering "yes" when asked if Bannon should be prosecuted and jailed for refusing to submit documents and testimony for the investigation.
"It's important for a number of reasons. It's important for us to find the truth about what happened on January 6—an assault on our Constitution, our Congress, and our Capitol," Pelosi said.
Members of the bipartisan investigative committee believe that Bannon had crucial information about the January 6 attack and plans to undermine President Joe Biden's electoral victory. A day before the riot, Bannon made comments on his podcast stating that "all hell is going to break loose tomorrow"—which resurfaced across social media on Sunday.
"It's gonna be moving. It's gonna be quick. And all I can is strap in, the War Room, a posse. You have made this happen and tomorrow it's game day," Bannon said to his listeners on January 5 of this year.
In its report suggesting that Bannon be held in contempt, the House select committee focused on those comments as evidence that he "had some foreknowledge about extreme events that would occur the next day."
Biden also voiced support for the criminal referral against Bannon, stating that he hopes "the committee goes after them and holds them accountable," during an interview last week with CNN.
U.S. Attorney General Merrick Garland has declined to say whether he will move forward with charges, but he said that the Justice Department will weigh the facts and make a fair decision.
"The Department of Justice will do what it always does in such circumstances, we'll apply the facts and the law and make a decision, consistent with the principles of prosecution," Garland said Thursday during testimony before the House Judiciary Committee.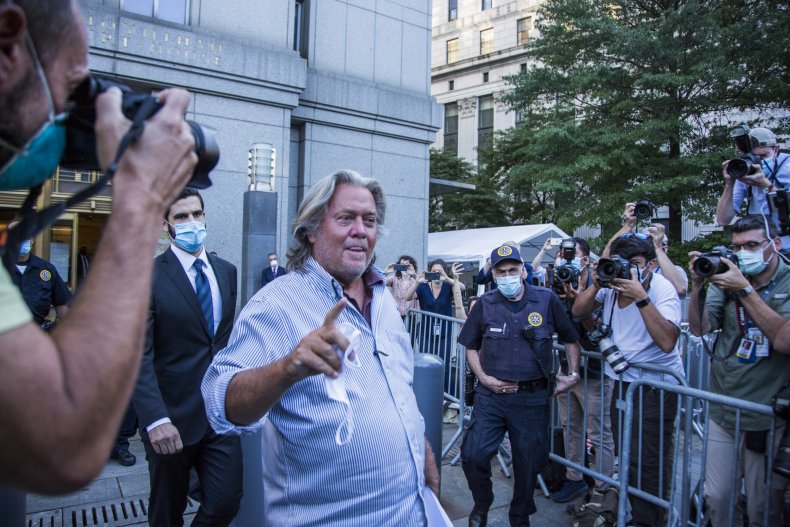 Bannon was the CEO of Trump's 2016 presidential campaign and became White House chief strategist and senior counselor to the president in early 2017. He was ousted from that role seven months later in August of the same year.
The ex-Trump aide was later arrested and charged with fraud in 2020 related to a crowdfunding campaign meant to raise funds for a border wall between the U.S. and Mexico. Before he left office in January, Trump formally pardoned Bannon, along with a number of other associates and allies.