Steve Martin Invited On 'Jeopardy!' After Lookalike Wins Tournament
Steve Martin has been invited onto Jeopardy! after learning of his lookalike Sam Buttrey, who last week won the quiz show's Professors Tournament.
Buttrey, an associate professor of operations research at the Naval Postgraduate School in Monterey, California, was seen scooping the top prize of $100,000 on Friday's episode, qualifying him for next year's Tournament of Champions.
And while his breadth of general knowledge and speed on the buzzer served him well on his road to victory, he also became a talking point on Twitter, thanks to his uncanny resemblance to comedian Steve Martin.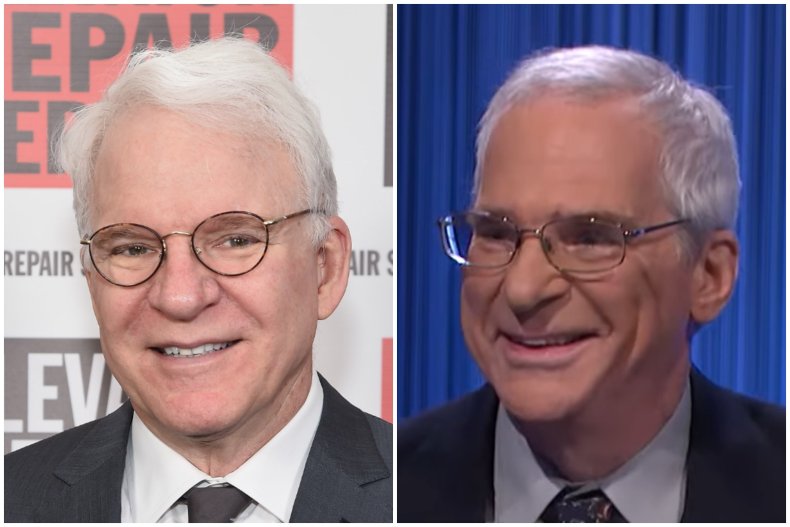 Following Buttrey's win, images of him celebrating his win with host Mayim Bialik were shared on Twitter, alongside the caption: "We're giving an A+ to Sam Buttrey for winning our first-ever #ProfessorsTournament! We'll see him in the next Tournament of Champions!"
With Twitter users continuing to comment on how much the newly crowned champion resembled Martin, the Cheaper By the Dozen star reacted to the Jeopardy! post on Saturday, writing: "So great to split the prize money with Sam!"
A response soon came from the official Twitter account, which read: "We would love to have you on Jeopardy! anytime, in any capacity!"
On Friday, a Jeopardy! fan tagged Martin in a separate post, in which a captioned screenshot was shown of Buttrey answering a clue that read: "A type of frost and a Middle Eastern ruler."
While Buttrey answered "rime" and "emir" to the clue, Martin kept things comical as he responded: "What is mire?"
The star has yet to publicly respond to the offer to appear on Jeopardy!—which has, in the past, aired celebrities competing on the show for charity.
Speaking of his time on the show after his win, Buttrey told Jeopardy! in an interview: "This has been the greatest time, and to come out ahead of all these other great players is something I'll remember forever.
"The group was uniformly so smart, charming, and warm, and there's been a real feeling of camaraderie from the very beginning."
With his victory qualifying him for the Tournament of Champions, Buttrey will face off against some of the show's biggest names from the past year, such as Matt Amodio, Jonathan Fisher and Amy Schneider—and it's a prospect he's looking forward to.
"I know there are some strong players, but I want to go up against them," he said. "I would like to play against Matt Amodio, he's a strong player and I'd like to see how I can do."
With the two-week Professors Tournament now concluded, broadcasts of the regular primetime show will air from Monday night.
Schneider, who has made history as the first transgender woman to qualify for the Tournament of Champions, will return to vie for her 14th consecutive victory.