Steven Crowder Punched Photo Resurfaces After Black Farmers YouTube Video Sparks Outrage
Social media users have been resharing images and videos of right-wing commentator Steven Crowder being punched in the face by a union worker as he is condemned over a racist rant he and his co-hosts gave about Black farmers on Tuesday.
The images of Crowder being attacked stem from a protest against right-to-work legislation in Lansing, Michigan, in December 2012. Crowder had put an edited version of the altercation onto his YouTube channel, a segment of which was broadcast on Sean Hannity's show on Fox News.
However, as noted by The New York Times blog "The Lede," Crowder's edited video cut a part showing the man who punched him being knocked to the ground a few seconds beforehand.
Prosecutors later said they would not be filing charges against the man who punched Crowder, ruling he was acting in self-defense.
The attack on Crowder, known for giving a number of controversial and offensive opinions, is being brought up again as he is being widely criticized for unleashing a series of racial slurs and tropes about Black people while discussing President Joe Biden's COVID relief bill, which includes a $5.2 billion provision for Black farmers.
During his show, Crowder described how Biden's America Rescue Plan includes "reparations" for "many farmers of color."
After emphasizing that the funds are being distributed to "farmers of color," Crowder plays a clip explaining that the $5.2 billion provision will "address decades of discrimination" against Black, Hispanic, Native American and Asian American farmers who have historically been excluded from government agricultural programmes.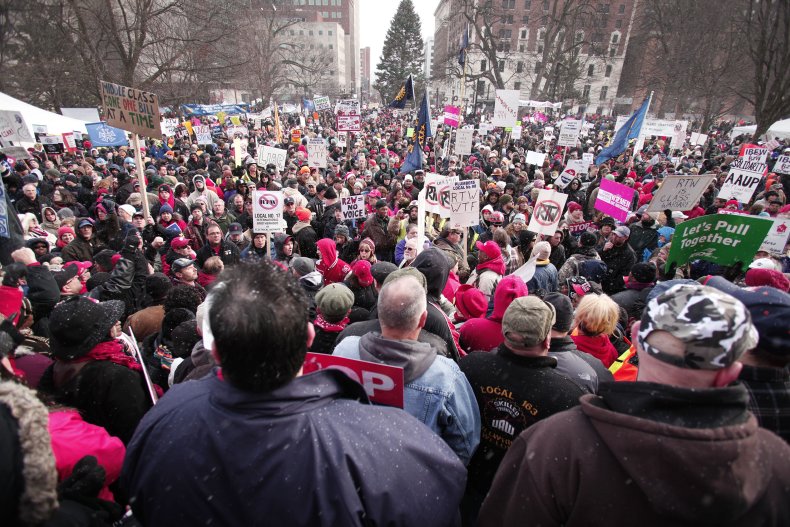 After playing the clip, Crowder said: "Most happy about the new policy, these people," before showing a mocked up image of Grant Wood's American Gothic with a Black man wearing a hooded top, bandana and sunglasses and a woman in a ski-mask, in place of the white husband and wife in the original painting.
Putting on an exaggerated accent to mock Black people, Crowder adds: "I'm gonna buy a plow man. I'm going to buy a John Deere. Barack Obama mother...I'm the president of plowing that a**."
Crowder and his co-hosts then make a series of stereotypical jokes about Black people, asking if people are "lining up out in the middle of cornfield Iowa" to buy Nike trainers and suggesting Black would attempt to plant a tree to grow cognac.
Human rights lawyer Qasim Rashid tweeted: "Amazing how racists ignore 266 years of free labor, 100 years of Jim Crow, 40 years of redlining, 0 reparations paid, ever—but get upset at $5B one time after 400 years of oppression. Crowder is a white supremacist. Change my mind."
MSNBC host Mehdi Hasan added: "This is a person who a sitting Republican senator, Ted Cruz, has loudly defended and also appeared on his show. The normalization of racism, especially anti-black racism, continues."
The clips of the segment about Black farmers arrive as YouTube confirmed it pulled one of Crowder's videos for violating the platform's coronavirus content policies. Other social media users asked YouTube why it has also not taken down the rant about Black farmers.
YouTube has been contacted for comment.
This graph, provided by Statista, shows the spending breakdown of President Joe Biden's $1.9 trillion American Rescue Plan. Data: The Wall Street Journal