Steven Crowder Faces Racism Backlash After Mocking 'Reparations' for Black Farmers
YouTube personality Steven Crowder is facing criticism for comments about Black farmers that have been widely perceived as racist.
During Tuesday's episode of Louder with Crowder, the conservative commentator mocked a provision in the COVID-19 stimulus package that provides $5.2 billion for Black farmers, calling it "reparations" for "colored farmers." His co-host Dave Landau also made a reference to slavery.
"This is a person who a sitting Republican senator, Ted Cruz, has loudly defended and also appeared on his show," tweeted journalist Mehdi Hasan.
"The normalization of racism, especially anti-black racism, continues," added the MSNBC host.
Jason Campbell, a researcher at Media Matters for America, called the comments a "wildly racist tirade against Black farmers."
Media Matters was the first to flag Crowder and Landau's remarks and criticism mounted from there.
Many Twitter users shared Campbell's tweet and added their own commentary. Some appeared shocked by the language used, while others reacted by sharing a separate video of Crowder being punched in the face in 2012.
"I didn't know people were still doing racism like this. It's so laughably retrograde," tweeted writer Kimberly Nicole Foster.
"However bad you think this is, it's worse. It's just jaw-droppingly blatant racism," said David French, senior editor at The Dispatch and a columnist for Time magazine.
"[T]his is WAY worse than I expected," tweeted Jesse Thorn, host of NPR's Bullseye, a show about popular culture. "Like: worse than I expected even coming from a doof who seems to be doing his announcing while wearing one of those gun holsters like he was an undercover cop on TV in 1977."
Although Crowder's remarks were widely mocked on social media, others viewed them with serious concern. Author and human rights activist Qasim Rashid drew attention to the history of discrimination against Black Americans.
"Amazing how racists ignore 266 years of free labor, 100 years of Jim Crow, 40 years of redlining, 0 reparations paid, ever—but get upset at $5B one time after 400 years of oppression," Rashid said.
"Crowder is a white supremacist. Change my mind," he added, echoing a famous meme featuring Crowder.
The graphic below, provided by Statista, shows the breakdown of the $1.9 trillion stimulus package.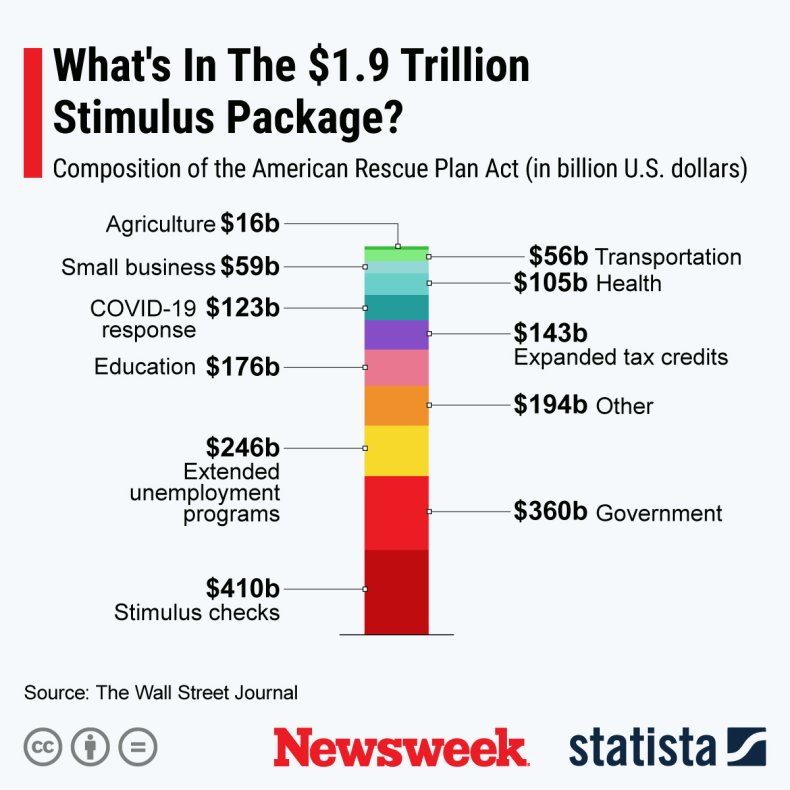 Landau had referred to slavery on the show, saying: "I thought the last thing they would want to do is be farmers. Wasn't that a big problem for hundreds of years?"
In 2019 there were just 45,000 Black farmers in the U.S. out of a total of 3.4 million, reported The Guardian. They have historically faced discrimination and the funding in the stimulus bill is designed to reduced racial inequalities.
The American Rescue Plan also includes another $5.2 billion for other farmers. Farming remains a major source of employment for many Americans.
Sleeping Giants, a campaign group that says it is committed to making "bigotry and sexism less profitable," tagged YouTube in a tweet about Crowder's video.
"Hey, @TeamYouTube, why are you allowing this absolutely shockingly racist show to be monetized by advertising?" the group wrote. "Which of your advertisers are okay with being placed on a segment about 'colored farmers?'"
This isn't the first time Crowder has faced criticism. Last month he endured a backlash after joking that Democratic Rep. Alexandria Ocasio-Cortez had been abused by Karl Marx.
Newsweek has asked Google, YouTube's parent company, for comment on Crowder's video.