Direct stimulus payments of $600 are being sent out as political maneuvering continues over boosting these to $2,000.
The Internal Revenue Service (IRS) announced in a statement on Tuesday that the money was beginning to be distributed, firstly as direct deposits then with paper checks to start being sent out on Wednesday.
"We are working swiftly to distribute this second round of payments as quickly as possible," IRS Commissioner Chuck Rettig said in a statement.
"This work continues throughout the holidays and into the new year as we prepare for the upcoming filing season."
Treasury Secretary Steve Mnuchin said in a series of tweets on Tuesday that some people may receive the payments overnight.
The IRS outlined that those who it already has direct deposit information for will receive their payment this way, while those it does not will be sent the money as a check or a prepaid debit card.
Checks will be tracked through the IRS website later this week. Newsweek has asked for details on when this will be possible, as well as to ask for specifics on the timeline for distributing the payments.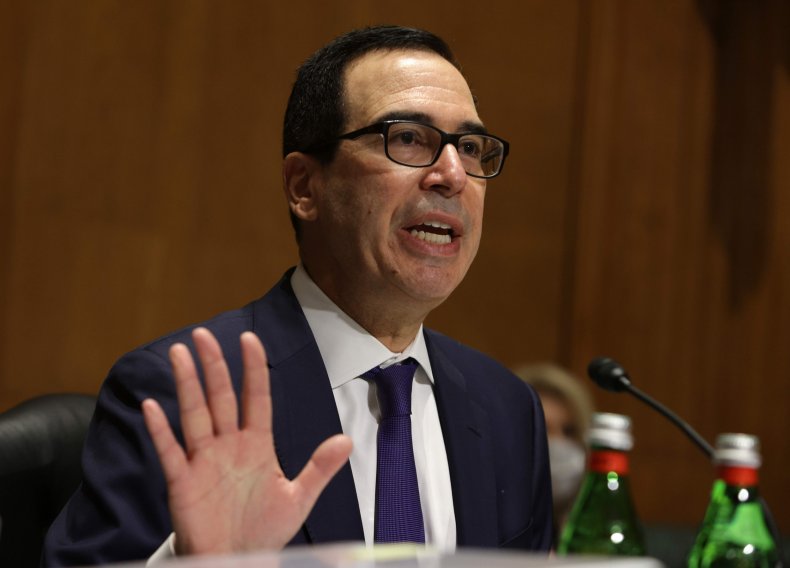 When the first round of stimulus checks were signed off in March the IRS distributed around 81 million payments in two weeks, according to a Government Accountability Office (GAO) report.
Due to processes being in place and more information available to the IRS this time, these payments could potentially be distributed quicker than the first round.
The payments come after President Donald Trump signed the latest relief legislation on Sunday, including the $600 direct payments.
While this amount has been secured, there is a continued pursuit for this to be boosted to a maximum payment of $2,000. Trump has argued for this, citing it as one reason he delayed signing the relief bill.
A measure to increase the payment also passed the House. It has since been put forward in the Senate, though a vote on the matter was blocked.
Senate Majority Leader Mitch McConnell (R-KY) has since introduced a proposal including the check boost but also measures less palatable to its supporters, such as a move to repeal Section 230 of the Communications Decency Act and to fund further investigations into alleged election fraud.
The latter points are both desires of Trump, who continues to rail against the election outcome despite there being no evidence of fraud which could actually alter the results.
The gambit laid out by McConnell has been criticized by political opponents, who have called for a vote purely on the $2,000 checks.