Stimulus Package on Backburner Amid Congress' Vacation, Police Reform Bill
Lawmakers in Washington are on a time crunch.
Congress wants another—likely the last—stimulus package to get out the door and sent to the president's desk before an unemployment boost expires at the end of next month. But to do so, the Senate may need to modify its July 4 break or put lawmakers' favorite phrase of "walk and chew gum at the same time" to good use—a practice that Congress regularly struggles with.
Lawmakers are prioritizing police reform, setting their sights on approving legislation before the Senate skips town for a two-week July 4 vacation. Upon return, legislators then need to approve a major annual reauthorization defense policy bill, which will take another two weeks until their month-long August recess.
"It's possible" that the Senate shortens its July 4 holiday, Senator James Lankford (R-Okla.) told Newsweek. "It's obviously been done before," the majority deputy whip added.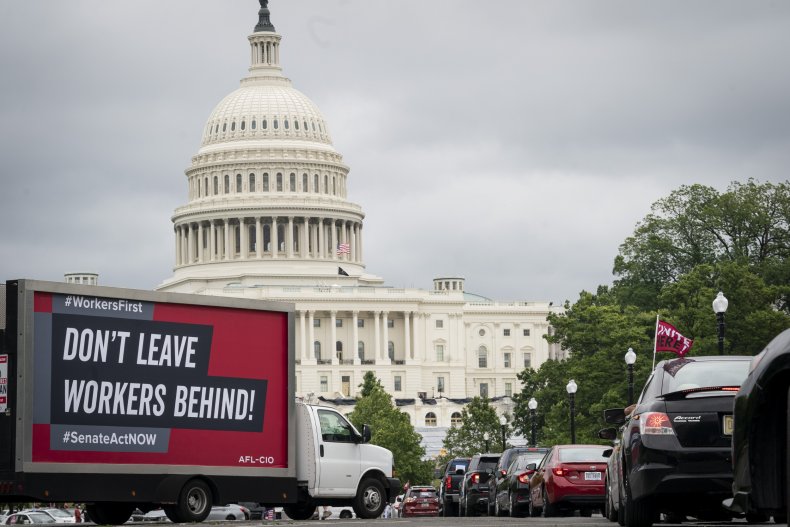 As recently as April, the Senate skipped a scheduled recess as it worked to pass other aid packages to combat the coronavirus pandemic's economic downturn. The House left Washington in mid-March, only returning since then periodically to approve pandemic-related legislation.
The race to reform America's local policing agencies in the wake of George Floyd's death has thrown a wrench into lawmakers' schedule. Democrats and Republicans must reconcile their differences in their dueling proposals to combat police brutality, a task that will be difficult—but not impossible—to achieve before Independence Day.
The National Defense Authorization Act (NDAA) then needs to be debated and passed in the last two weeks of August to approve the military's annual budget, a process that is expected to be met with hurdles thanks to disagreements among Republicans and President Donald Trump over whether military assets should have their Confederate names stripped.
Plus, legislators still need to negotiate the terms and approve another stimulus prior to August. Democrats, Republicans and the White House are all on different pages when it comes to what provisions should be included, a far less united stance than Washington's leaders had on previous coronavirus relief bills.
Still, Senate Majority Leader Mitch McConnell said on Friday that "if there is something that's going to happen, it will emerge in the Senate, it will be written beginning in my office and it will be done in July."
House Democrats narrowly passed a $3 trillion plan in May, which includes an extension of the $600 per week federal jobless boost through January 2021, state and local aid, another round of individual checks and hazard pay for essential workers.
But McConnell has labeled the legislation as a non-starter. Meanwhile, Senate Republicans grapple with at what rate—if any—the extra unemployment payout should continue and for how long. McConnell reiterated his stance Friday that it should be allowed to expire and not be renewed in any capacity.
Then, there is the Trump administration. White House trade adviser Peter Navarro suggested the next bill should total around $2 trillion, Federal Reserve Chairman Jerome Powell warned economic recovery was at risk without more congressional help and Treasury Department Secretary Steven Mnuchin said he's open to a second stimulus check.
McConnell earlier this week declined to endorse Navarro's suggestion. He's previously said he'd like a package to top out around $1 trillion.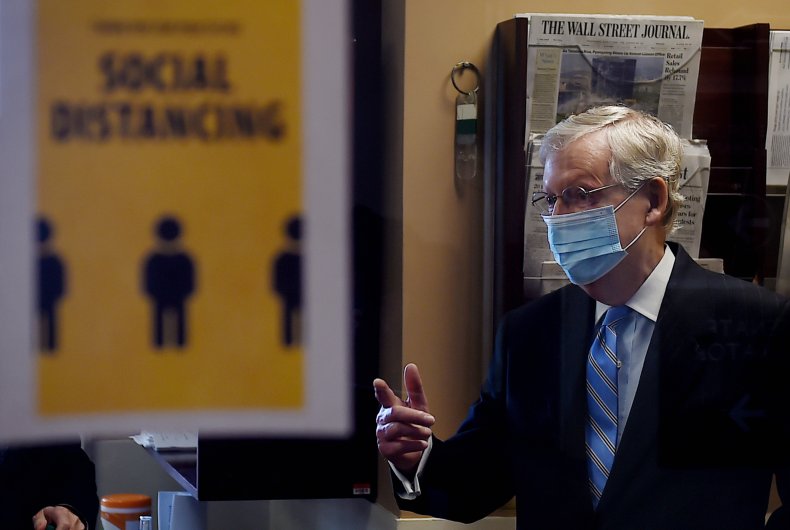 Top White House adviser Kevin Hassett reiterated Friday that Trump is still eyeing a payroll tax cut—which has minimal support from Democrats and Republicans—and they're discussing expanding or continuing the unemployment insurance increase.
Trump has also mentioned infrastructure funding and tax incentives for the restaurant, entertainment and travel industries. House Democrats unveiled a separate infrastructure package on Thursday, a sign of the bipartisan willingness to address the country's crumbling roads and bridges.
But while various policy proposals have been thrown around, McConnell has offered little insight about what he believes should be included, only to say that liability protections for companies must be incorporated and the weekly jobless boost must end.
Unemployment claims have plateaued in recent weeks at an abnormally high rate—at or above 1.5 million new filings each week—as the country struggles to lift itself out of a recession. Still, many Republicans feel the extra federal unemployment money is a disincentive to return to work because some can work more money through their benefits. Some GOP lawmakers are pushing for a back-to-work bonus from the federal government, an idea the White House has said they're open to.
House Speaker Nancy Pelosi is not keen on only passing certain pieces of their package, whether it be continuing the unemployment boost, state and local aid, individual checks or hazard pay for frontline workers.
"I haven't seen any initiative on their part," the California Democrat said of her Republican colleagues. "The one-piece, state and local government [aid]...costs half of what the Republicans did in their tax scam, which gave 83 percent of the benefits to the top one percent, did not provide any stimulus to the economy and heaped $2 trillion of debt onto our children."