Stimulus Package Delay Caused by 'Do-Nothing Senate' Which Must Now Act, Sanders Says
Vermont Sen. Bernie Sanders has bemoaned the "do-nothing Senate" amid the ongoing stimulus package stalemate, calling again for boosted financial support to help individuals across the United States amid the COVID-19 crisis.
Sanders, an independent who caucuses with the Democrats, has previously pushed for monthly payments of $2,000 to American households throughout the pandemic and renewed this call as he criticized the lack of relief action.
He also highlighted his desire to see enhanced unemployment benefits backed, as well as flagging healthcare as a priority.
"The American people can't afford to wait any longer," he said in a recent tweet.
"Every working class American needs $2,000 a month.
"Every unemployed American needs $600 a week.
"Every American needs healthcare as a human right.
"No one in America should go hungry or homeless.
"The do-nothing Senate must act."
His comments come amid the ongoing delay over a further stimulus package, with nearly eight months having passed since the CARES Act was signed by President Donald Trump.
While lawmakers on both sides of the aisle have voiced support for further relief measures in some form disputes over the specifics of such action have led to an impasse.
The Democrats have twice passed further bills through the House, the HEROES Act and an updated version, though these have faced push back in the Senate.
Republican-led proposals have also failed to muster support in the upper chamber.
Democrat figureheads House Speaker Nancy Pelosi (D-CA) and Senate Minority Leader Chuck Schumer (D-NY) recently called upon Senate Majority Leader Mitch McConnell (R-KY) to renew negotiations with them in a bid to facilitate a package able to pass through the House and the Senate.
Their staff have met in recent days to discuss the matter.
Newsweek has contacted Sanders, the other lawmakers mentioned for comment on stimulus.
The discussions come with enhanced unemployment support measures from the CARES Act due to expire next month.
The below graphic, from Statista, highlights the number of people who could be affected by these programs ending.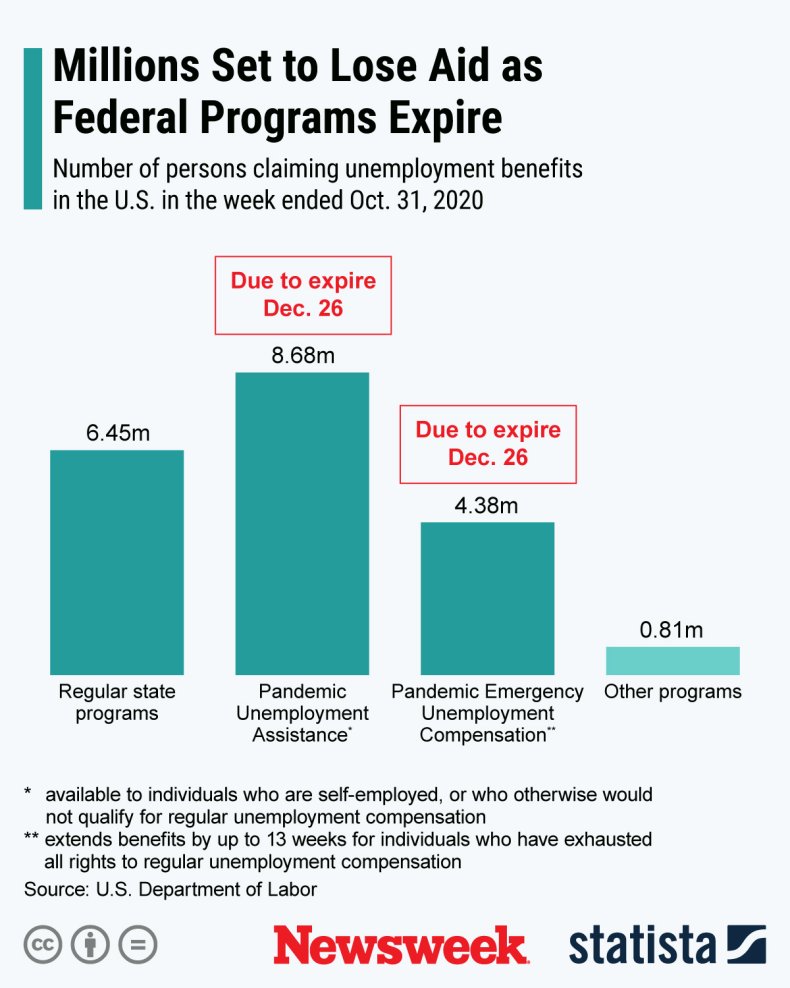 While this bring a renewed focus on the discussion surrounding unemployment benefits, talk of a second round of stimulus checks also continues with polling having indicated public support for another set of these payments being distributed.
The debate over stimulus rolls on with coronavirus infections continuing across the nation.
According to Johns Hopkins University figures, the number of confirmed COVID-19 cases in the U.S. has surpassed 12 million.