Stimulus Talks in Congress Remain Hopelessly Deadlocked
In a split-screen scenario Thursday that featured House Speaker Nancy Pelosi talking to reporters on one side of the Capitol while Senate Majority Leader Mitch McConnell descended to the floor on the other, the two lawmakers traded some of the most politically-charged rhetoric to date about their coronavirus relief proposals.
The partisan barbs amplified just how divided Washington's leaders are over how—or even if—they should further assist the American people in recovering from the pandemic's toll on the economy. If ever, it appears the earliest that federal aid from Congress could come will be sometime in September, given lawmakers' recess and the lack of negotiating.
The Senate adjourned Thursday afternoon until September 8 but could return early if a deal is reached. The House has been out since the end of July and will return September 14, minus a deal. As of Thursday, there were no future scheduled conversations or meetings between congressional leaders and Trump officials.
And even while President Donald Trump has issued executive orders to try and unilaterally offer relief for payroll taxes, student loans, enhanced jobless benefits and some renters and homeowners, the lack of legislation means measures like another round of checks, aid for schools reopening and broader rental assistance cannot occur.
"Perhaps, you mistook them for somebody who gave a damn," Pelosi, a California Democrat, told reporters of Republicans. "The press says, 'Why can't you come to agreement?' Because we are miles apart in our values."
McConnell said Democrats are simply "throwing spaghetti at the wall to see what sticks."
"Heck—by the speaker's logic, they should have just opened with their entire $93 trillion Green New Deal," the Kentucky Republican continued. "Then they could have blamed the president for not meeting them halfway at the cut-rate bargain sum of $45 trillion."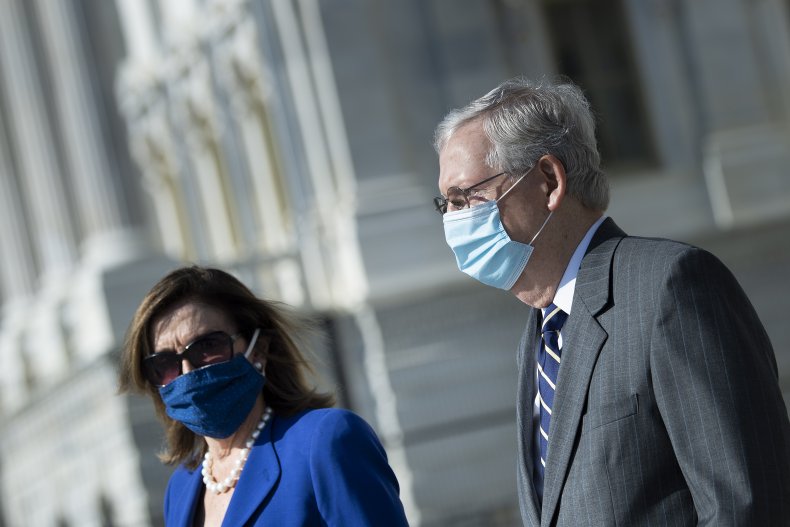 Talks are virtually non-existent between Democratic leaders and the Trump administration following the collapse of negotiations last week and Trump's executive orders. Or, as White House senior economic adviser Larry Kudlow described it, they are at "a stalemate."
A brief conversation between Pelosi and Treasury Secretary Steve Mnuchin, who along with White House chief of staff Mark Meadows is negotiating for the president and congressional Republicans, yielded zero progress.
Democrats are pushing for their $3.4 trillion HEROES Act while Republicans and the White House have stood firmly behind a $1 trillion proposal, so far unwilling to budge from the trimmed-down package. Democrats have offered to meet somewhere in the middle.
"They called yesterday, and the secretary said, 'Would you like to sit down?' And we said what we have said all along: you [go up] $1 trillion, we'll [come down] $1 trillion [sic]," Pelosi recounted. "But we're not sitting at the table to validate what you have proposed because it does not meet the needs of the American people."
In a statement on Wednesday, Mnuchin said that Pelosi "made clear that she was unwilling to meet to continue negotiations unless we agreed in advance to her proposal."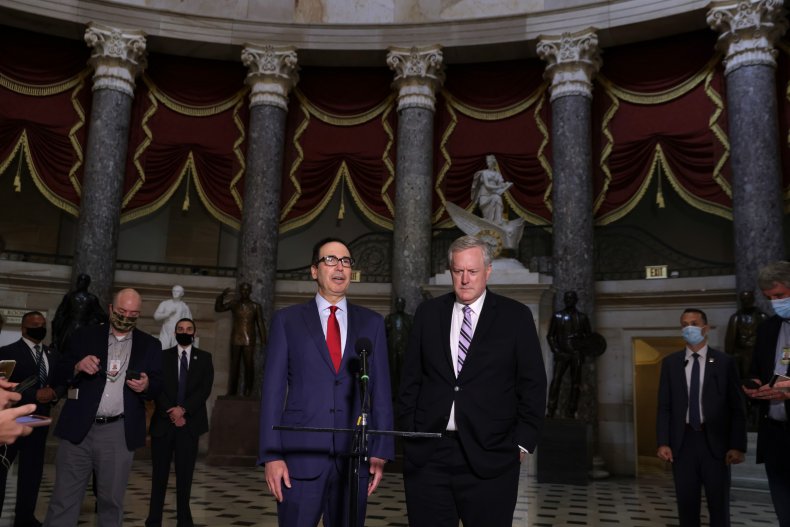 McConnell contended that Democrats "haven't budged on their absurd demands." That's because he said Democrats offered to lower their price tag but simply shorten the time period to offer relief, meaning they still have "the exact same crazy wish-list."
"That's not negotiating. That's throwing spaghetti at the wall to see what sticks," McConnell expounded. "People who have serious policy proposals that are fitted to actual needs cannot breezily knock off a trillion here and add a trillion there."
The impasse means any potential deal, which at this point appears far from likely, would not come until likely the end of September.
The next two weeks will bring both the Democratic and Republican national conventions, plus lawmakers remain at home for August recess. Upon return, legislators must then turn their focus to the government's funding that runs out at the end of September and avert a government shutdown either by approving a dozen spending bills or a stopgap funding measure, the latter of which is almost certain to happen. Lawmakers have floated the idea of wrapping coronavirus relief into a temporary spending bill.
Asked about the prospect of passing a stimulus before September rolls around, Senator Pat Roberts (R-Kans.) said, "Maybe that's too much to ask. Who knows?"
McConnell said he's "still hoping we'll have some kind of bipartisan agreement sometime in the coming weeks," adding that he was not worried about a potential shutdown.
If the two sides can strike a deal on a package, it would likely take roughly a week to draft the official text, given its size and scope.
Amid dissent among Senate Republicans over whether and how much to spend, GOP leaders and Trump officials have pushed for a piecemeal approach by breaking up the broad proposals into individual pieces. Pelosi soundly rejected that notion once again, even though more moderate and vulnerable members of her own caucus have grown agitated with the logjam.
"This is not even being in the same room—boardroom table, kitchen table," Pelosi said. "Unless they see the reality of what it means in the lives of the American people, what good is it for us to agree to something that has no relationship to meeting the needs of the American people?"