Stormy Daniels' Attorney Says, 'Yes,' Porn Star Had Sexual Relationship With Donald Trump on NBC's 'Today' Show
Porn star Stormy Daniels' attorney, Michael Avenatti, stated that his client had a sexual relationship with President Donald Trump on NBC's Today show on Wednesday morning.
On Tuesday, Avenatti filed a lawsuit in Los Angeles contesting a confidentiality agreement that Daniels—real name Stephanie Clifford—signed in October 2016. He dismissed it as null and void because Trump never signed it.
On Wednesday morning, Avenatti appeard on NBC's Today and CBS This Morning to explain why the adult film actor is now willing to speak out about what is claimed to be a nearly one-year affair that began in July 2006.
Today's Savannah Guthrie pointedly asked: "[Daniels'] lawsuit states that she had an intimate relationship with the president. Let's not bother to be delicate: Did she have a sexual relationship with the president?"
Avenatti answered: "Yes."
In January, The Wall Street Journal broke the news of a hush agreement between Daniels and Trump, arranged through his personal lawyer, Michael Cohen. Daniels received $130,000 to keep quiet about her alleged relationship with Trump. But in February, Cohen claimed the payment was made out of his own pocket—seemingly to protect Trump from any potential blowback.
"We think it's highly questionable it came from his personal funds," Avenatti told Guthrie. "There's no question the president knew about it at the time."
Both Daniels and Trump denied any affair in statements to the Journal in January. However, in February, Daniels hinted on Jimmy Kimmel Live that the signarure on the statement provided to the newspaper by Cohen was not, in fact, hers.
When Guthrie asked if Daniels had lied in the statement, Avenatti said, "Mr. Cohen demanded that she sign that statement." Avenatti also said that Daniels had been intimidated to remain silent about her alleged affair with Trump.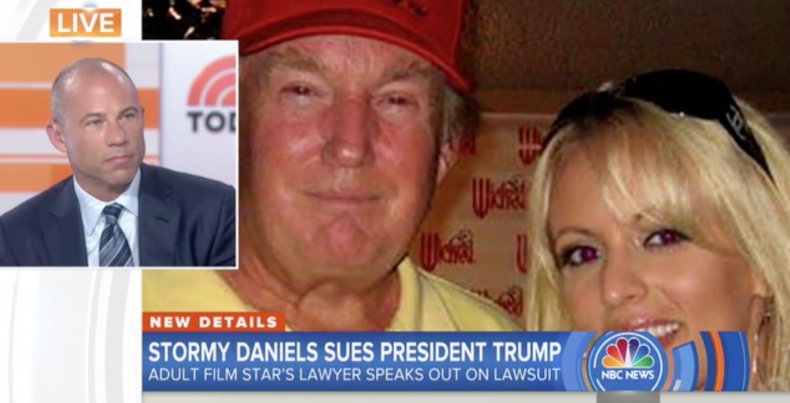 "There's so much misinformation out there that has been spread by Mr. Cohen and others. She wants to set the record straight," Avenatti said on CBS This Morning, in an interview with Gayle King, Norah O'Donnell and John Dickerson.
Asked if she seeks to profit from her story, the attorney said: "Absolutely not."
Details of Daniels' alleged affair with Trump have trickled out in the two months since the Journal published its article. In a 2011 interview with In Touch that went unpublished at the time but resurfaced in January, Daniels said she met Trump at a celebrity golf tournament in Lake Tahoe, Nevada, in July 2006. They had sex in his hotel room during this period.
At the time, Trump had been married to First Lady Melania Trump for just over one year. The couple had welcomed their only child, son Barron, in March 2006.