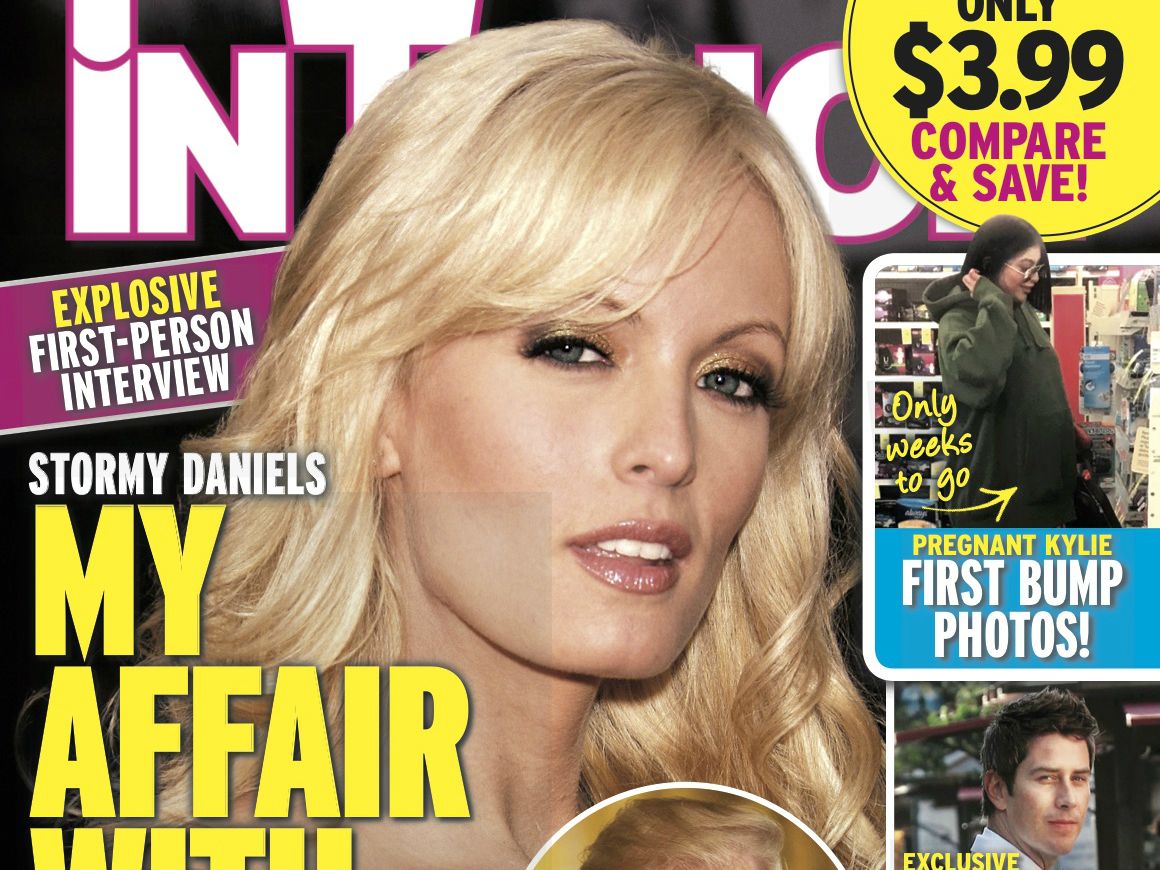 It was a story that broke on January 12. The Wall Street Journal reported that in October 2016, a month before the presidential election, a personal lawyer for President Donald Trump paid porn star Stormy Daniels $130,000 for her silence on an alleged 2006 affair she had with the Apprentice host. Daniels accepted the payment and kept quiet—at least from that point on.
But Daniels hadn't always kept quiet. In a twist befitting a daytime soap, Trump's dirty little secret got out by way of an interview the adult film star gave to In Touch Weekly in 2011. On January 17, the full interview hit the newstands. "My Affair With Donald," read the cover in all-caps. Inside, Daniels—real name Stephanie Clifford—gave all the lurid details about the alleged affair. They had "textbook generic" sex; Trump made her watch Shark Week; and his main seduction tactic was promising to get her on The Celebrity Apprentice.
So why didn't In Touch run its exclusive with Daniels back in 2011? Trump was, at the time, a major television star and businessman—a married one, at that. Back then, President Trump was just a silly notion in The Simpsons, but it could have still been a big story. Instead, the interview sat in In Touch's archives and gathered dust for six years—until The Wall Street Journal ran its story about a settlement between Daniels and Trump.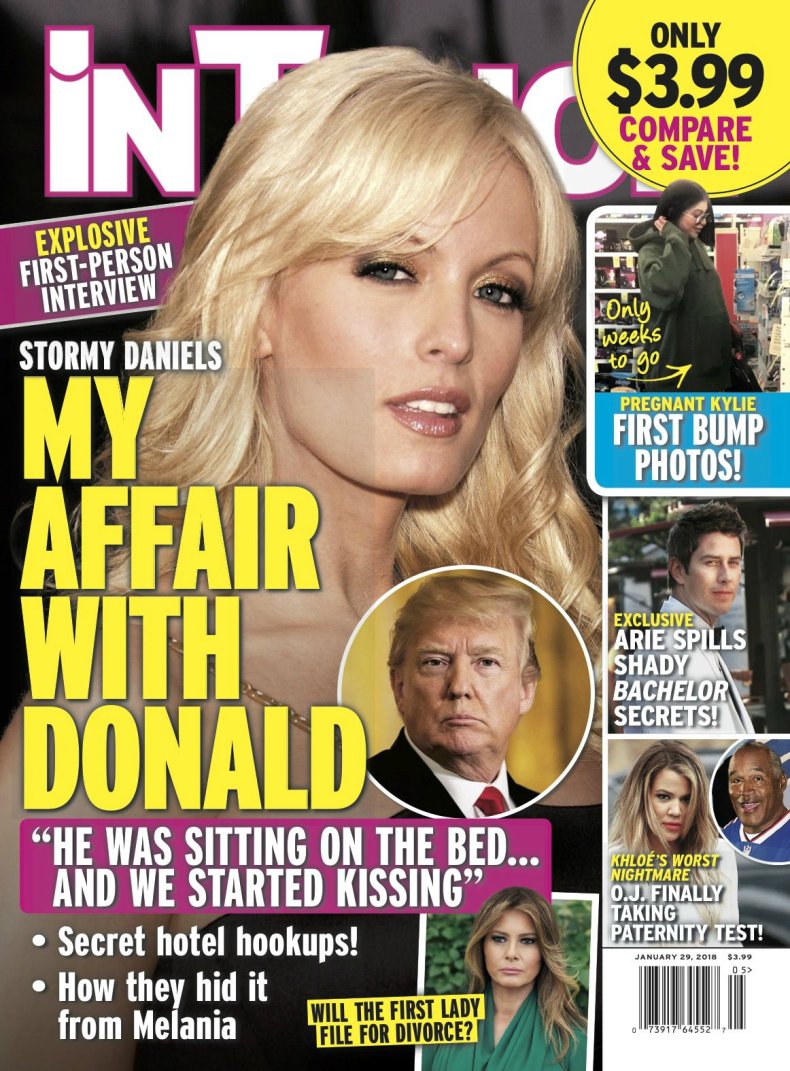 The Washington Post asked the same question in January. In Touch's editorial director James Heidenry, who joined the magazine in November 2017, said he didn't know why it didn't run. In January, website The Dirty published a cease-and-desist letter sent to owner Nik Richie by Daniels's legal team to stop the site from publishing anything regarding the alleged affair. The New York Post speculated that In Touch's interview with Daniels didn't run partly because of "legal threats from Trump's team."
The journalist who interviewed Daniels for In Touch in May 2011, onetime Bauer employee Jordi Lippe-McGraw, told Newsweek she was as much in the dark as everyone else. "Unfortunately, I don't know why it wasn't published. Editorial decisions were made all the time on the top level to not run stories," said Lippe-McGraw. Bauer Media Group USA, In Touch's publisher, did not return numerous requests for comment from Newsweek.
Though Lippe-McGraw has long since left Bauer, she said she indirectly alerted her former employer to the interview's existence, which ultimately led to it running January 17.
"I haven't worked for the magazine in three years and write other types of content now. So, I never really thought about this interview I did six years ago," she explained. "When I saw the initial report from the [Wall Street Journal] that Stormy Daniels was paid off before the election, I reached out to a contact I still have at the magazine and informed her about the interview I did with Stormy about this affair. It was then brought to the editorial director, and they decided to run it." Presumably the editorial director Lippe-McGraw referred to is Heidenry, who took credit for its publication when speaking to the Post in January. Again, Bauer did not return numerous requests for comment.
Lippe-McGraw said she didn't remember how she got assigned the interview with Daniels in May 2011. But she believed Daniels's story. Trump, via lawyer Michael Cohen, denied any affair between them to The Wall Street Journal.
In Touch said it had thoroughly vetted Daniels's story and that she'd passed a polygraph test at the time of the interview. The magazine said it corroborated certain details from Daniels's version of events with people she spoke to about the affair, including her ex-husband.
"As with any story, I always did my due diligence with reporting. You have to be skeptical at first about any story, but after speaking with her, having her take a lie detector test and speaking with several other sources to corroborate the story, I was convinced she was telling the truth," said Lippe-McGraw.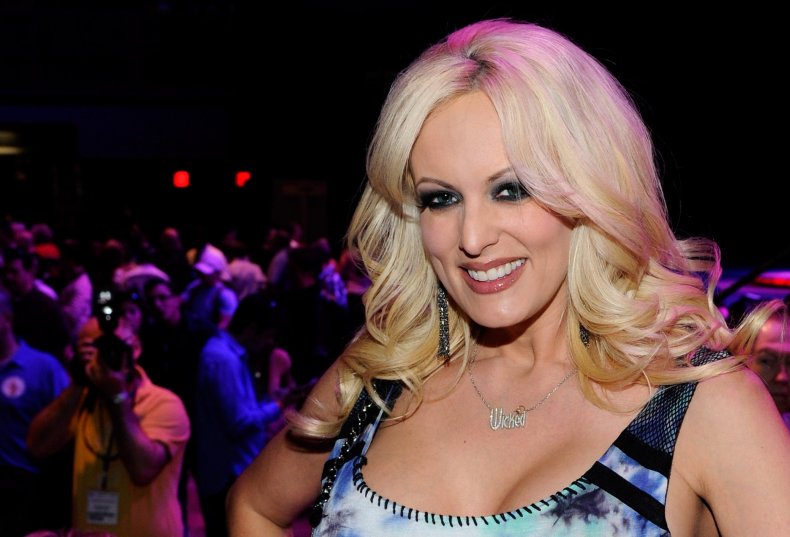 The journalist said she had every reason to believe the polygraph taken by Daniels was accurate. "All I know is she did pass a polygraph at the time, and the test took place in Las Vegas. The administrator of the test was a professional and had a standardized process," Lippe-McGraw recounted.
There has been fresh scrutiny of Trump and his treatment of women since The Wall Street Journal and In Touch stories were published. His alleged affair with Daniels began in July 2006, just four months after Trump and his wife Melania had their first child.
"I never thought an interview I did six years ago would become major news," said Lippe-McGraw, reflecting on the wild story about the president and a porn star. "I also never thought Donald Trump would become our president. So it's been really interesting to see my thorough reporting on someone who was a reality star become mainstream news, with The New York Times and Wall Street Journal weighing in."