'Stranger Things,' Emma Watson Win at Gender-Neutral MTV Awards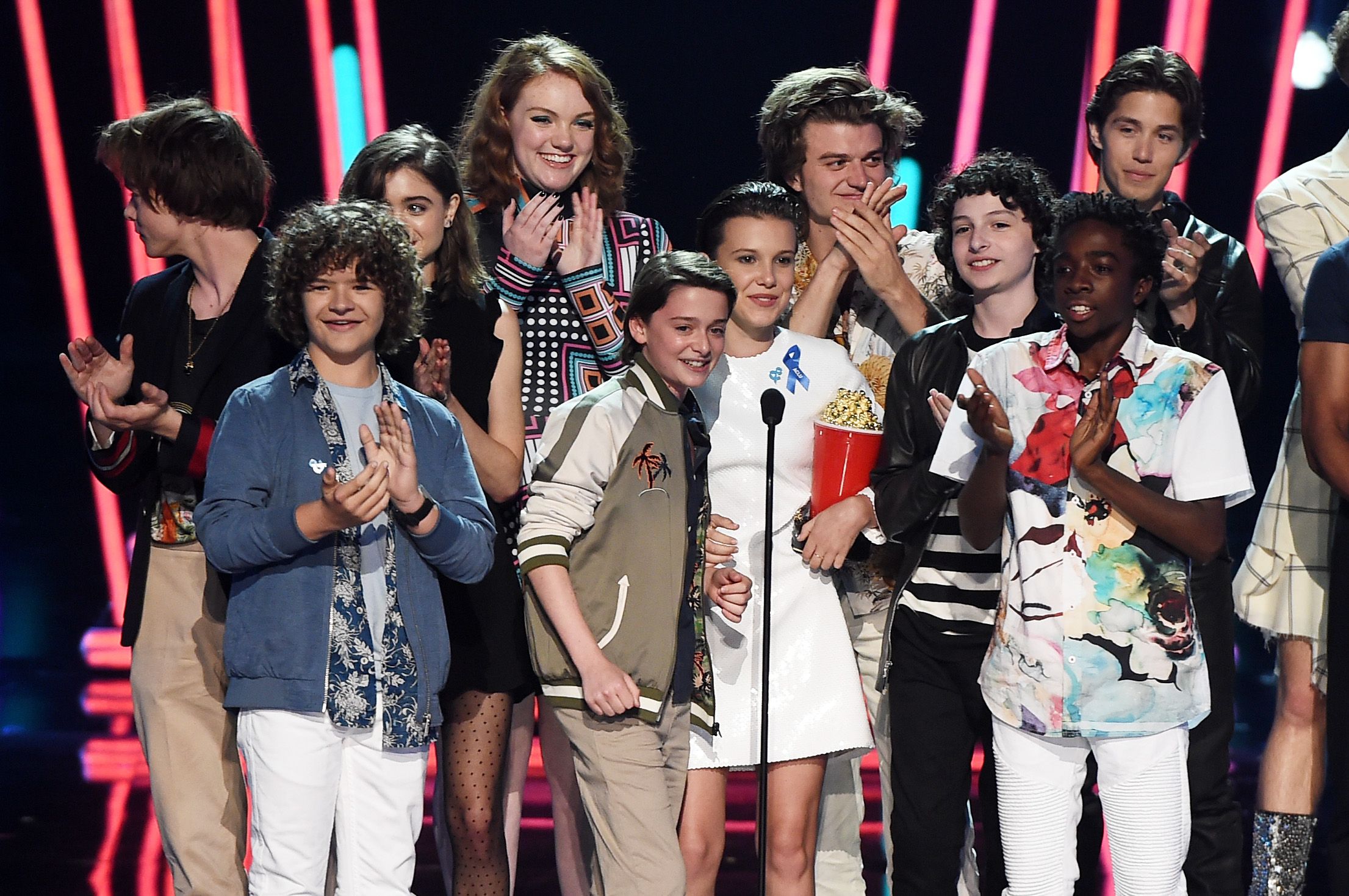 Stranger Things picked up the first-ever TV show of the year award at the rebranded MTV Movie & TV Awards Sunday night.
Millie Bobby Brown, one of the break out child stars of the hit Netflix drama won the award for actor in a TV show for her portrayal of telekinetic heroine Eleven. Brown, 13, bested Game of Thrones 's Emilia Clarke and The Walking Dead 's Jeffrey Dean Morgan in the category.
The British actor got teary-eyed as she thanked Stranger Things creators Matt and Ross Duffer for creating "a badass female, iconic character that I've got the honor to play."
Brown was congratulated on her victory by the likes of actor Zac Efron and her co-star Shannon Purser, who played Barb in season one.
The TV show of the year prize was awarded to the young cast of Stranger Things by the cast of Netflix's latest hit drama 13 Reasons Why, which was renewed for a second season Sunday.
In the traditional movie award categories, Disney's Beauty and the Beast won movie of the year.
Star Emma Watson—who played Belle in the live-action adaptation of the classic 1991 animation—won what is now a gender-neutral best actor in a movie award, beating Logan 's Hugh Jackman and Taraji P. Henson in Hidden Figures .
"The first acting in history that doesn't separate nominees based on their sex says something about how we perceive the human experience," said Watson accepting the golden popcorn statue. "MTV's move to create a genderless award for acting … to me, it indicates that acting is about the ability to put yourself in someone else's shoes, and that doesn't need to be separated into two different categories. Empathy and the ability to use your imagination should have no limits. This is very meaningful to me."
Get Out actor Daniel Kaluuya won the next generation award following his star-making turn in Jordan Peele's race-driven horror. Best hero was Taraji P. Henson for her portrayal of Katherine Johnson, the real-life mathematician who broke gender and racial barriers at NASA in Hidden Figures .
Oscar winner Moonlight continued its hot awards streak by claiming the prize for best kiss. The award was won by Ashton Sanders and Jharrel Jerome, the teenagers who played Chiron and Kevin.
See a selected winners list below:
Movie of the year: Beauty and the Beast
TV show of the year: Stranger Things
Best actor in a movie: Emma Watson, Beauty and the Beast
Best actor in a TV show: Millie Bobby Brown, Stranger Things
Best fight against the system: Hidden Figures
Next generation: Daniel Kaluuya
Best duo: Hugh Jackman and Dafne Keen, Logan
Best kiss: Ashton Sanders and Jharrel Jerome, Moonlight
Best comedic performance: Lil Rel Howery, Get Out
Best host: Trevor Noah, The Daily Show
Best hero: Taraji P. Henson, Hidden Figures
Best villain: Jeffrey Dean Morgan, The Walking Dead
Best reality competition: RuPaul's Drag Race
Best American story: Black-ish