'Stranger Things' Season 4 Volume 2: Is Max Mayfield Dead?
Stranger Things Season 4 came to a dramatic conclusion with its final episodes on Friday, July 1.
Volume 2, which consisted of two episodes, saw the residents of Hawkins face their most difficult opponent yet, Vecna (Jamie Campbell Bower).
The villain, whose origins were revealed in Volume 1, went all out in the Netflix hit's finale and the events of the episode had dire consequences for Max Mayfield (Sadie Sink).
Warning: This article contains spoilers for 'Stranger Things' Season 4 Volume 2
Does Max Mayfield Die in 'Stranger Things' Season 4?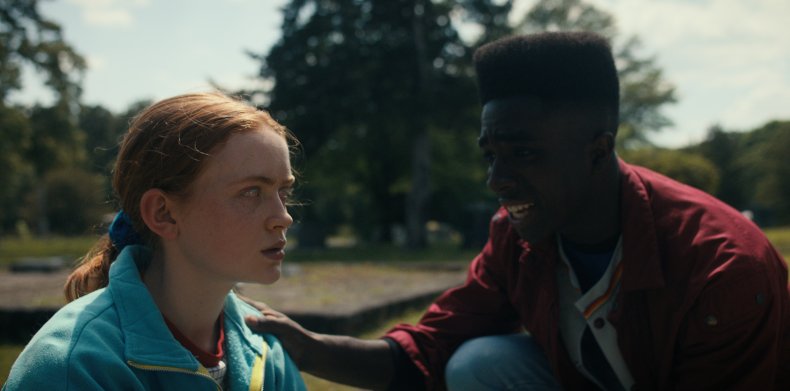 Max and the residents of Hawkins decided to go up against Vecna with a well-thought-out plan that saw Max try and draw out Vecna in the real world by putting aside her life-saving Kate Bush music.
As she does this, Nancy Wheeler (Natalia Dyer), Steve Harrington (Joe Keery), and Robin Buckley (Maya Hawke) head into the Upside Down to attack the villain, while Eddie Munson (Joseph Quinn) and Dustin Henderson (Gaten Matarazzo) distract the creatures of the other world.
Max does successfully get Vecna's attention and he thrusts her into a world of her own torment that she tries to navigate, and although she is able to evade him for a time, Vecna does eventually catch up.
Eleven (Millie Bobby Brown) is there to protect Max, though, and she tries to fight Vecna from within Max's mind.
At first Eleven succeeds but then Vecna imprisons her in his Mind Lair and starts to kill Max in front of her.
In the real world, Max begins to levitate and her arms and legs are broken by the creature, with Lucas Sinclair (Caleb McLaughlin) fighting off Jason Carver (Mason Dye) to try and help her.
Eleven is able to rip free from Vecna's bonds and she stops him from finishing Max off, which gives Steve, Nancy, and Robin the opening they need to attack the villain in the Upside Down.
Max returns to the real world but the damage done by Vecna is too much for her to bear and she dies in Lucas' arms, with Eleven watching through her psychic powers.
Her death leads to Vecna's plan coming to fruition and an earthquake rocks Hawkins and brings the Upside Down into the real world.
Despite this, Eleven decides to resurrect Max using her abilities and two days later it is revealed that she was successful, to some extent.
While Max is left in a coma thanks to Eleven's intervention, it is not clear if she is really there, because when the hero enters her mind she is unable to find Max in the darkness.
This could mean a multitude of things for the character: Max could simply be lost and Eleven will need to find her and help her return to her body, or Max is actually dead and though her body remains her spirit is gone.
Max could also become a vessel for Vecna given she was his final victim, or perhaps Eleven's intervention in her death will lead Max to getting powers of her own. The possibilities are endless.
What is clear is that it is highly unlikely that show creators Matt and Ross Duffer chose to have Eleven resurrect Max for no reason, so she will no doubt face the consequences of her actions in the Netflix hit's final season.
Sink has shared that she doesn't know what comes next in Season 5, but she has spoken about how she felt about Max's journey in the fourth season.
Stranger Things Season 4 Volume 2 is out on Netflix now.