'Stranger Things' Season 4: What Sadie Sink Said About Max's Fate in Part 2
There's no denying that Stranger Things Season 4 has truly been Sadie Sink's for the taking.
The actor plays Max Mayfield, who has struggled not only with her grief following her step-brother Billy Hargrove's death in Season 3 but also becoming the target of this season's villain Vecna.
Season 4 Volume 2, in particular, sees Max face her demons (both internal and external) in the Netflix juggernaut's epic two-part showdown.
Warning: This article contains some spoilers for 'Stranger Things' Season 4 Volume 2.
What Has Sadie Sink Said About Max's Fate in 'Stranger Things' Season 4 Volume 2?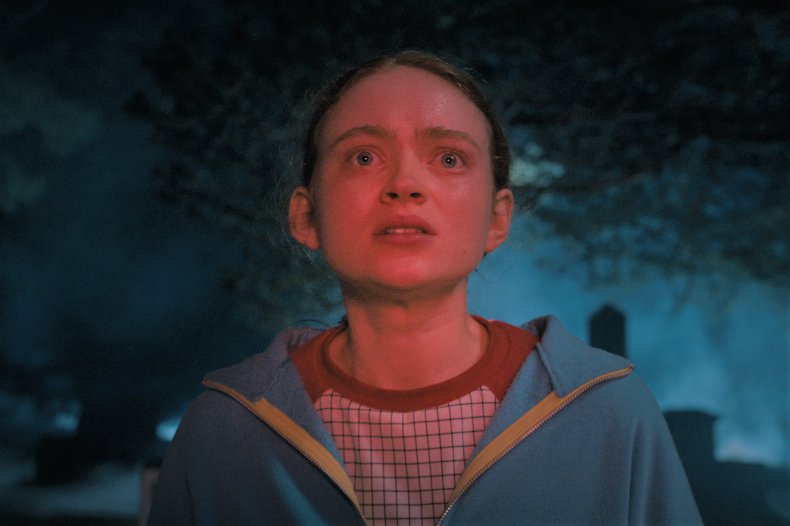 Sink gives the performance of a lifetime in Stranger Things Season 4, one that has even prompted co-star Winona Ryder to call her "the next Meryl Streep".
Volume 1's episode "Dear Billy" certainly gave Sink the chance to show off her acting skills as Max confronted her guilt over not helping Billy (Dacre Montgomery) in time in Season 3, and dealing with how she felt that perhaps he didn't deserve saving from the Mind Flayer.
This came to a head when Vecna (Jamie Campbell Bower) used her darkest thoughts against her and projected a vision of Billy to torment and chase her down, and it was only thanks to Lucas (Caleb McLaughlin), Dustin (Gaten Matarazzo), and Steve (Joe Keery) that she survived the encounter.
Volume 2 sees Max choose to do away with the life-saving music of Kate Bush in order to draw Vecna out, and it's all part of the Hawkins crew's plan to defeat the villain before he can destroy the world as they know it.
By doing this, though, Max is once again thrust into danger and her confrontation with Vecna takes some dramatic, and pretty emotional, turns despite how hard Eleven (Millie Bobby Brown) tries to protect her.
Sink reflected on what happens to her character in Volume 2 in an interview with The Hollywood Reporter, sharing how "brave" she felt Max was to go up against the villain head-on.
The All Too Well star explained: "Max's journey in Volume 2, I think, is about how she has to make some really brave choices. And she has already, but I think she has to really step up and be braver than she's ever been before.
"So, that was a nice side of her to see; taking charge of her own life, her own fate and kind of taking a stand, which she's always been good at, but this is to the extreme.
"So, it's nice to see that fiercer side of her, which we caught kind of a glimpse of through the last bit of episode four when she's choosing to fight. So I guess just a little bit more of that."
Fans who have managed to binge watch Stranger Things as soon as it was released might also be wondering what's in store for Max in Season 5, particularly given her character is left in a coma at the end of the finale.
Sink explained to the publication that she doesn't know "anything" about Season 5, let alone where the final episodes will see her character go next, because show creators Matt and Ross Duffer have decided to keep their plans a secret from the cast.
Stranger Things Season 4 Volume 2 is out on Netflix now.