Strangers Save Woman's Photos of Dead Dad From Being 'Lost Forever'
Total strangers reunited a Vermont woman with lost images of her dead father while she was still in the immediate throes of grief, she said.
Jen Rose Smith, a writer and editor in Richmond, Vermont, recounted the story in a Twitter thread that captivated the internet on Tuesday. She began the post with a selfie taken next to her dad, both beaming, on a hiking trail in Washington's Olympic Mountains.
"A day after we took this 2 years ago, my dad fell to his death in the Olympic Mountains. I miss him terribly," she wrote. "After he died, though, an astonishing thing happened that still fills me with gratitude and hope—here's how 3 strangers saved this photo from being lost forever."
Smith explained that their party of five people got off-route on the second day of their week-long hike through the Bailey Range Traverse. Her dad fell down a steep gully and tumbled out of sight.
"I dropped my pack, and climbed downwards over steep scree towards the place where he disappeared," she said.
He died in the fall. The group struggled to move him amid sliding rocks. Later, a Navy rescue unit winched Smith and her father's body out of the gully. In the horror of the moment, Smith said her pack was the last thing on her mind.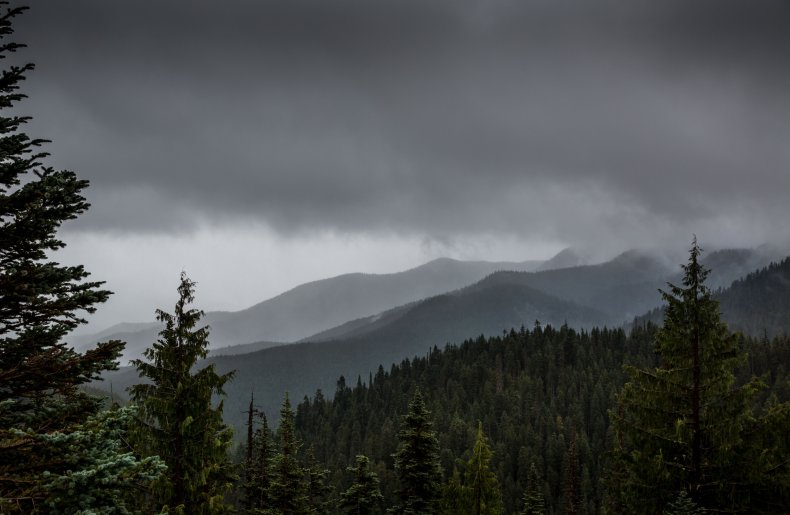 Still reeling in the days after her father's death, Smith said she "began to bitterly regret the loss of the final images of his life."
"They were on my cell phone, in my backpack, at the top of the gully," she wrote. "Strapped to the outside of my pack was an ice axe [sic] my dad carried for more than 50 years."
Smith's mother had driven them to the trailhead. After dropping them off, she happened to meet a friendly family from Forks, Washington. The family said they had hiked the Bailey Range Traverse multiple times and exchanged phone numbers with Smith's mom.
A week after her father's death, Smith's mother told her, "I want to ask them if they'll look for your pack."
"That seemed totally wild to me," Smith recalled. "Unreasonable. But I didn't want to shut her down. We were all off the hinges with grief and shock and trauma. Who was I to tell her what she could do?"
Although the daughter was sure they would say no, the family decided to hunt the mountain range for her lost pack. They walked for four days—two in, two out. Smith said she worried for their safety and doubted they would ever find her lost treasures. But then they called.
The complete strangers had found her pack, split up her possessions and carried everything back out of the Olympic Mountains.
"Every day, I see that last selfie I took with my dad—it's pinned to the wall by my desk," Smith said. "This family's extraordinary generosity will touch me for the rest of my life. When I remember my dad, I remember them too."
The woman's story went viral on Tuesday, stirring the hearts of thousands of readers online.
"Your story made me cry," commented Suzanne McCain. "I grew up hiking in these mountains."
"What an amazing story...both the blessing of having those photos and the kindness of strangers," said Catherine Thomas.
The chance of dying while mountain hiking in the U.S. is one in 15,700, according to the Russell Newcombe & Sally Woods Centre for Applied Psychology. Wandering off trail is the number one reason hikers require search and rescue, ahead of bad weather, injury and loss or failure of equipment, according to data from SmokyMountains.com.
Although mountain hiking deaths are rare, they often rocket to national news. In April, a Utah man fell 50 feet to his death after a ledge broke loose at the San Rafael Swell, a popular canyon formation. A 21-year-old hiker died in January after falling 700 feet from an Arizona mountain peak while he was attempting to take a selfie. And last year, a California woman plunged to her death while hiking on an oceanside trail in California.
Newsweek reached out to Smith for comment.