Footage of a group of young French people has gone viral after they filmed themselves incorporating energy-saving moves into their parkour stunts—by turning off businesses' illuminated signs at night.
Parkour is a sport that involves traversing environmental obstacles by running, climbing, or leaping rapidly and efficiently and mid flips and jumps. The group—thought to be students in the southern city of Montpellier—leap and climb up the sides of buildings to flick off the outside lights of various premises around the city.
More than 6 million people have watched the footage, which was shared on Twitter.
The video, set to music, has divided opinion online over whether the group's actions are a form of "vandalism" or whether they constitute a peaceful protest by saving power amid a global energy crisis.
The one-minute clip shows the outdoor lights of various businesses being turned off from unsecured switches next to the signs. Most of the premises are closed, such as shops and a bank, although some do appear to still be open at the time, including a McDonald's restaurant and a hotel.
Many tweets seemed supportive of the group, with French commenters posting they agreed with the group's actions.
One wrote: "Frankly they are right to do so, should still prohibit traders and others from leaving their signs on all night."
Some claimed that laws already made it illegal to leave the signs on overnight, with one person adding the group were simply acting to "enforce the law" and save energy.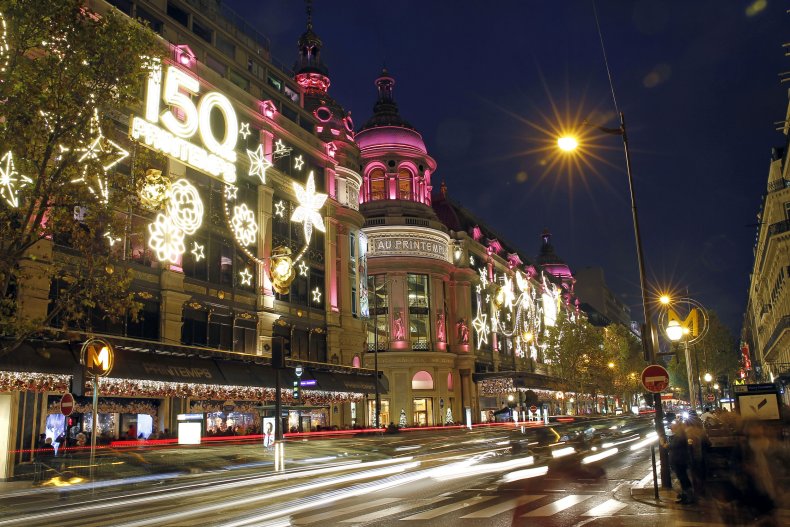 But many were critical, with some tweeters saying they didn't want to see darkened streets at night. One French twitter user wrote: "In France, we have non-polluting energy and life is good because where there is light, there is life in the streets: less crime and aggression where there is life and shops."
Another claimed that darkened shops at night would invite looters.
Some French-speakers mocked the group. One tweeted in response to the video: "Made by guys dressed from head to toe in Chinese-made clothes, and transported by boats whose impact on the planet is known. Obviously all this filmed with an Iphone !!! Bunch of suckers!!!"
Another added: "Stupid. You turn off high voltage LED or neon signs which do not consume much; will perhaps be extinguished a little later by timer and risk causing damage, the repair of which will require the costly CO2 trip of an electrician!"
Over on English-speaking Twitter, the reaction was equally divided. Some were concerned that turning off lights that had been intended to remain on was an act of "vandalism." Others feared the switches controlled power inside the shops too, and could therefore turn off fridges and freezers causing food to go off, or leave customers or workers in the dark. But several people pointed out the switches only controlled the outdoor lighting, and that lighting remained on in the businesses shown in the video.
One wrote: "It is only Americans claiming this, as you can see. Every French person is correctly pointing out that these only switch off lights and were created when neon lights were common (because they are a major fire hazard)."
Others praised the group for taking "constructive" peaceful action, with one writing, "This is not vandalism!"
Much of the world is currently facing an energy crisis, although the situation is particularly acute in Europe, which has been affected by sanctions against Russian gas exports to the continent as a punishment for the country's invasion of Ukraine. The energy industry was already facing increased demand as countries try to rebuild economies battered by the COVID-19 pandemic.
American drivers and vehicle owners in other nations have seen the cost of fuel soar at the pumps. And on Tuesday, Texans were warned of the risk of rolling power blackouts, with demand for energy skyrocketing during a heatwave as homes and businesses cranked up their air conditioning units.
In June President Joe Biden re-emphasized his commitment to reducing U.S. consumption of fossil fuels and increasing the country's supply of green energy as part of his attempts to tackle climate change.
Newsweek has reached out to representatives for the mayor of Montpellier, Michaël Delafosse.