Sudan: Darfur Votes to Retain Status Quo in Boon for Bashir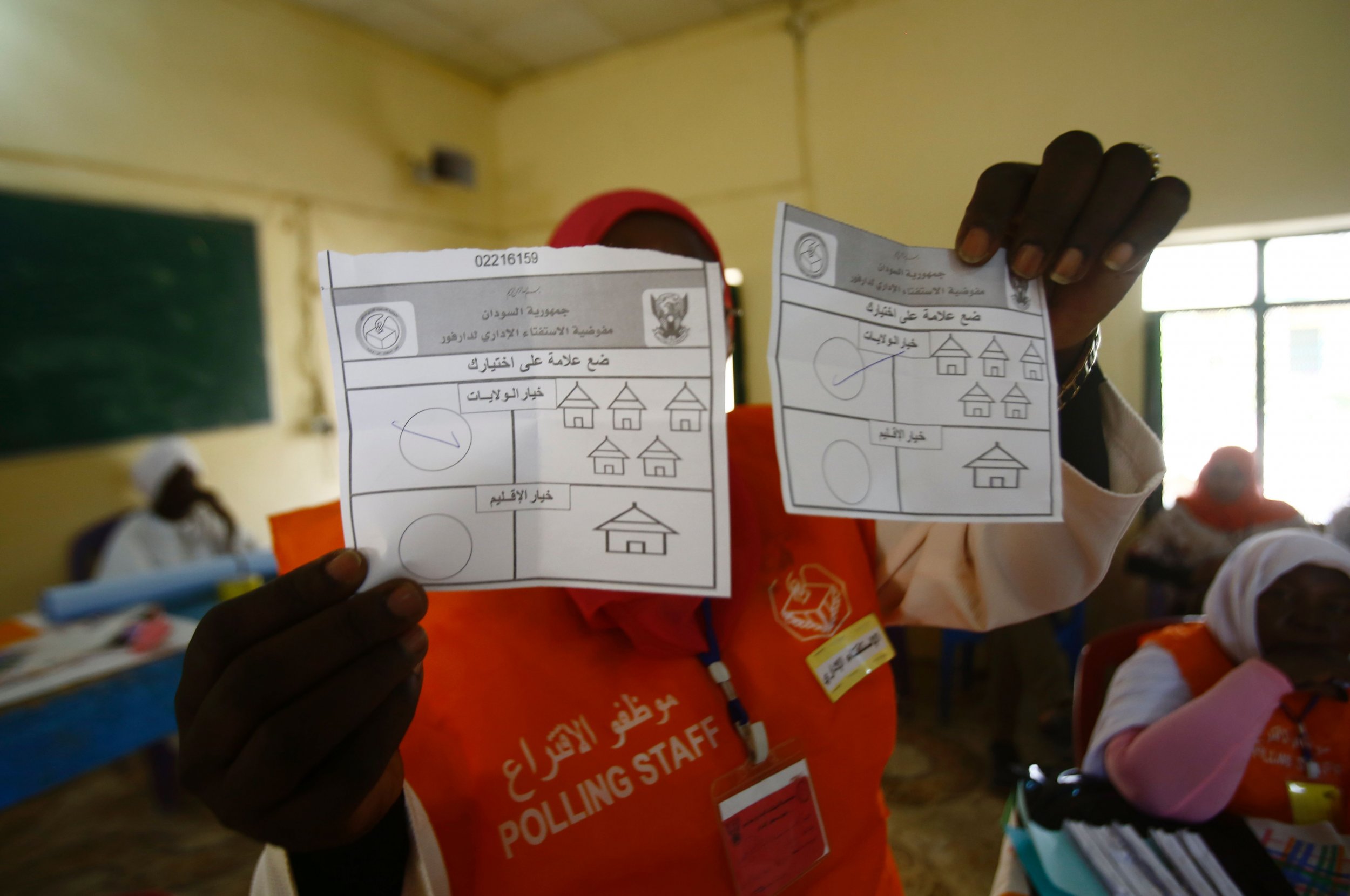 Darfuris have voted by a landslide to retain the troubled region's current administrative status in a referendum that was boycotted by opposition groups and criticized by the United States.
The western Sudan region has been the site of an enduring conflict since 2003, when ethnic Africans rose up against the Arab-led government. The United Nations estimates that some 300,000 people have been killed and 2.6 million displaced from their homes since the conflict began.
The referendum, held between April 11 and 13, gave voters the chance to decide whether to keep Darfur's current status of five separate states or reunite as a single semi-autonomous entity. It was held as part of a partial peace agreement struck in 2011.
The head of Darfur's referendum commission, Omar Ali Jamaa, said on Saturday that almost 98 percent of registered voters—or around 3 million—voted in support of the current system, favored by the Sudanese government of President Omar Al-Bashir. But this figure represents less than half of the estimated population of the war-torn region, believed by the U.N. to be around 6.2 million.
Major rebel and opposition groups believed that a united Darfur would have more autonomy and sway over the government in the capital Khartoum. "These results reflect the fraud the Sudanese government continues to employ in all of its elections. It's a falsification of the will of the masses," said Jibril Bilal, a spokesman for rebel group the Justice and Equality Movement, according to Voice of America.
Bashir, who is the subject of an International Criminal Court arrest warrant allegedly orchestrating crimes against humanity and genocide in Darfur, insisted that the vote would be free and fair. But the U.S. State Department warned on April 9, ahead of the poll, that "insecurity" and "inadequate registration" of Darfuris in IDP camps meant that the result "cannot be considered a credible expression of the will of the people" and would in fact undermine the peace process.