The Suicide Squad is the latest movie on the DC Films release schedule following the HBO Max drop of Zack Snyder's Justice League. The movie sequel is set to be released in August, but director James Gunn has been teasing that the first trailer is coming very soon.
On his Twitter, the Guardians of the Galaxy director wrote, "I'll just drop this here. Did I mention that a trailer is coming tomorrow? #TheSuicideSquad." This means that the trailer for the film is set to air on Friday, March 26.
He released this alongside a new retro-inspired poster, featuring the cast of the upcoming DC movie. The poster pays tribute to classic film posters like those for The Dirty Dozen and The Wild Bunch and features new and returning cast members Margot Robbie, Idris Elba, John Cena and Joel Kinnaman.
The release time for this trailer has not been revealed yet, but the film is coming from Warner Bros., whose trailers usually arrive at a set time. If The Suicide Squad follows this release time pattern, then the trailer will be out at 9 a.m. PT / midday ET on March 26.
Among the recent trailers that released at that time from Warner Bros. was the February trailer for its new Mortal Kombat movie adaptation and the second Godzilla vs. Kong trailer. 9 a.m. PT was also the time that Wonder Woman 1984 was released onto HBO Max late last year.
The release of the first Suicide Squad trailer comes shortly after Warner Bros. released the first official synopsis to the movie, a standalone sequel/reboot of the much-maligned 2016 film.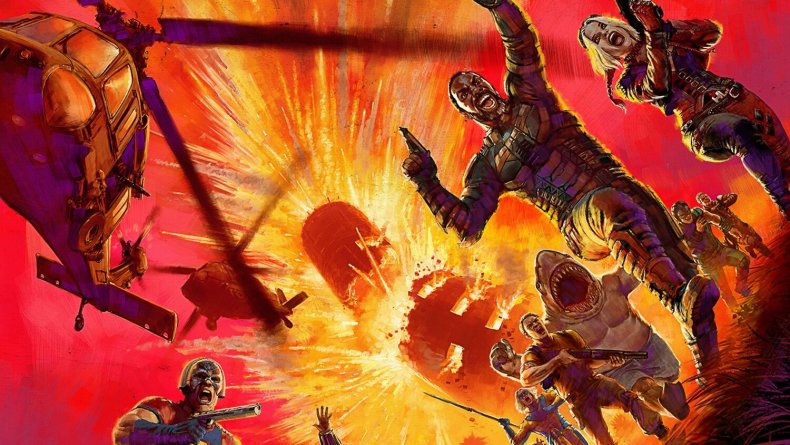 That synopsis reads, "Welcome to hell — a.k.a. Bell Reve, the prison with the highest mortality rate in the US of A. Where the worst Super-Villains are kept and where they will do anything to get out — even join the super-secret, super-shady Task Force X. Today's do-or-die assignment?
"Assemble a collection of cons, including Bloodsport [Idris Elba], Peacemaker [John Cena], Captain Boomerang [Jai Courtney], Ratcatcher 2 [Daniela Melchior], Savant [Michael Rooker], King Shark [Steve Agee], Blackguard [Pete Davidson], Javelin [Flula Borg], and everyone's favorite pyscho, Harley Quinn [Margot Robbie]. Then arm them heavily and drop them (literally) on the remote, enemy-infused island of Corto Maltese."
If that was not quite enough characters, The Suicide Squad will also include Rick Flag (Joel Kinnaman), Thinker (Peter Capaldi), Polka-Dot Man (David Dastmalchian), Weasel (Sean Gunn), Mongal (Mayling Ng) and TDK (Nathan Fillion), plus the as-yet-unrevealed characters set to be played by Sylvester Stallone and Taika Waititi.
Per Gunn's Twitter, this first trailer will be what is known as the 'red band' trailer, meaning that we are set to get an R-rated look at the upcoming movie, which is set to come to cinemas and HBO Max on the same day, August 6.