President Joe Biden set an ambitious goal for the United States' contribution to global carbon emissions, pledging to have it reduced by 50 percent by the year 2030, but a recent Supreme Court decision could pose problems for the White House's plans.
On Thursday, the Supreme Court ruled in a 6-3 decision that the Environmental Protection Agency (EPA) can no longer regulate the carbon emissions of U.S. power plants, creating a possible roadblock for the Biden administration in reaching its desired emissions goal.
Joe Biden's Pledge
On April 2, Biden announced a plan for the U.S. to achieve a 50 to 52 percent reduction in greenhouse gas pollution from 2005 levels by 2030, creating "good-paying, union jobs" in the process.
Following the fulfillment of his campaign promise to rejoin the Paris Climate Accord, which had been ditched by former President Donald Trump, the Biden White House launched the National Climate Task Force to aid in the 2030 environmental target.
"The United States is not waiting, the costs of delay are too great, and our nation is resolved to act now," Biden said on April 2. "Climate change poses an existential threat, but responding to this threat offers an opportunity to support good-paying, union jobs, strengthen America's working communities, protect public health, and advance environmental justice."
The strategy also involved a reduction to net-zero emissions by 2050.
SCOTUS Ruling
On Wednesday, the Court's conservative majority ruled in West Virginia v. EPA that Congress, instead of the EPA, has the authority to set standards related to greenhouse gas emissions. The origin of the case focused on the Obama-era Clean Power Plan, which addressed carbon dioxide emissions from existing coal- and natural gas-fired power plants but was blocked by the courts before being repealed in 2019, leaving the EPA without an emissions policy framework in place related to existing power plants.
Thursday's ruling could now lead to legal challenges from entities believing their own interests or profits are being impeded by regulations imposed by the EPA.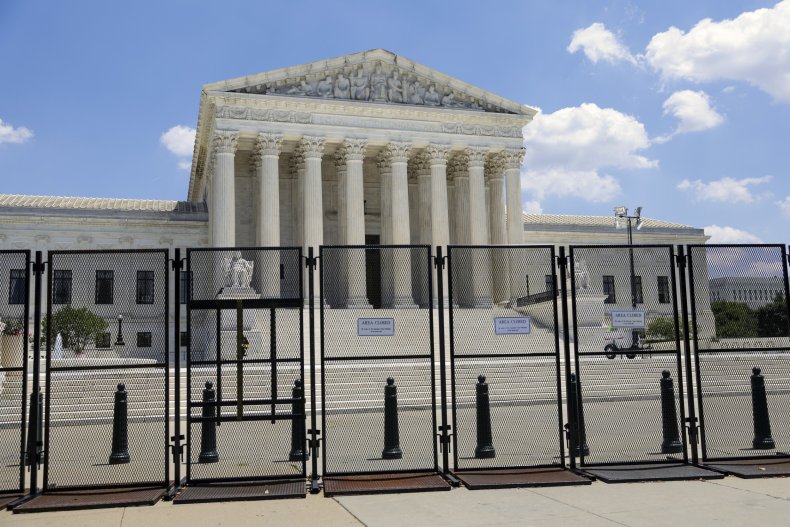 Justice Elena Kagan was forceful in her dissent, calling the Court's decision "troubling" and saying that "it does not have a clue about how to address climate change."
"And let's say the obvious: The stakes here are high," Kagan wrote. "Yet the Court today prevents congressionally authorized agency action to curb power plants' carbon dioxide emissions. The Court appoints itself—instead of Congress or the expert agency—the decision maker on climate policy. I cannot think of many things more frightening."
In a statement, Biden called the ruling "another devastating decision that aims to take our country backwards."
"While this decision risks damaging our nation's ability to keep our air clean and combat climate change, I will not relent in using my lawful authorities to protect public health and tackle the climate crisis," said Biden. He added that he has instructed a legal team to work in cohesion with the Department of Justice to "review this decision carefully and find ways that we can, under federal law, continue protecting Americans from harmful pollution."
EPA Administrator Michael Regan pledged to move forward with solutions at his disposal.
"At this moment, when the impacts of the climate crisis are becoming ever more disruptive, costing billions of dollars every year from floods, wildfires, droughts and sea level rise, and jeopardizing the safety of millions of Americans, the Court's ruling is disheartening," Regan said. "Ambitious climate action presents a singular opportunity to ensure U.S. global competitiveness, create jobs, lower costs for families, and protect people's health and wellbeing, especially those who've long suffered the burden of inaction."
U.S. Department of Health and Human Services Secretary Xavier Becerra echoed Biden's statement about the decision taking the U.S. "backwards," saying power plant emissions worsen air quality and make the climate more fragile.
"A failure to regulate power plant emissions will lead to increases in asthma, lung cancer and other diseases associated with poor air quality, and in many places, those impacts are likely to fall hardest in already heavily polluted neighborhoods," Becerra said.
Environmentalist Bill McKibben wrote in a Boston Globe op-ed that the current period is "crucial" as seven years ago the Paris Climate Accord warned nations globally that emissions would have to be cut in half by 2030 to meet temperature targets.
"The power of the oil and coal states—whose attorneys general brought this case and a raft of other similar ones following on its heels—is essentially unchallengeable now," McKibben wrote in the Globe. "Even the ability of blue states like Massachusetts to, say, regulate automobile mileage may soon be in question by a raft of civil challenges brought by multiple plaintiffs."
Representative Gerry Connolly of Virginia tweeted, "The Supreme Court has decided that the Clean Air Act does not, in fact, allow the government to facilitate—wait for it—clean air."
Newsweek reached out to the White House for comment.