'Harassing Packages' Sent to Ex-Home of SCOTUS Justice Samuel Alito: Police
The former home of Supreme Court Justice Samuel Alito has been receiving "harassing packages" following the recent decision on overturning Roe v. Wade announced last week.
According to the West Caldwell Police Department in New Jersey, officers have responded to "multiple calls" at a home that was previously owned by Alito.
"Erroneous information was circulating on the internet that indicated that Justice Alito still resides in West Caldwell, and individuals have been sending harassing packages to the current resident," the West Caldwell Police Department said in a Facebook post on Sunday.
The report by police came just a few days after the Supreme Court overturned the 1973 decision made in Roe v. Wade, which allowed women to get an abortion legally across the nation.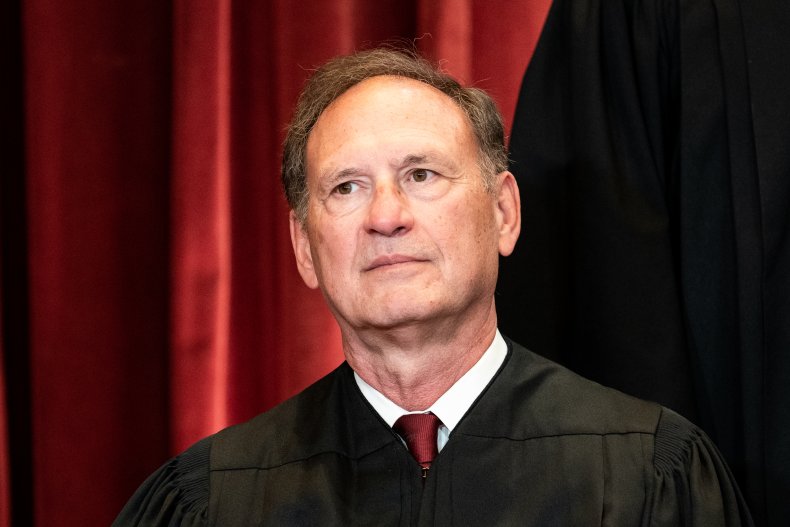 Prior to the decision made by the Supreme Court last week, in May, Politico obtained a leaked draft opinion written by Alito that discussed the High Court's plans to overturn the landmark decision.
"We hold that Roe and Casey must be overruled....It is time to heed the Constitution and return the issue of abortion to the people's elected representatives," Alito wrote in the leaked draft opinion.
In the official ruling issued last week, Alito wrote, "The Constitution makes no reference to abortion, and no such right is implicitly protected by any constitutional provision, including the one on which the defenders of Roe and Casey now chiefly rely—the Due Process Clause of the Fourteenth Amendment."
The Facebook post published by the West Caldwell Police Department said, "Justice Alito moved out of West Caldwell just after being confirmed to the US Supreme Court, 15 years ago in 2007. The current homeowner has no affiliation with Justice Alito and deserves to live in peace in their home free from harassment, regardless of anyone's political beliefs."
"All incidents will be investigated and those responsible will be charged and prosecuted," the post added.
Newsweek reached out to the West Caldwell Police Department and the Supreme Court for comment.
Following the Supreme Court's ruling last week, the Department of Homeland Security (DHS) issued a memo warning of potential violence.
According to the memo, which was obtained by CNN, the department said that judges and elected officials in the U.S. "probably are at most risk for violence in response to the decision."
The DHS issued a similar memo following the leaked draft from Alito. In a statement sent to Newsweek in May, a spokesperson for DHS said, "DHS is committed to protecting Americans' freedom of speech and other civil rights and civil liberties, including the right to peacefully protest....DHS is also committed to working with our partners across every level of government and the private sector to share timely information and intelligence, prevent all forms of violence, and to support law enforcement efforts to keep our communities safe."