Supreme Court Justices Threatened With Murder if Roe Overturned, DHS Warns
The Department of Homeland Security (DHS) is warning of an increase in threats of violence, including against Supreme Court Justices, if Roe v. Wade is overturned, according to a new report.
On Wednesday, NBC News obtained a DHS memo on threats if the nation's highest court goes through with overturning Roe v. Wade, the landmark 1973 ruling that guaranteed the right for women to get an abortion nationwide. The memo said: "Some of these threats discussed burning down or storming the U.S. Supreme Court and murdering Justices and their clerks, members of Congress, and lawful demonstrators."
The memo comes shortly after a draft opinion written by Supreme Court Justice Samuel Alito was leaked to the public that detailed a potential plan to overturn the 1973 decision made in Roe v. Wade, as well we the 1992 Supreme Court decision in Planned Parenthood v. Casey.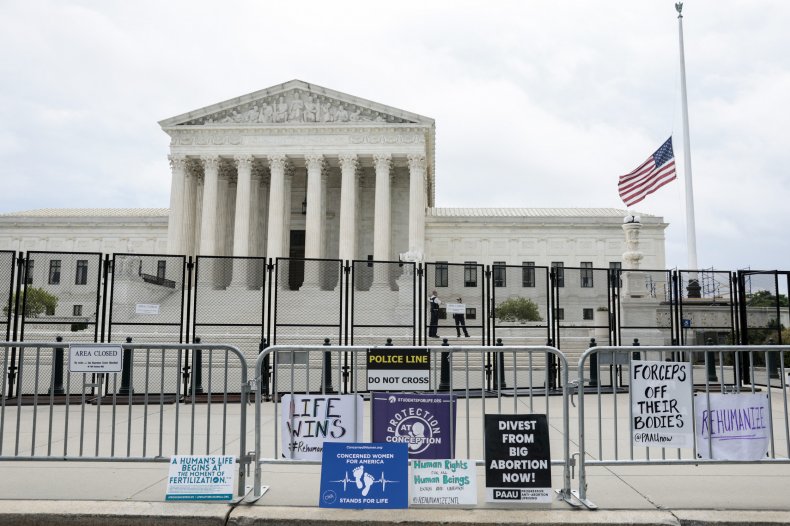 In a statement sent to Newsweek, a spokesperson for the DHS said, "DHS is committed to protecting Americans' freedom of speech and other civil rights and civil liberties, including the right to peacefully protest.
"DHS is also committed to working with our partners across every level of government and the private sector to share timely information and intelligence, prevent all forms of violence, and to support law enforcement efforts to keep our communities safe."
NBC quoted the Office of Intelligence and Analysis as saying of the threats, "Accurately determining which, if any, of these threats will culminate in violence remains a significant challenge." It said the memo warned of rising threats from extremists on both sides of the abortion debate.
The leaked copy of Alito's draft opinion said: "We hold that Roe and Casey must be overruled...It is time to heed the Constitution and return the issue of abortion to the people's elected representatives."
Shortly after the draft opinion was published by Politico, Supreme Court Chief Justice John Roberts confirmed that it was real, but noted that it was subject to change. If the Supreme Court rules in favor of overturning Roe v. Wade, the decision to impose bans on abortions would be left up to each state. Thirteen states currently have "trigger laws" in place that quickly places a ban on abortions if Roe is overturned.
Following the leaked draft, a group of protesters dressed as characters from The Handmaid's Tale were seen outside of Supreme Court Justice Amy Coney Barrett's home. "The right to your own body—to do what you want with your own body—is the most personal freedom you can have," one protester told The Daily Signal.
In response to the protest, as well as a demonstration outside of Justice Brett Kavanaugh's home, Supreme Court Associate Justice Clarence Thomas said that the protesters were throwing "temper tantrums."
Updates on 05/18/22 at 2.26 p.m. ET with additional information