'Handmaid's Tale' Protesters Demonstrate Outside Amy Coney Barrett's Home
Abortion rights activists dressed as characters from The Handmaid's Tale demonstrated outside the home of Supreme Court Justice Amy Coney Barrett on Wednesday, after a leak revealed the Supreme Court is leaning towards overturning Roe v. Wade.
Photos and videos posted to social media showed seven people clad in red robes and white bonnets quietly walking around Barrett's cul-de-sac in Falls Church, Virginia while holding signs. In one video, a participant can be heard saying: "We're not protesting, this is performance art."
Conservative media outlet The Daily Signal reported the demonstration lasted about 10 minutes.
"The right to your own body—to do what you want with your own body—is the most personal freedom you can have," one activist told The Daily Signal. "It should be self-evident that it's wrong to force women to go through with an unwanted pregnancy."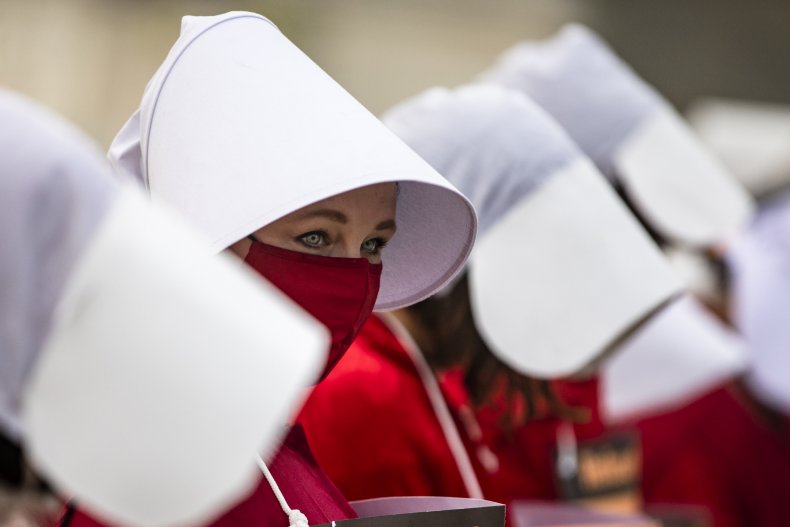 Speaking to The Daily Signal, a man who identified himself as one of Barrett's neighbors said the protesters should "go home and get a family."
"It's none of their business, why are they here?" the man said.
"They have the right to protest, but not in front of someone's house. They live here, this is where she lives."
Debates and demonstrations erupted nationwide following the unprecedented leak of a Supreme Court draft majority opinion that unveiled the potential demise of Roe v. Wade, the landmark 1973 abortion rights ruling.
The aftermath saw protests at the homes of Justices Samuel Alito—who authored the draft opinion—and Brett Kavanaugh, as well as Chief Justice John Roberts. Coat hangers—a symbol of unsafe self-induced abortions—were mailed to the Supreme Court.
In a Wednesday statement, Justice Department spokesperson Anthony Coley announced increased security measures for the justices.
"Attorney General [Merrick] Garland continues to be briefed on security matters related to the Supreme Court and Supreme Court Justices," Coley said.
"The Attorney General directed the U.S. Marshals Service to help ensure the Justices' safety by providing additional support to the Marshal of the Supreme Court and Supreme Court Police."
The home of Senator Susan Collins (R-ME) in Bangor, Maine was similarly subject to demonstrations due to Collins voting to confirm Justices Neil Gorsuch and Brett Kavanaugh. Police attended Collins' home on Saturday after someone had written in chalk: "Susie, please, Mainers want WHPA —> vote yes, clean up your mess."
WHPA refers to the Women's Health Protection Act, a bill that would have codified the right to abortion. The legislation failed in the Senate on Wednesday at a 49-51 vote, with Collins being one of eight female senators to vote against it.
Imagery from The Handmaid's Tale—a novel by Margaret Atwood turned into an Emmy Award-winning television show—has been a common sight among U.S. women's rights protests in recent years.
On Sunday, abortion rights activists dressed as handmaids showed up to a 10 a.m. Sunday mass session at the Cathedral of Our Lady of the Angels in Los Angeles, which ended in clashes with congregation members.