Supreme Court Justice Stephen Breyer Signals He'll Retire Before He Dies
U.S. Supreme Court Associate Justice Stephen Breyer said there will be "many things" that factor into his decision regarding when to retire, including who will be in charge of nominating his replacement.
Breyer, who turned 83 earlier this month and is the oldest justice currently serving on the high court, spoke with The New York Times Thursday ahead of the anticipated release of his new book, The Authority of the Court and the Peril of Politics, next month.
Breyer addressed comments made by two former justices while speaking about retirement from the court. The timeline of Breyer's retirement is a topic that has energized progressives eager for President Joe Biden to have an opportunity to lock in a new like-minded justice before the 2022 midterm elections.
Former Associate Justice Antonin Scalia, who died before he was able to retire from the bench, once told Breyer he didn't want to be replaced by a justice who would "reverse everything" he had done, Breyer told the Times. Breyer said that thought would "inevitably be in the psychology" of his own retirement decision.
Breyer also suggested he does not want his time on the court to end the way it did for Scalia.
"I don't think I'm going to stay there till I die—hope not," he told the Times.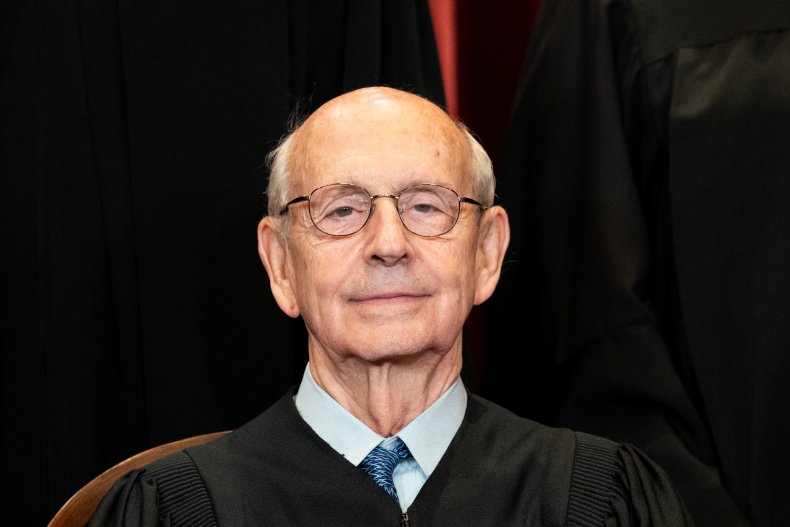 Another former justice who came up during Breyer's interview was William Rehnquist, who served as chief justice from September 1986 until his death in 2005. Rehnquist had disagreed that it was "inappropriate" to make retirement decisions based on who was the current president and had said, "Deciding when to step down from the court is not a judicial act."
Breyer said Rehnquist's response was "true" when asked about it during the interview.
Breyer has faced calls from progressive Democrats to retire in the months since Biden was sworn into office. After the death of former Associate Justice Ruth Bader Ginsburg, last fall and the subsequent confirmation of Associate Justice Amy Coney Barrett, the balance of sitting justices appointed by presidents of opposing parties has skewed toward Republican appointees.
Breyer is one of three justices who was appointed by a Democrat. If he retires while Biden is president, progressives are hopeful Biden will appoint a justice who would retain the court's current balance.
Breyer told CNN earlier this summer he has made no decisions regarding when he might step down and that any future retirement decisions would be based on his health and the court.
But some progressive lawmakers are hopeful Breyer will make up his mind before the 2022 midterm elections. While Democrats currently hold slim majorities in both chambers of Congress, losing a majority in the Senate could threaten the confirmation of a Biden-nominated justice.
Representatives Mondaire Jones of New York, Alexandria Ocasio-Cortez of New York and Ted Lieu of California have all said in recent months they hope Breyer will decide to retire before the 2022 midterms. Minnesota Senator Amy Klobuchar also said last month that if Breyer does retire, she hopes he would do so "sooner rather than later."
Amid the push from members of the Democratic Party, the nonprofit Demand Justice also launched a campaign encouraging Breyer to make a decision.
"The only responsible choice for Justice Breyer is to immediately announce his retirement so President Biden can quickly nominate the first-ever Black woman Supreme Court justice," Demand Justice Executive Director Brian Fallon said earlier this year.
Newsweek reached out to Demand Justice for comment but did not hear back in time for publication.