U.S. Surgeon General Vivek Murthy sounded the alarm on the COVID-19 Delta variant Friday, warning that the new strain is quickly spreading throughout the country and posing a serious risk to those who are unvaccinated.
Speaking on PBS NewsHour, Murthy said that the fast-moving Delta variant, or B.1.617.2, will quickly become the most dominant coronavirus variant in the U.S.
"It is all over the country. It's doubling nearly every two weeks, and it will very quickly become the dominant variant in the United States," Murthy told NewsHour anchor Judy Woodruff.
"What's deeply concerning about, Judy, is that it's highly transmissible, perhaps the most transmissible variant that we have seen to date. But the good news is that the vaccines that we have appear to be effective against the Delta variant, and, if you are vaccinated, you're in good shape. You have a high degree of protection," he added.
Murthy went on to explain that the Delta variant tends to spread more quickly among the unvaccinated population, which will result in the virus spreading faster in states with lower vaccination rates, such as Missouri or Nevada.
"We have some parts of our country that have 70 percent, 80 percent vaccination rates. We have others that are below 30 percent in parts of their region. So, I'm worried about that, because that means that there are some parts of our country that are at significant risk, while others are relatively safe," Murthy added.
"And what we don't want to see is a scenario over the summer and in the fall where we have surges in those regions where we have low vaccination rates. But I fear that that is where we are headed, unless we can quickly increase vaccination rates," he continued.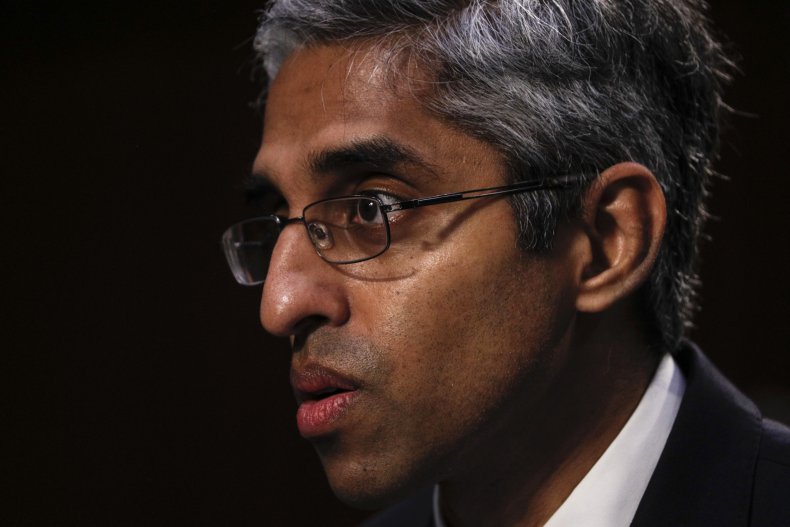 According to data collected from the Centers for Disease Control and Prevention (CDC) over the past four weeks, the states with the highest proportions of the Delta variant are Missouri at 29.9 percent, Colorado at 12.2 percent, and New Jersey at 10.2 percent.
CDC Director Dr. Rochelle Walensky said Thursday that an estimated 25 percent of all COVID-19 cases in the U.S. are now a result of the Delta variant. Walensky added that some 1,000 counties across the nation have vaccination rates below 30 percent, putting them at greater risk for the spread of disease.
"In some of these areas, we are already seeing increasing rates of disease," she said. "As the Delta variant continues to spread across the country, we expect to see increased transmissions in these communities unless we can vaccinate more people now."
Health care experts are also worried that some states could see a rapid increase in infection rates following the Fourth of July weekend. President Joe Biden on Friday warned people to take precautions while celebrating the holiday and voiced concerns that "people will die" after attending large gatherings where vaccination rates are low.
"I am not concerned there's going to be a major outbreak, in other words, that we're gonna have another epidemic nationwide, but I'm concerned lives will be lost," Biden said.
On Friday, Murthy warned that the Delta variant is not only spreading quickly, but it could also cause more severe symptoms and higher risk of hospitalizations. The surgeon general added that the new variant is now the most "clear and pressing reason" for people to get vaccinated in the U.S.
"Not only is it spreading fast, Judy, but what we have also learned in recent weeks and recent months is that it is not only hospitalizations and deaths that we worry about with COVID-19. But, increasingly, we are seeing people with what's called long-haul symptoms, with shortness of breath, chest pain, fatigue, brain fog that lasts for months beyond their infection," Murthy added.
In response to the Delta variant, White House COVID response coordinator Jeff Zients announced the deployment of COVID-19 surge response teams to contain the virus.
Among other responsibilities, the teams will help expand detection of the virus and contact tracing, provide therapeutics to people with COVID, deploy federal personnel to support local staff, and increase vaccination rates among unvaccinated communities.
"These are dedicated teams working with communities at higher risks for or already experiencing outbreaks due to the spread of the Delta variant and their low vaccination rate," he said Thursday.
Newsweek contacted the Office of the Surgeon General for additional comment, but did not hear back in time for publication.
Uncommon Knowledge
Newsweek is committed to challenging conventional wisdom and finding connections in the search for common ground.
Newsweek is committed to challenging conventional wisdom and finding connections in the search for common ground.