On paper, you won't find too much in common with California Governor Gavin Newsom and his firebrand East Coast counterpart, Florida Governor Ron DeSantis.
Both men are regular critics of one another and their respective platforms. Newsom represents one of the bluest states in the nation—DeSantis leads a once-purple state turned bastion of modern conservatism. The two offer contrasting visions of what America should look like as both men vie for a future shot at the White House, but both have painted themselves as champions of American "freedom."
Earlier this month, Newsom pulled a page out of the DeSantis playbook when he announced he would be withdrawing California from a $54 million contract with Walgreens after the pharmacy giant announced it was no longer planning to sell abortion pills in the 20 Republican-led states where they were either banned or of dubious legality.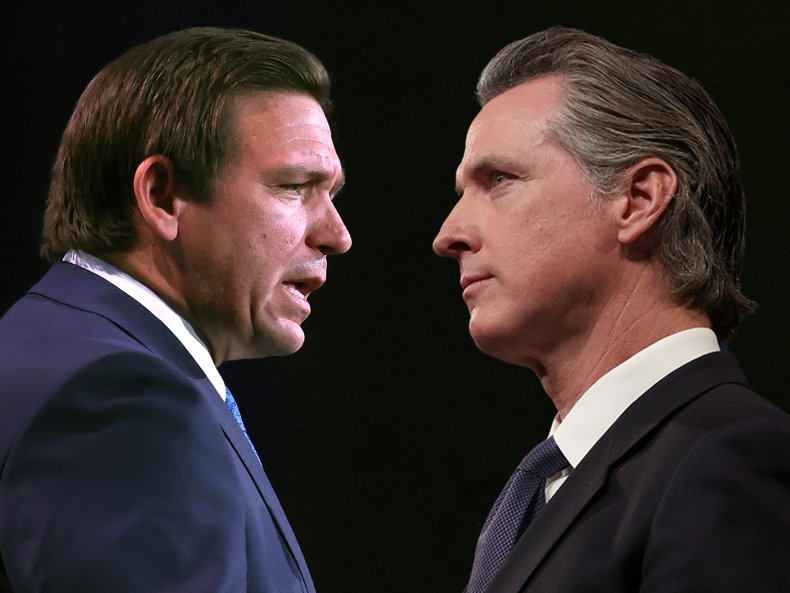 For Newsom, the decision to split ties with Walgreens was not in response to something the company was doing in his own state: it was a statement of values, and a move typified by DeSantis throughout his first term as a top lieutenant in America's culture wars.
When one of Florida's top employers—Disney—publicly criticized DeSantis'support of the so-called "Don't Say Gay Bill" passed by the Florida Legislature last year, DeSantis moved to strip the company of a special district outside of Orlando. It essentially allowed Disney to operate as its own self-governing authority for the past five decades.
After a Miami Hyatt-Regency hotel held a drag show at its facility last December, DeSantis' administration moved to strip the hotel of its liquor license, citing a 1947 state supreme court case that determined "men impersonating women" constituted a public nuisance, earning him scorn from liberal activists.
And last spring, his office announced it would be moving to introduce legislation banning major, privately owned financial institutions from adopting investment portfolios based around principles embraced under environmental, social, and governance (ESG) standards. The investment strategy takes businesses' environmental and social risks into account as part of a wider view on that company's role in the economy.
Newsom, meanwhile, has tried the strategy in reverse, including an incident last August in which Newsom once urged the film industry to leave the state of Georgia in response to the state's position on abortion and LGBTQ rights.
The Retribution Strategy
Both men's strategy is nothing new in the world of politics. During the Trump Administration, the former president regularly feuded with corporations from Major League Baseball to Coca-Cola, for example.
In the past, governors from Texas Republican Greg Abbott to former New York Democrat Andrew Cuomo have publicly urged boycotts of private businesses whose corporate positions run astray of their politics, whether it's a position against oil drillers or the deeds of the Israeli government. And as a candidate for governor, then-Wyoming Treasurer Mark Gordon formally cut the state's ties with the Bank of the West in 2018 after it announced it would be divesting from the same fossil fuels that provided the majority of the state's tax revenues, saying the decision threatened Wyoming's way of life.
However, some say DeSantis' strategy—one since adopted by Newsom—has become emblematic of a new trend in American politics in which governors feel emboldened to use the power of the state to exact retribution on their political rivals.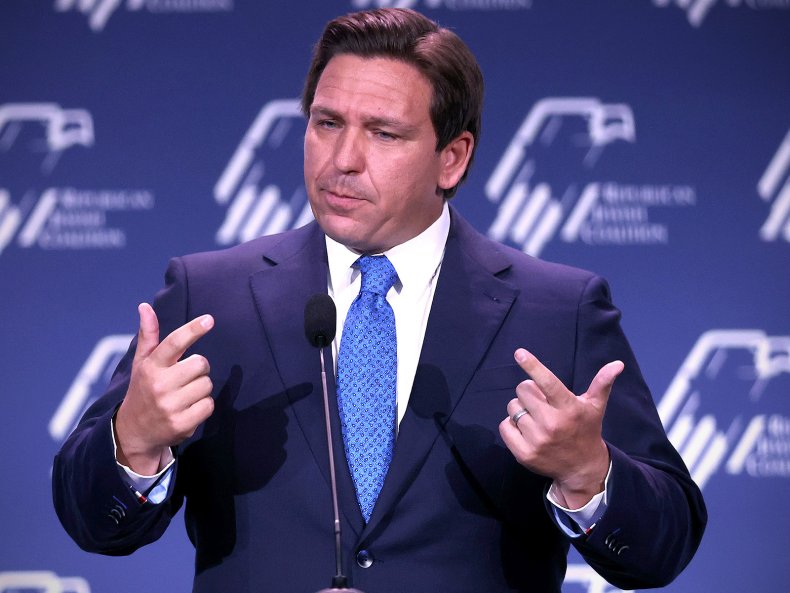 Governors, they say, have become activists.
"These governors who are doing this, regardless of their political party, are looking at their next election," Peter Bergerson, a professor of political science at Florida Gulf Coast University and a longtime observer of Sunshine State politics, told Newsweek. "Subsequently, they're appealing to their base and who their political base is as well as their financial base, [the businesses] who are most likely to support them."
Newsweek has contacted both Newsom and DeSantis' offices via email for comment on their respective strategies. But data show their respective approaches are exactly what voters want their leaders to embrace, particularly in today's hyperpolarized political environment.
Rise of the Boycott
Prior to the COVID-19 pandemic, polling found approximately 25 percent of voters—primarily Democrats—"strongly agreed" it was okay to boycott a company over its politics, with an additional 43 percent saying it was either sometimes fair or depended on the situation.
Corporations today, however, have become a permanent fixture of the political landscape.
By the middle of 2022, survey data from Savings.com found approximately 83 percent of U.S. consumers had boycotted companies over issues including labor practices, religious or political affiliations, environmental policies, or even their own failure to comment on controversial topics. Some groups, like the anti-Trump Lincoln Project, even sought to push brands to take a stand against Trump, saying a failure to do so could potentially damage their reputations.
The reasons people choose not to engage with brands vary widely by party.
A 2020 survey of nine studies published by the American Marketing Association found that while both liberals and conservatives engage in boycott activities, they do so for different reasons influenced by their unique moral concerns. Liberals, for example, are willing to support boycotts associated with protests of harm and fairness toward marginalized groups, while conservatives favor boycotts associated with the protection of authority, loyalty, and the perception of moral purity values.
"Liberals' greater concern for the suffering of others and unfair treatment makes them more likely to engage in consumer political actions, the paper read. "Conservatives, in turn, engage in consumer political actions in relatively rarer cases in which their binding moral values are affected by corporate activity."
Such a dynamic has often forced companies to choose a side—or even decide whether it's worth the risk to decline to weigh in on hot-button topics. While 83 percent of corporate executives said they believed their business had some sort of obligation to speak on issues, according to survey data from the University of Southern California's 2022 Annual Global Communication Report, only a small minority reported it was to increase sales or in response to activist pressure: for a plurality of respondents, approximately 44 percent, it was out of a commitment to "positive social change."
"In my conversations, with people in business, a large driver of this is actually the employee base in many companies," Nien-hê Hsieh, the Kim B. Clark Professor of Business Administration at Harvard Business School told Newsweek in an interview. "They're responding to employee pressure, which is an extension of a kind of concern with political issues."
'Front and Center' in the Culture Wars
Because of that dynamic, brands like Disney can be seen as proxies for something intangible in today's culture wars, Nick Kalm, a longtime public relations strategist, told Newsweek, standing as a catch-all for "woke" values or conservative extremism that can resonate in ways policy statements or other forms of communication can't.
Because of their reach, businesses become a part of the political landscape once they weigh in on an issue and, by default, become fair game for attacks.
"They're choosing to engage in these issues, to the point where politicians look at them like a new political actor on the horizon, just like a labor union or an advocacy group or whatever," said Kalm. "So that brings them front and center."
But attacking brand names also has another purpose: they have a level of name recognition a lot of politicians simply do not.
And as two figures potentially vying to become president, both DeSantis and Newsom will need all of the earned media they can attract.
"The name recognition of these companies is higher than almost any politician," said Kalm. "Everybody knows who Disney is, everybody knows who State Farm is. Everybody knows who Walgreens is. There are not a whole lot of politicians who would necessarily have that kind of name recognition. That's why they are targets to such a large degree."