In Key Swing States Trump Must Win, Coronavirus is Getting Worse
Swing states President Donald Trump will be hoping to win come November have seen coronavirus cases on the rise, while the president's handling of the pandemic continues to be brought into question.
The COVID-19 outbreak could prove a key factor for voters come the election, with public perception of Trump's handling of the situation hitting an all-time low coinciding with a sustained polling lead for Democratic presidential candidate Joe Biden.
The swing states of Michigan, Wisconsin, Pennsylvania, North Carolina, Florida and Arizona will all be targets for the Trump campaign's reelection efforts, with the president having won them in 2016.
Over recent days, each has seen its situation with COVID-19 worsen.
Florida saw a record number of daily confirmed cases on Wednesday, with 5,508 cases and it again saw more than 5,000 on Thursday. These figures topped a high recorded just days before, when 4,600 new cases were reported on Saturday.
The state's Republican governor, Ron DeSantis, has suggested that Florida is not ready to move to its next phase of reopening due to the spike in cases.
"We are where we are," he told a news conference in Tampa. "I didn't say we're going to go on to the next phase, you know, we've done a step-by-step approach and it was an approach that's been reflective of the unique situation of each area."
He has also suggested the state's reopening could be playing a part in the increase of cases, though has previously spoke of his desire to continue with lifting measures.
DeSantis previously said: "If you follow guidelines everything works out fine."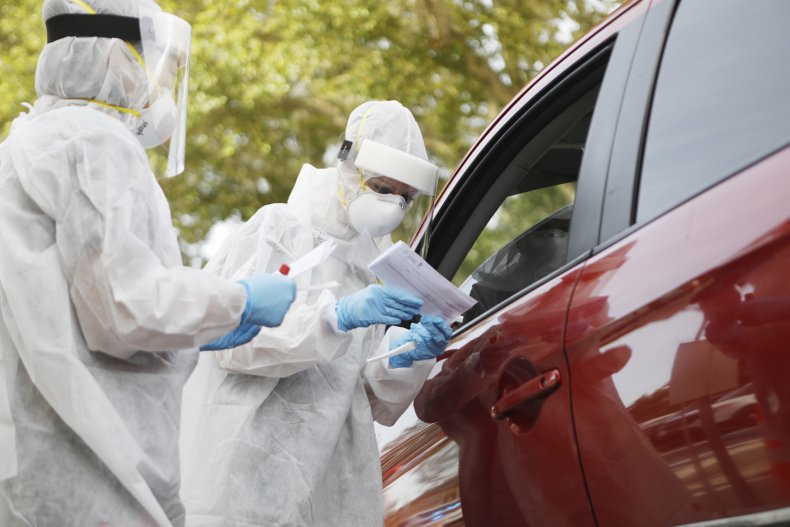 Arizona has seen an increase in cases of more than 3,000 on four days in the last week, with a latest rise on Thursday of 3,056.
On Tuesday, the state saw a record daily high of 3,591 new cases in a single day, while on Monday hospitalizations from COVID-19 surpassed 2,000 in Arizona for the first time since the outbreak began.
A briefing from the Policy Lab at Children's Hospital of Philadelphia said the rise of COVID-19 in Arizona was out of control, stating: "With the direst forecasts we have seen to date, alongside greatly elevated reproduction numbers and significant disease burden, it is fair to say that the state of Arizona has lost control of the epidemic."
Arizona Gov. Doug Ducey, a Republican, has urged people to stay home where possible, wear masks when not and to stop gathering in large groups-though stopped short of taking further steps to mandate public behavior.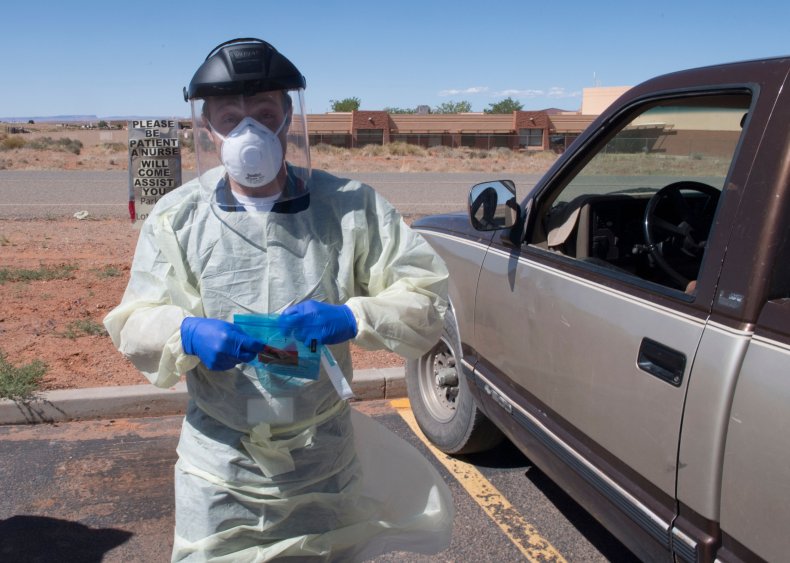 He also warned of more spikes in the future due to the changes to stay at home measures, stating: "We expect that our numbers will be worse next week and the week following, in terms of cases and hospitalizations.
"Whenever we make changes it takes several weeks for the numbers to catch up and the numbers affecting real people."
North Carolina has seen daily cases rise by more than 1,000 twice this week, with 1,721 on Wednesday and 1,009 Thursday. The latest figure for people hospitalized with COVID-19 is 891 on June 25, up from 627 a month before on May 25.
The increasing spread has seen the state put a pause on its reopening plans, with its Governor Roy Cooper stating on Wednesday: "North Carolina is relying on the data and the science to lift restrictions responsibly, and right now our increasing numbers show we need to hit the pause button while we work to stabilize our trends.
"We need to all work together so we can protect our families and neighbors, restore our economy, and get people back to work and our children back to school."
Cooper, a Democrat, also said that face masks have been mandated to be worn in public spaces amid work to get the spread down.
Wisconsin has seen its number of daily cases rise in the last two days, with 464 on Thursday and 432 confirmed Wednesday.
Thursday's figure was its highest in around two weeks.
Gov. Tony Evers has continued to tell those living in the state "we are not out of the woods yet."
"We know this virus is still very present and spreading in our communities," he said, as he urged people to continue to wear masks when going out, washing their hands and to social distance from those not within the same household.
This comes after the state's stay home measures were controversially knocked down, with Wisconsin's High Court ruling to remove them on May 13, nearly two weeks sooner than they had been planned to begin being lifted.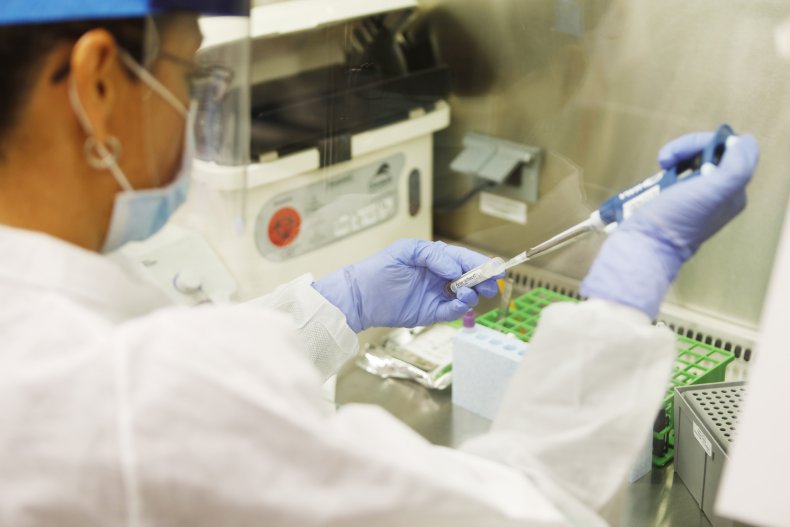 Michigan has seen confirmed cases rise by 353 on Thursday and 323 Wednesday. The 353 reported Thursday was the highest this month and ahead of this week the state had seen an increase of more than 300 since June 3.
The state's Democratic Gov. Gretchen Whitmer had hoped to move forward to the next stage of its plans for reopening, though said recent spikes have caused this to slow down. Whitmer had faced criticism over putting into place some of the toughest stay-at-home restrictions in the U.S., including push back from the president himself, though these had begun to lift due to an earlier decline in rates. However, she has now also suggested that if there is heightened community spread in the state, it could have to revert to previous measures.
She told 7 Action News: "I don't want to do that, I know that no one wants to.
"If we have community spread, we will all have to make a sacrifice again."
Pennsylvania saw 579 new cases Thursday, its biggest daily rise in around two weeks, following a spike of 686 on June 13.
While the state reopens, it has mandated mask-wearing in businesses, in a bid to stem COVID-19 spread.
Secretary of Health Dr. Rachel Levine said: "As we move closer to having the entire state in the green phase, we must remain committed to protecting against COVID-19.
"Pennsylvania has been a model for the country on how to reopen effectively using a careful, measured approach. However, the virus has not gone away. Each of us has a responsibility to continue to protect ourselves, our loved ones and others by wearing a mask, maintaining social distancing and washing our hands frequently. Together we can protect our most vulnerable Pennsylvanians, our essential workers and our healthcare system."
Newsweek has contacted the Trump campaign and the governors mentioned for comment.
As well as individual figures showing these states facing increased coronavirus figures, they have each also been placed on a list of states "trending poorly" in regards to COVID-19, by a group of health experts.
Covidexitstrategy.org sees them all placed in this category, with each of their 14-day trends of COVID-19 infections said to be increasing.
Coronavirus cases continue to rise across the U.S., with more than 2.4 million confirmed since the start of the outbreak, according to Johns Hopkins University figures.
The graphic below, from Statista, shows a surge in cases across the use, with daily case numbers until June 24.