Video of Sylvester Stallone Trashing Trump Water Resurfaces After Ohio Trip
Video footage of Sylvester Stallone trashing Donald Trump's branded bottled water has resurfaced online following the former president's trip to East Palestine, Ohio, where he touted gifting his beverage to residents.
The real estate mogul offered his own "Trump Water," along with water of "much lesser quality," to those impacted by a major train derailment during a visit to the village on Wednesday. The Norfolk Southern-operated train derailment on February 3 prompted evacuation orders due to the release of toxic chemicals.
Despite the Environmental Protection Agency (EPA) having said that local public water supplies were not contaminated by the derailment, many have expressed concerns that water in the area may be unsafe to drink. Authorities have warned against drinking water from private wells while testing continues.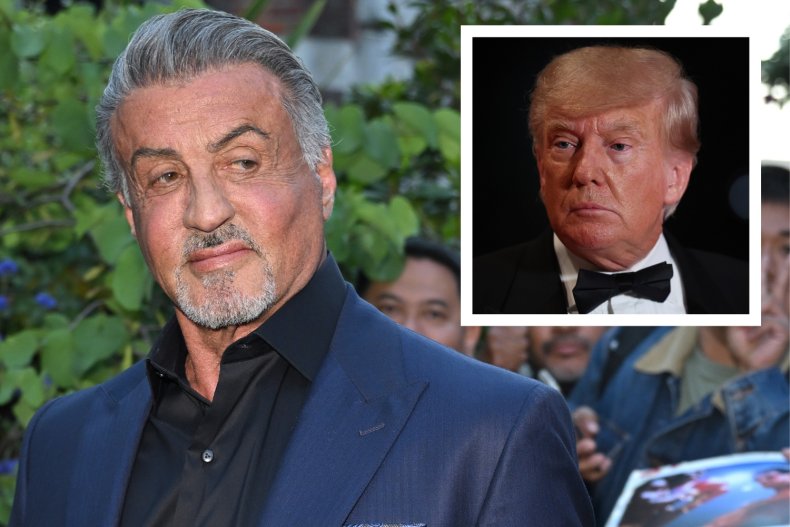 With Trump's statement about the gift sparking widespread derision on social media, writer and animator Jon Bershad shared footage of Stallone's 2007 appearance on Access Hollywood, where he shared some choice words about the water.
In the clip, Creed star Stallone was seen doing a taste test of two water brands that had been poured out into unmarked clear cups.
After Stallone shared his choice of the water he favored, he said of the other one: "Whatever it is, I wouldn't wash my socks in this."
"Now I can't wait to tell you what it is," said Access Hollywood host Billy Bush, before sharing that the product in question was "Trump Ice."
"Donald, I'm sorry," said a laughing Stallone. "I didn't know. I love Donald. I'm sorry!"
Captioning the clip, Bershad wrote: "Please enjoy this 2007 video of Sylvester Stallone taste testing Trump Water and truly hating it. Easily the second most embarrassing Access Hollywood clip involving Donald Trump."
Trump, who is seeking to regain the presidency in 2024, on Wednesday played into concerns about the water by bringing multiple pallets of bottles of his water to distribute to residents during his visit. The former president boasted that "most" of the bottles were of his own brand while speaking in East Palestine.
"We're bringing thousands of bottles of water—Trump Water, actually," said Trump. "Most of it. Some of it, we had to go to a much lesser quality water. You want to get those Trump bottles, I think, more than anybody else."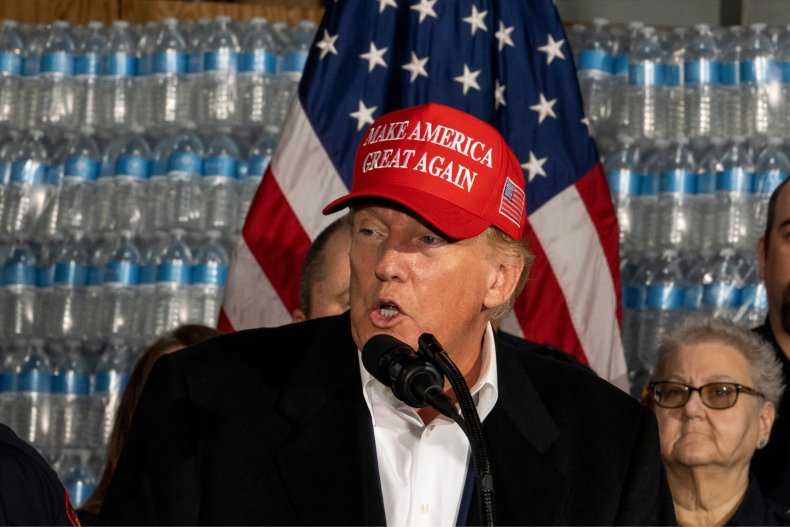 However, images from the former president's visit clearly show that the water taken to East Palestine was not "Trump Ice." Instead, the bottles were labeled "Trump Spring Water"—a brand that is still bottled and usually available only at Trump properties.
While detractors mocked the former Apprentice star online, Trump supporters on social media praised the East Palestine visit and took the opportunity to blast President Joe Biden and Transportation Secretary Pete Buttigieg for not having already visited the derailment site. Some also joined the former president in touting the "Trump Water" brand.
Train derailments are relatively common in the U.S., although the vast majority do not result in death or injury. There were a total of 54,539 train derailments in the U.S. from 1990 to 2021, an average of 1,704 per year, according to the Bureau of Transportation Statistics.
The spilling of toxic chemicals in a derailment is also far from unprecedented. Over the past 10 years, between 10 and 20 derailments per year have involved hazardous materials, according to PolitiFact.