Syria Chemical Attack: Why Is Russia Being Blamed and Five Other Questions About the Syrian Civil War
The international community has condemned the poison gas attack on the Damascus suburb of Douma on April 7 that killed more than 40 people.
President Donald Trump's promise to respond with force has raised the specter of direct confrontation between Washington and Moscow, with Russia warning against any U.S. military action.
While countries and the United Nations weigh up what to do next, Newsweek looks at the key questions surrounding the conflict in Syria, now entering its eighth year.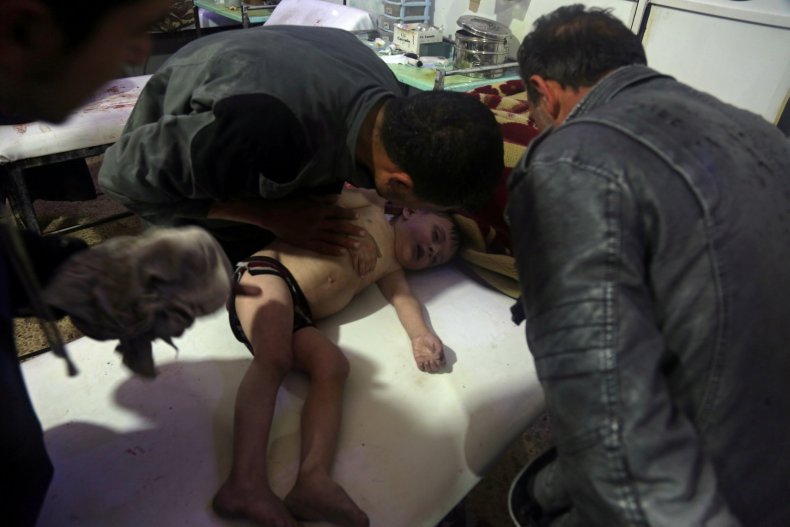 How Did the Conflict Begin?
When Tunisian street vendor Mohamed Bouazizi set himself alight in January 2011 to protest against harassment by local officials, he lit a powder keg that became the Arab Spring. By April that year, the uprising had reached Syria, whose 22 million people had been living for 11 years under ruler Bashar al-Assad since the death of his strongman father, Hafez.
Following the lead of peaceful protests in Tunisia and Egypt, Syrians took to the streets to challenge the country's dictatorship. Syrian government security forces responded with brutality. The Syrian Army fired on demonstrators, and government forces were deployed around the country. The security crackdown by Assad's forces morphed into an armed rebellion that was fueled by competing interests and sucked in regional allies.
Who is Fighting Whom?
This is where it gets complicated. While conventional warfare might see two sides pitted against each other, Syria's conflict fought along ethnic and sectarian lines, helped by proxy actors with their own agendas.
Assad's regime hails from the minority Alawite sect, a branch of Shiism, and the forces of Bashar al-Assad have regional support from Shiite powers, including Iran and the Lebanese militant group, Hezbollah.
The Syrian opposition includes the Free Syrian Army (FSA), backed by the United States. But also Tahrir al-Sham, formed from the remnants of the Nusra Front, which is an offshoot of al-Qaeda, another Islamist group. Until last year, one of the main military actors in Syria was the Islamic State militant group (ISIS), which was driven out of Raqqa in 2017 but still retains a presence in Syria.
Also thrown into the mix is Ahrar al-Sham, made up of militants who want to see the end of Assad but want a hardline Islamic government to replace him. They fight Assad's forces and ISIS, which is useful for the FSA, but they also fight Tahrir al-Sham.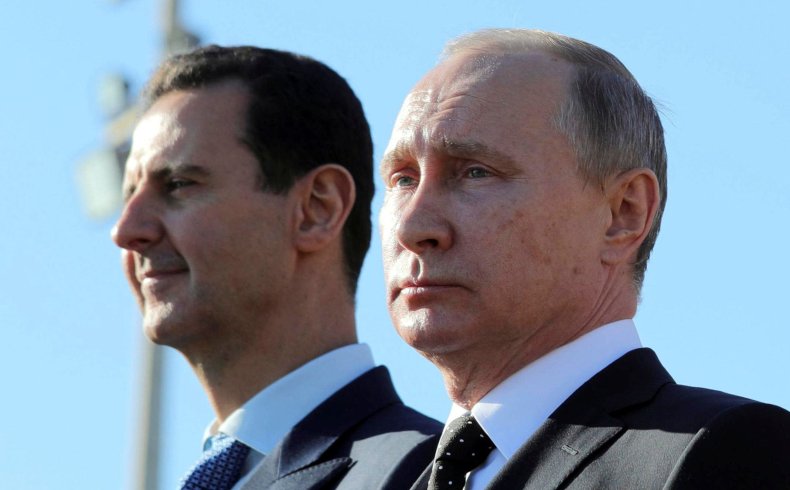 Didn't Syria Give Up Its Chemical Weapons?
The poison gas attack last week cast people's minds back to August 2013 when the nerve agent sarin was used in an attack in Ghouta near Damascus.
It was the deadliest use of chemical weapons since the Iran-Iraq war, and so the Obama administration agreed with Russia that Assad's arms be removed peacefully.
In January 2016, the Organization for the Prohibition of Chemical Weapons (OPCW) announced the destruction of all of Syria's chemical weapons.
But those words have come back to haunt the organization and the international community, with the Center for Arms Control and Nonproliferation saying it was likely that the Syrian regime either lied about their chemical weapons or created new stockpiles.
Why Is Russia Being Blamed?
Russia has had strong ties with Syria going back to the Soviet era. Moscow supported Syrian independence in 1946 and established a naval base in Tartus, Syria, in 1971. Russia also has considerable investment with Damascus, with plans to build grain mills, pump gas and explore for oil.
The overthrow of Russia's ally Libyan leader Muammar el-Qaddafi in 2011 was an affront to Moscow, which saw it as violating international law and requiring the Kremlin to seek other means to maintain its influence in the Middle East.
Putin said in January that Russian forces used 215 new types of advanced weapons systems in Syria, which included long-range air and sea-based systems like the Kalibr missile and X-101 missiles.
With little doubt that Assad would not have been able to stay in power without Moscow's help, U.S. ambassador to the U.N. Nikki Haley said that after the most recent chemical attack, Russia's hands "are covered in the blood of Syrian children."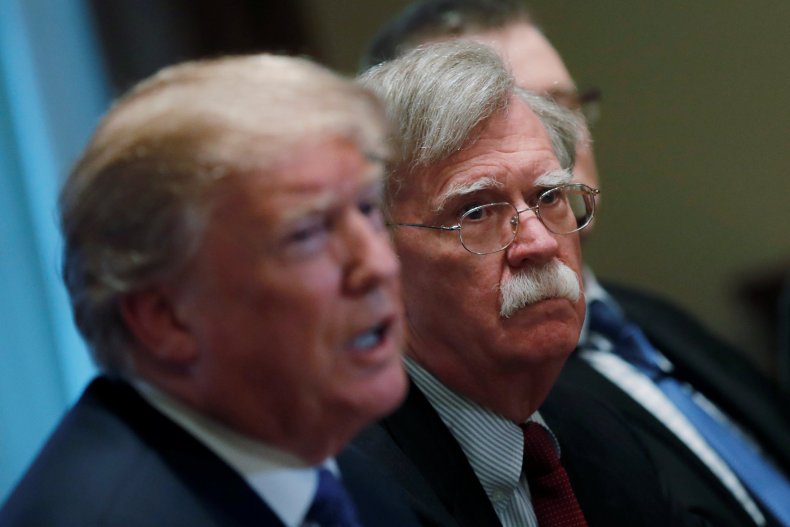 How Will Donald Trump Respond?
The U.S. president is nothing if not impulsive, and reports suggest his visceral response to images of gasping children was similar to the one that followed the chemical attack in April 2017. That incident prompted him to order 59 Tomahawk cruise missiles to be fire at Al Shayrat airfield, in western Syria.
This time around, Trump seems prime to respond with force, saying, "We cannot allow atrocities like that," adding that "nothing's off the table."
Haley has said that there is liaison with French president Emmanuel Macron about what to do next, which brings us to the final question....
How Will the Rest of the International Community Respond?
The moral equation for countries of how to punish those responsible for a chemical weapons attack includes ensuring maintaining leverage with Washington and influence in the region.
The Times reported British government concerns that the U.K. could be sidelined and lose influence in Washington to France if it did not join Trump in a retaliatory strike against Damascus. Britain is said to be preparing Tomahawk missiles while the French president is "egging on" Trump to act against Assad.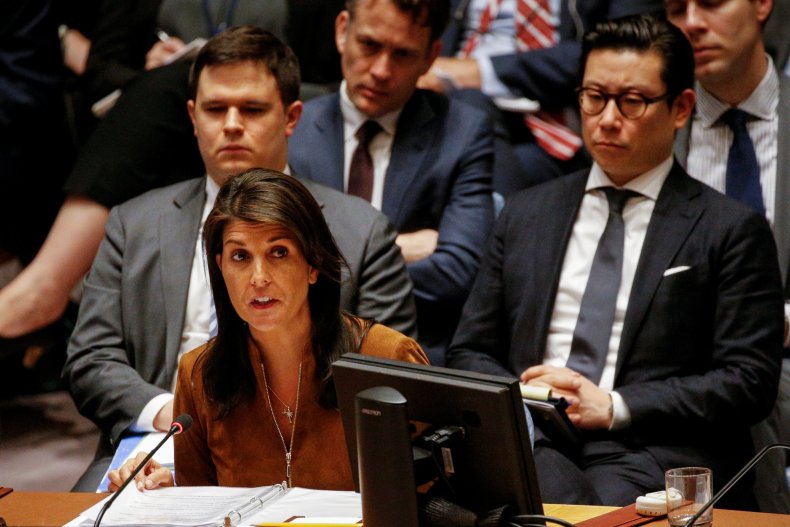 Options for the U.K. could include a Royal Navy attack submarine armed with Tomahawk cruise missiles or Royal Air Force fast jets that can fire Storm Shadow cruise missiles.
However British prime minister Theresa May said there needed to be more evidence that Damascus was responsible and the U.K. will want to be seen to uphold international law.
And ties between the West and Russia, already at a historic low after the diplomatic fallout from the Sergei Skripal spy poisoning, could slump even further, after Russian U.N. ambassador Vassily Nebenzia said the incident in Douma was staged and that any military action in response could have "grave repercussions."