Syrian Forces Threaten to Fight Back After U.S. Military Strikes Multiple Times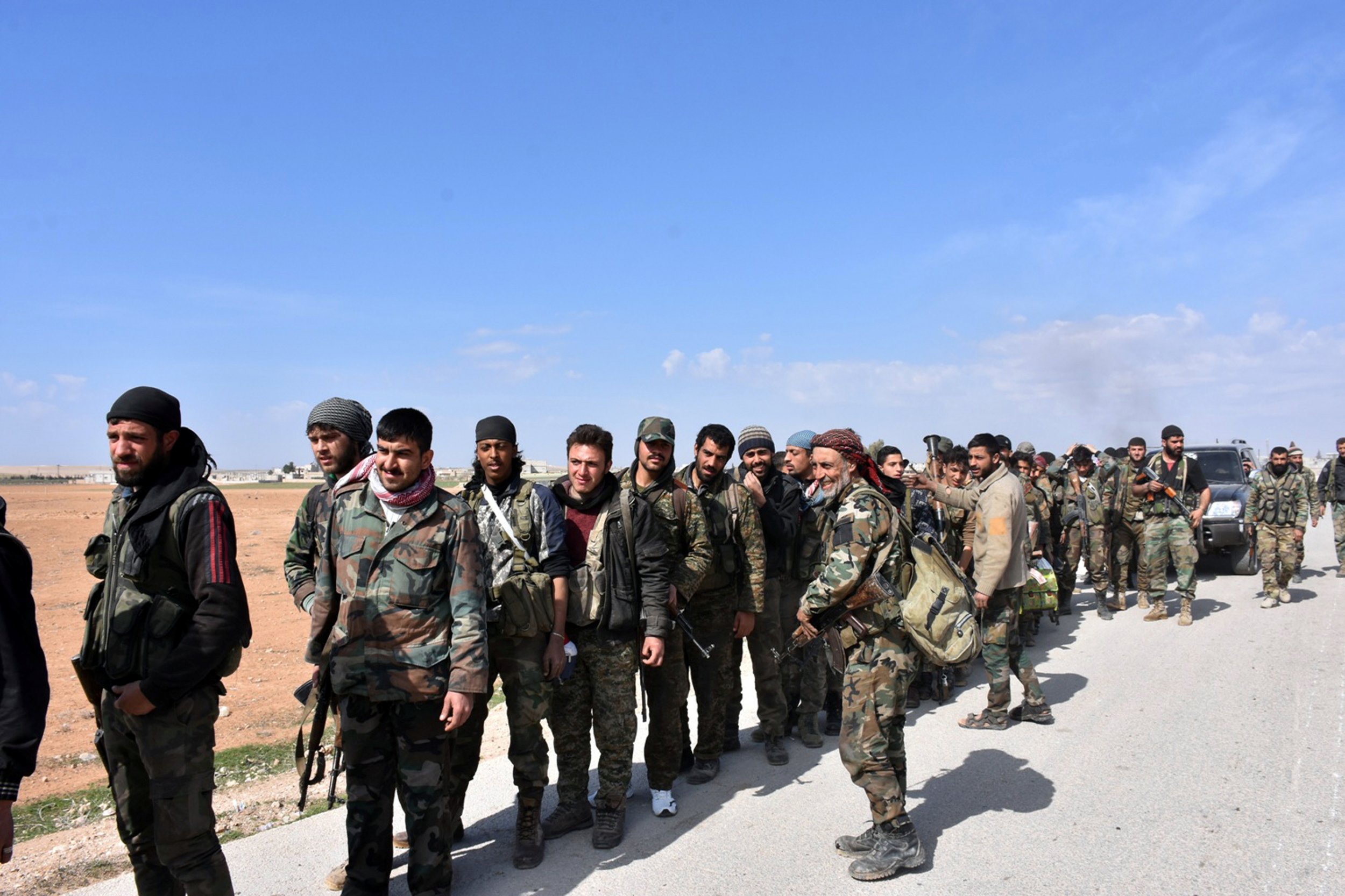 Forces loyal to the Syrian government have threatened to retaliate with force after the U.S. military struck their positions on multiple occasions.
A military alliance fighting the Islamic State militant group (ISIS) and other insurgents on behalf of Syrian President Bashar al-Assad and his allies in Iran and Russia issued a statement Wednesday containing five points of criticism after U.S. warplanes carried out strikes against their fighters on Tuesday. The U.S. argued that Iran-backed militants had approached too closely a Special Forces base in the Syrian region of al-Tanf near the Iraqi and Jordanian borders, prompting the U.S. to launch its second such attack in three weeks against pro-Assad forces. The "Commander of the Operations Room of the Forces Allied to Syria" condemned what it referred to as "a cowardly aggression carried out by America" and questioned the U.S.'s true motives in Syria.
Related: Syria's Assad says worst of the war is over, as ISIS nears defeat
"America knows very well that the blood of the sons of Syria, the Syrian Arab Army and its allies are not cheap, and that the ability to hit their gathering points in Syria and its surroundings is available should circumstances will it," the alliance wrote in a statement carried by various pro-government outlets, including Al Manar, a channel affiliated with Lebanon-based Shiite Muslim militant group and political party Hezbollah.
The statement noted that such an attack would originate from "various missile and military systems in light of the U.S.'s deployment of forces in the region."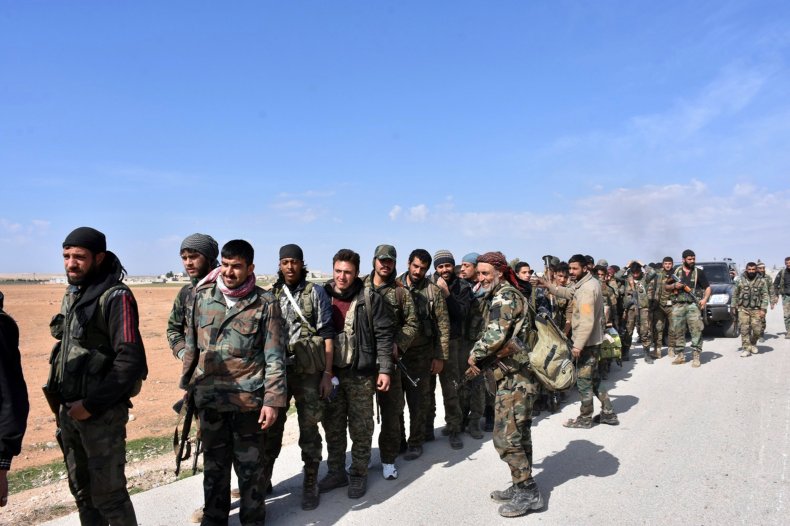 Both Assad and President Donald Trump have declared war on ISIS and are attempting to win back the remaining areas of the jihadists' self-proclaimed caliphate in Syria's vast eastern desert. However, Trump and his administration altered their neutral stance on Assad's government after accusing him of ordering a chemical weapons attack against civilians in the northwestern province of Idlib in April. Damascus and Moscow vehemently denied he was the source of the attack, but Washington ordered an airstrike on a Syrian airbase days later—inflicting minimal casualties, but creating a major rift between Trump and his former political ally, Russian President Vladimir Putin.
The U.S.'s main Syrian partner against ISIS is the Syrian Democratic Forces (SDF), a majority-Kurd coalition of Arabs and ethnic minorities that has at times supported the Syrian army, but remains focused on eradicating jihadists in northern Syria. The U.S. also backs certain anti-Assad rebel groups operating in southeastern Syria, where Special Forces have threatened to cut off the Syrian military's advance toward the eastern city of Deir Al-Zour. The city has been under siege by ISIS since 2014, and its recapture has been designated a major goal of the Syrian army and its allies following months of sweeping victories across the country.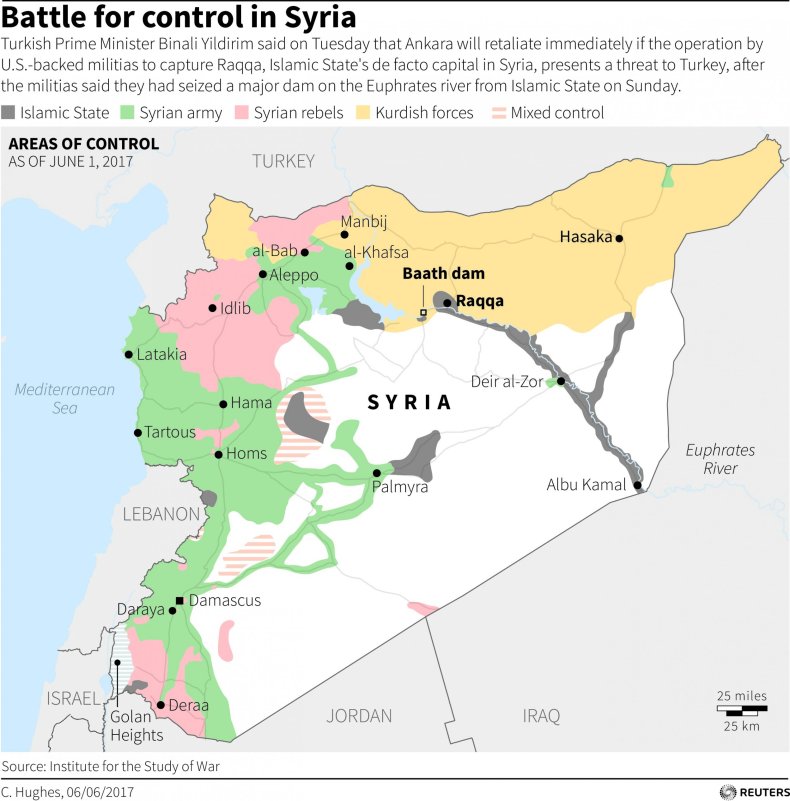 Late last month, the U.S. struck the pro-Syrian alliance it claimed entered a "deconflication zone" unilaterally established by the U.S. According to leaflets dropped by the U.S. late last month, Washington has demanded that pro-Syrian government forces retreat to the Zaza Checkpoint north of al-Tanf. The materials, which warned that troops and militants had entered the U.S.'s so-called deconflication zone, said any further advances would "be seen as hostile."
Following the attacks, Russian Foreign Minister Sergei Lavrov blasted the U.S.'s decision to attack forces supportive of the Syrian government. He said he had no knowledge of the U.S.'s "deconfliction zone" in al-Tanf, which was not included in an agreement drafted by Russia, Iran and Turkey last month to establish four de-escalation zones around the country for civilians fleeing more than six years of war in Syria. The deal was agreed to by Damascus and given tacit support by the U.S., but did not include any areas in southeastern Syria where the U.S. has set up military operations.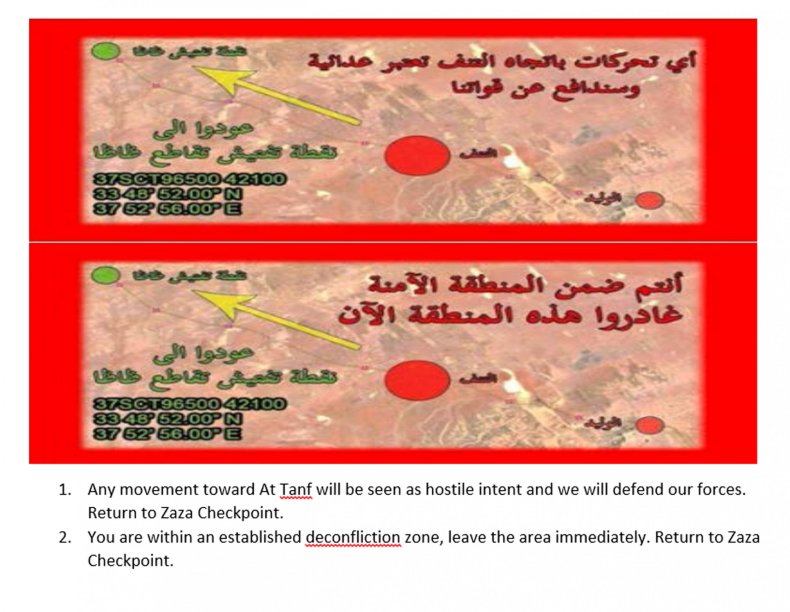 "We consider the unilateral announcement of certain deconfliction territories without the consent of Damascus as illegitimate," Lavrov said Wednesday, according to Russia's Sputnik News. "And we hope that the coalition will follow the understanding reached with us that the de-escalation zones should be coordinated in their details with all interested parties."
Wednesday's statement by the pro-Assad alliance, which did not indicate whether Russia was involved, concluded by asserting that the factions' decision not to retaliate thus far was not "a sign of weakness, but an exercise of self-restraint" and that this "would not last should America go too far and cross red lines."
In September, the U.S. acknowledged that it conducted an airstrike that killed dozens of Syrian troops, but claimed the attack was intended to target ISIS positions. Before becoming president, Trump joined Syria and Russia in accusing the U.S. of pursuing policies under former President Barack Obama that helped militant groups such as ISIS rather than targeting them for defeat.