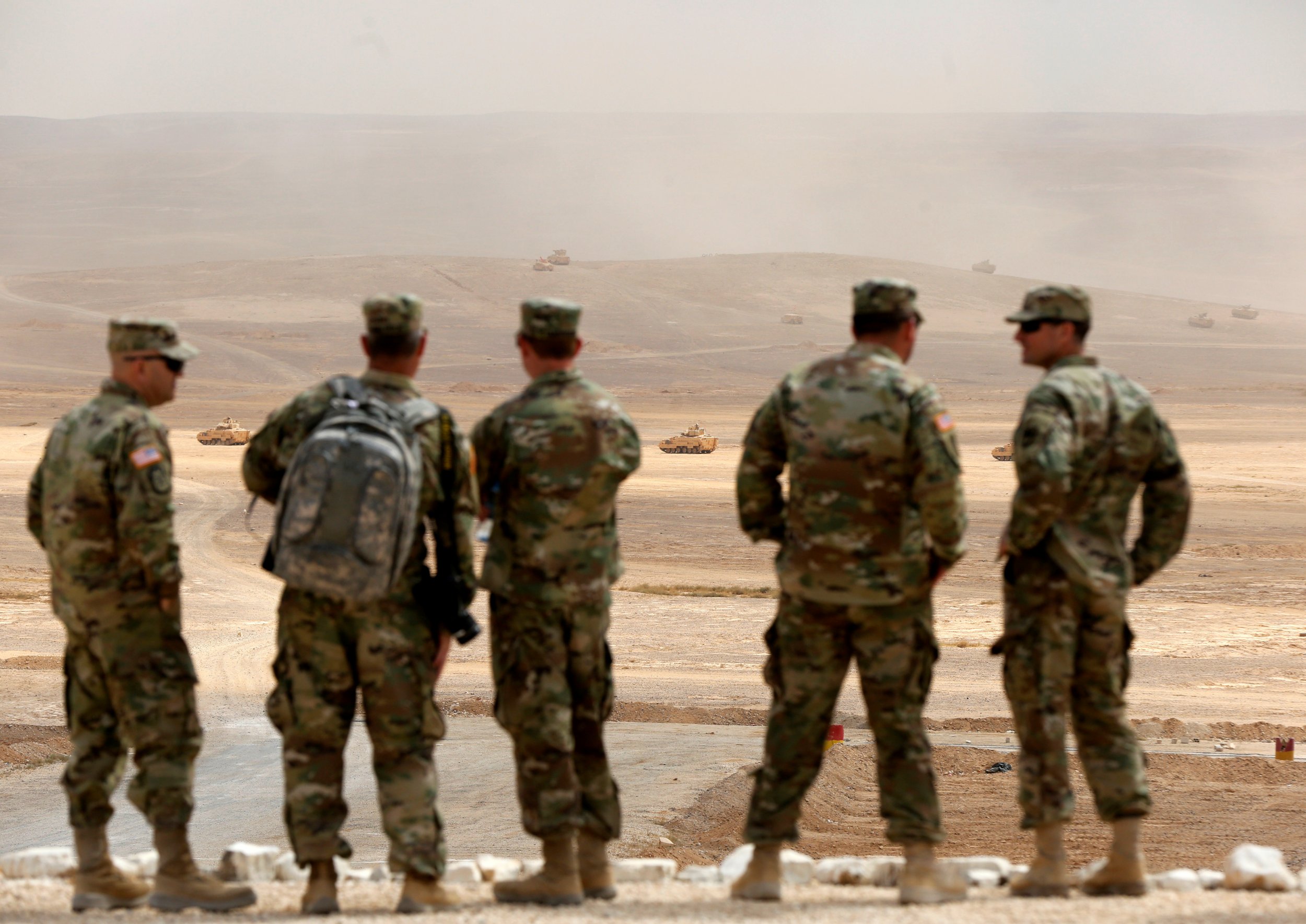 Jordanian commentators, including the military's former deputy chief of staff, have dismissed media speculation of an impending ground invasion of Syria as U.S. and allied troops trained near the nations' mutual border.
About 7,400 soldiers from 20 nations began conducting Sunday annual U.S. and Jordan-led military exercises known as Exercise Eager Lion. This year's drills, reportedly the largest and most complex of their kind, prompted concerns from the governments of neighboring Syria and its ally, Iran, that Washington and its allies were attempting to stage a major intervention to undermine recent gains made by the Syrian military against the Islamic State militant group (ISIS). Experts, however, such as retired General Mousa al-Odwan, former Jordanian Special Forces commander and former deputy chief of staff for Jordan's military, have said such a move was unlikely.
Related: Iran Says U.S. and Allies' Military Moves In Syria Will Fail, as Troops Seen Training Rebels
"We should not intervene in the Syrian conflict unless there is a clear and present terrorist threat to our national security," Odwan told Al Jazeera in an article published Thursday.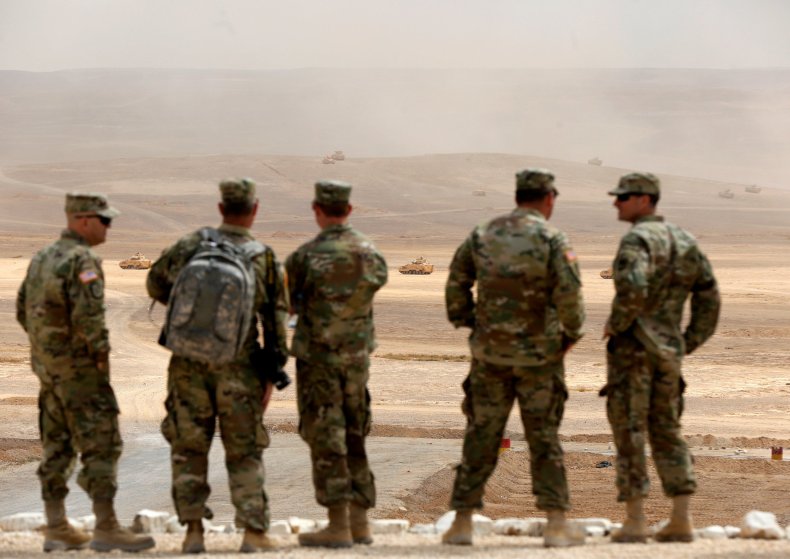 Jordan is part of the U.S.' international coalition against ISIS and has participated in aerial bombardments of the jihadists since September 2014. In December 2014, Jordanian air force Lieutenant Muath Al-Kasasbeh was captured by the militants after his F-16 jet crashed into ISIS territory. About a month later, he was executed by being burned alive in a cage. The graphic video, which emerged amid Jordanian negotiations to free Kasasbeh, prompted a strong reaction throughout the kingdom and resulted in increased airstrikes against the ultraconservative Sunni Muslim militants who have insulted Jordan's ruling monarch, King Abdullah II.
Speaking to The Washington Post last month about Jordan's contributions to international efforts against ISIS, Abdullah said, "we have to take the fight to them." Political analyst Adnan Abu Odeh said "Jordanians linked the timing of the Eager Lion exercise" with comments made by the king during that interview, leading locals to believe that this month's deployments were indicative of a broader military effort, according to Al Jazeera, which also quoted comments made later in April by Abdullah in which the monarch said Jordan would maintain a defensive posture.
The foreign ministry of Iran, which backs in Syrian President Bashar al-Assad in his six-year war against insurgents and jihadists including ISIS, commented directly this week on military movements by the U.S., U.K. and allies. Iranian Foreign Minister Mohammad Javid Zarif said Wednesday that any international military actions would be "doomed to failure," according to Lebanese media outlet Al Mayadeen TV, which reported an impending "zero hour" in Syria a day earlier due to approaching foreign soldiers. As the Syrian military and its allies began a new eastward push to route ISIS from the besieged city of Deir Al-Zour, Syrian Foreign Minister Walid al-Moallem also warned Jordan against getting involved without Syria's permission.
"If the Jordanian forces entered without coordination with the Syrian government they will be considered as hostile forces," Moallem said Monday, according to the state-run Syrian Arab News Agency.
In addition to the large U.S. presence on the Jordanian side of the border, U.S. Special Forces were also spotted inside Syria, training a group of Syrian rebels called Mughawir al-Thowra (Commandos of the Revolution) to fight ISIS. The images were first shared Tuesday by pro-Syrian opposition network Hammurabi News, and later reported Wednesday by Buzzfeed News. While Moallem described the role of the U.S.-backed Syrian Democratic Forces (SDF), a majority-Kurd coalition of ethnic minorities and Arabs, as "legitimate," Damascus has rejected U.S. intervention in the country unless it was coordinated with Assad's ally, Russia.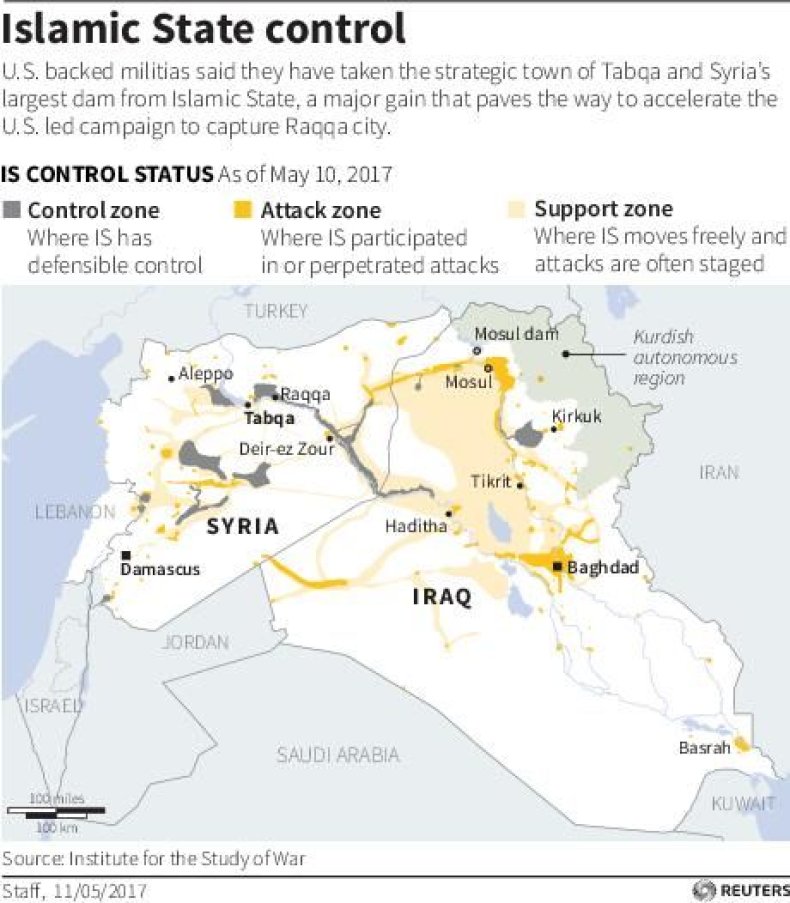 The administration of President Donald Trump suggested in March that the U.S. would no longer pursue the "Assad must go" policy of former President Barack Obama and instead focus solely on battling ISIS. The White House appeared to step back from this decision, however, after accusing the Syrian government of conducting a chemical weapons attack against civilians in the rebel-held province of Idlib. Damascus and Moscow denied responsibility, but Trump quickly authorized a cruise missile strike on a Syrian airbase, leading to a political fallout between the U.S. and Russia.
Trump met Thursday with Russian Foreign Minister Sergei Lavrov in an effort to mend Washington and Moscow's feud in Syria. After the meeting, Trump said the two nations would work together to "stop the killing and the death" in Syria, according to Saudi Arabia-based news agency Al Arabiya, but Trump reportedly insisted Russia "rein in" Assad and his Iranian ally, according to the Hill.