Syria Joins Iran in Calling for U.S. Forces to Leave Middle East after Iraq Votes Them Out
Syria has joined Iran in calling for U.S. forces to withdraw from the Middle East amid soaring tensions between Washington and Tehran that compelled Iraqi lawmakers to vote for troops to leave the country.
Syrian Prime Minister Emad Khamis met Tuesday with Iranian President Hassan Rouhani in Tehran, and called for an end to U.S. troops operating in the country for years without the government's permission, adding that other regional powers should also step up in calling for U.S. military withdrawals.
"The presence of Americans in Syria is a sign of occupation, and we believe that all nations and governments must stand up to their unlawful presence in the region," Khamis said, according to the Iranian leader's office.
Rouhani, for his part, said that "the nations of the region should not hesitate to end the U.S. military presence in the region and expel these aggressors," according to the readout.
The move comes after the killing of Iranian Revolutionary Guard Quds Force commander Major General Qassem Soleimani earlier this month in a U.S. drone strike in Baghdad that fueled outrage among Washington's foes abroad. Days after the slaying, a mostly Shiite Muslim vote in the Iraq parliament called for an end to the U.S. military presence there.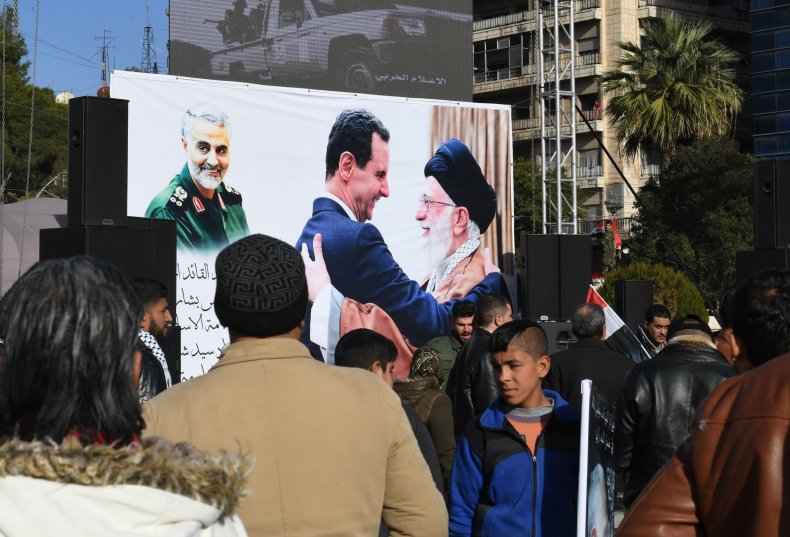 The calls for the Pentagon to withdraw its forces from Middle Eastern countries are a growing rallying cry among the so-called "Axis of Resistance" that comprises Iran, Syria and some mostly Shiite Muslim militias that have partnered with Iran throughout the region. While President Donald Trump has often talked about bringing troops back home, his administration has so far shown no signs of permanently ceasing operations in Iraq, Syria or elsewhere in the Middle East.
Still, Washington and Tehran's dispute has worsened since the Trump administration's 2018 decision to leave a multinational nuclear deal with Iran. The recent, violent events have led the U.S.-led coalition to announce Sunday that its campaign to defeat the Islamic State militant group (ISIS) has been "paused" in Iraq and Syria. The announcement came days after Soleimani's death and ahead of Iranian retaliatory missile strikes on two Iraqi bases housing U.S. and other international troops.
Both the U.S. and Iran formally began their anti-ISIS fight in Iraq and Syria in June 2014. While they both backed the government in Baghdad, Washington dismissed coordinating the Damascus government it had joined Western and regional allies in trying to overthrow.
Though the U.S. has largely abandoned direct support for Syrian insurgents seeking to depose President Bashar al-Assad, the Pentagon has partnered with a mostly Kurdish group known as the Syrian Democratic Forces since 2015. Around this same time, Russia joined Iran in backing the Syrian government, which has retaken most of the country.
The final opposition-dominated area is the northwestern province of Idlib, controlled largely by the jihadi Haya Tahrir al-Sham coalition, but also host to various other militant groups as well as millions of civilians. Syrian and Russian forces recently resumed an offensive here to retake a key highway, though they have been accused of incurring civilian casualties.