'GMA3' Subtly Acknowledged T.J. Holmes, Amy Robach's Exit On Air
ABC's GMA3: What You Need to Know program acknowledged Amy Robach and T.J. Holmes' exit more by what it left unsaid on Monday.
The former co-anchors-turned-lovers were taken off-air in December after rumors of their affair went public when images of them on a weekend getaway were published in the media.
The duo's permanent exit was confirmed on Friday, first internally by network president Kim Godwin in a memo to staff, and then in a public statement via an ABC News spokesperson.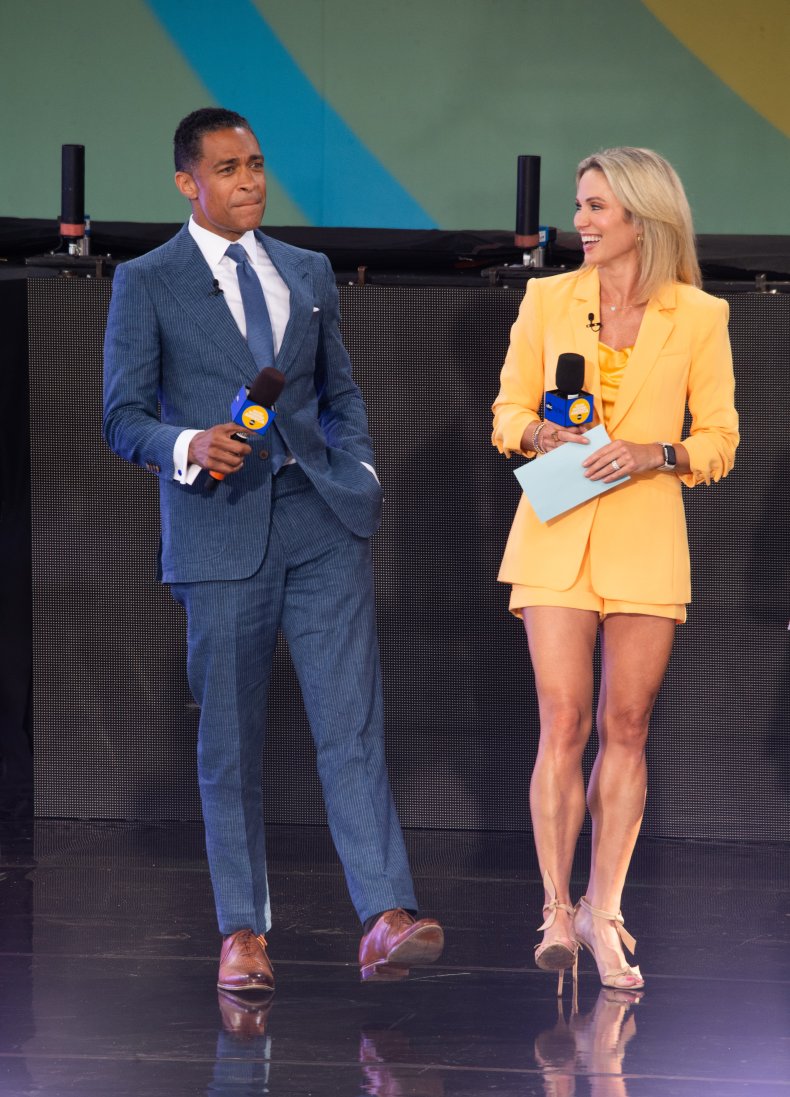 Monday's episode was the first since their confirmed departure, and their absence was deafening.
Usually, the show opens with the announcement, "Now, from Times Square, Amy Robach and T.J. Holmes with Dr. Jennifer Ashton and what you need to know."
But Monday's episode simply opened with, "Now, from Times Square, here's what you need to know."
DeMarco Morgan and Rhiannon Ally stepped in to host the show alongside Ashton, with Godwin promising to announce permanent replacements soon. She will also say who will replace Robach as co-anchor on 20/20.
"I know that this has been a distraction for so many of us, but let's not forget all the great work that continues to make ABC News the #1 news network in America, and that's because of you," Godwin wrote in the memo to staff, as CNN reported. "I want to thank you again for your patience and professionalism during this time."
Later, an ABC News spokesperson said: "After several productive conversations with Amy Robach and T.J. Holmes, about different options, we all agreed it's best for everyone that they move on from ABC News. We recognize their talent and commitment over the years and are thankful for their contributions."
Shortly after photos of Robach and Holmes together appeared online— including some of the duo getting cozy at a New York City bar— the pair shared an awkward moment live on air.
"It's too bad it's Friday," Holmes told Robach and viewers, just days after the photos came out. "It's been a great week. I just want this one to keep going and going and going."
Robach replied, "Speak for yourself," adding, "I am very excited about the weekend—and I'm sure everyone else is, too. We all love our Fridays around here. Some of us do, at least."
Holmes was previously married to attorney Marilee Fiebig, while Robach's second husband was actor Andrew Shue. Both Holmes and Robach married their spouses in 2010. Fiebig filed for divorce from Holmes in 2022, and Robach is reportedly separated from her husband.
Robach is mom to two daughters, Ava and Annie, with her first husband, Tim McIntosh. Holmes shares a daughter, Sabine, with Fiebig, and he has a daughter, Brianna, and a son, Jaiden, with his first wife, Amy Ferson.