Taiwan Stages Live-Fire Drills to Simulate Fighting Off China Amid Escalating Invasion Threats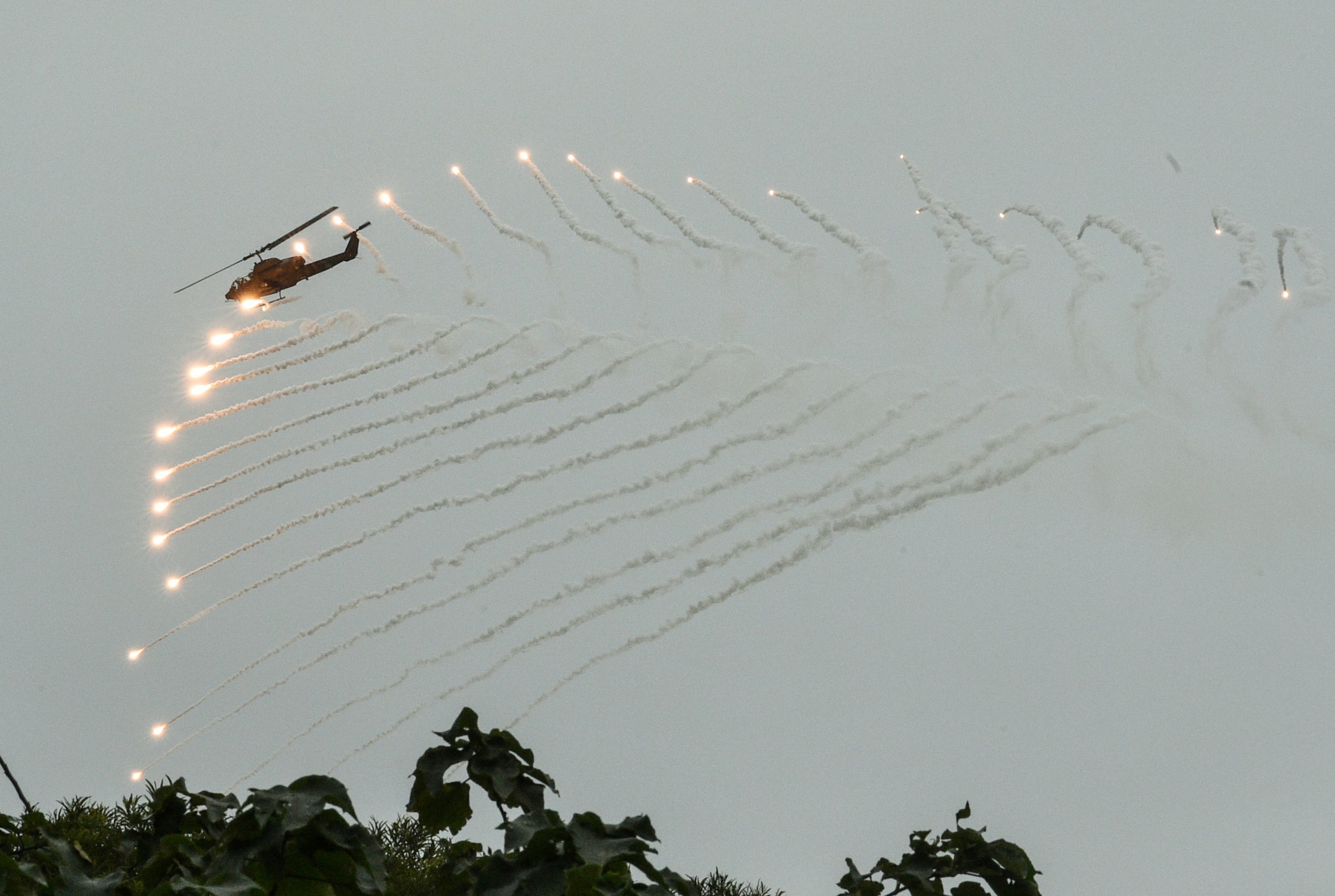 Taiwan's military fought off an imagined invasion at the Port of Hualien on Tuesday, as fears rise of a hostile takeover of the island by China.
As reconnaissance planes monitored imagined incoming navy ships, Taiwanese tanks fired rounds and attack helicopters flares. Meanwhile, F-16 fighter jets drilled defensive maneuvers against a ground invasion, Channel New Asia reported.
As usual, Taiwan held the drills prior to Chinese New Year—which begins on February 16—in an effort to demonstrate the island state's military preparedness ahead of the annual holiday.
"Our combat readiness has no holidays," Huang Kai-sen, a lieutenant general, told AFP. "In order for our citizens to feel safe during the Chinese New Year, we are standing by and on guard 24 hours a day."
Taiwan did not explicitly state that the exercise simulated fending off an invasion from China, but the ministry said that the drills were held to "show determination to safeguard peace in the Taiwan Strait and national security."
In recent months, China has stepped up military drills around Taiwan, and although Beijing has claimed the exercises are routine, it has explicitly said it will not tolerate any attempt by the island to declare independence.
Tensions have been growing over the past few weeks after China started new flight routes through the strait without permission from Taiwan. Beijing also sailed the Liaoning aircraft carrier through the Taiwan Strait twice in 2018.
In October, The Washington Free Beacon reported that newly disclosed internal military documents proved China has secret plans to invade Taiwan by 2020.
During an annual defense review last month, Taipei said that frequent and increased Chinese military drills posed an "enormous threat" to Taiwan's security.
Beijing suspects that Taiwan's first female president, Tsai Ing-wen, who leads the independence-leaning Democratic Progressive Party, wants to maintain full-fledged independence for the island at all costs. Tsai claims she wants to preserve peace with China, but she has said she will not hesitate to defend Taiwan's security and way of life.