Taiwan Says China Waging Silent War to Sabotage Island's Diplomatic Ties
China has been waging a years-long "silent diplomatic war" to poach Taiwan's allies and sabotage its informal relations with other countries, the island nation's top diplomat has said, as support from the United States—its strongest international backer—continues to sustain Taipei in its "ideological war" against Beijing.
As the 76th session of the United Nations General Assembly (UNGA) drew to a close on Monday, 13 of Taiwan's 15 remaining diplomatic allies had publicly lobbied for its return to the world governing body, from which it will have been excluded for half a century as of October.
Speaking at an event hosted by the Hoover Institution on the same day, Taiwanese Foreign Minister Joseph Wu said his counterparts in Beijing have "a mission to take out our diplomatic allies and sabotage our relations with like-minded countries."
China's growing presence at the UN has allowed it to block Taiwan's participation in major international organizations, including UN agencies such as the World Health Organization and its annual World Health Assembly, Wu told the Stanford University think tank.Taiwan passport holders are barred from the UN headquarters in New York—a continuing source of humiliation, he said.
Beijing's economic heft means it now also holds sway over major businesses, many of which have acceded to Chinese demands that Taiwan be classified as a province of China.
Wu is among the Taiwanese government's most vocal critics of China's coercive policies directed at Taiwan and others. "I've been branded lately by the Chinese, for trying to make corrections of what they have done to us, as being too provocative, that they will pursue me for the rest of my life," he said.
He appeared to be referring to a threat in May by a Chinese official who said Wu would be added to a watchlist and held legally accountable as an advocate of Taiwan independence. The government in China has never had jurisdiction over the democratic island since Communist Party leader Mao Zedong founded the nation in 1949.
Over the years, Taiwan's population has consistently shown a lack of interest in being governed by China under its "one country, two systems" model used in Hong Kong. Recent events in the city have only solidified their preference for self-determination and democracy, especially among the island's youth.
"The fall of Hong Kong as a shining beacon of liberalism is telling. It sent a chill through the Taiwanese people," Wu said, adding that the Chinese government "is capable of in confiscating freedom and human rights."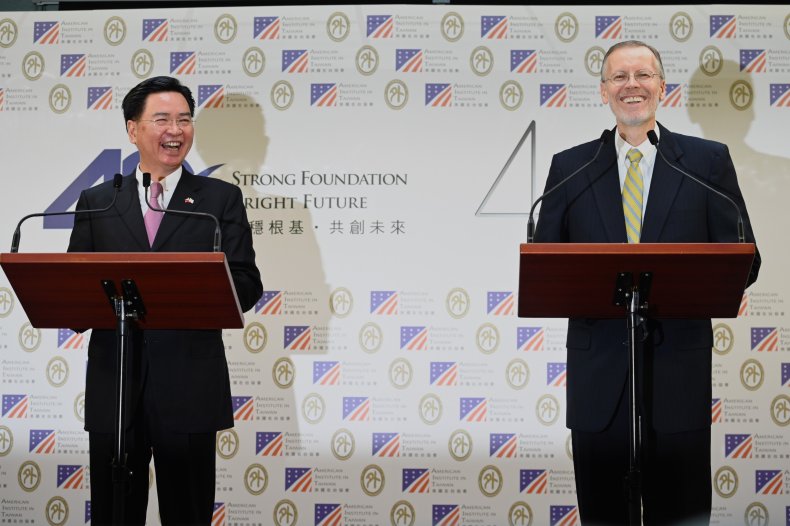 Monday's event, which Wu attended via a video link, briefly reunited the official with Richard Bush and Brent Christensen, two former directors of the American Institute in Taiwan, which acts as the de facto U.S. embassy in Taipei.
Wu said U.S.-Taiwan relations are in their "best form so far," a view, he said, also shared by the Joe Biden administration. Washington severed formal ties with Taipei in favor of Beijing in 1979, but a strong unofficial relationship was retained.
Taiwan's chief diplomat noted the "strategic" importance of further deepening his country's relationship with the U.S., especially on trade and security issues. He repeated Taipei's hopes of a bilateral trade agreement, which he believes could encourage other nations to do the same.
On defense, Wu hoped for more intense dialogue about "all kinds of possible scenarios, so that Taiwan can make better preparations," he said. The U.S. is Taiwan's main supplier of defensive arms.
Taiwan's continuing struggle to return to the UN-led international stage centers on UNGA Resolution 2758. Passed in October 1971, the resolution led to the People's Republic of China taking the seat of the Republic of China—Taiwan's official title. However, the declaration made no mention of the self-ruled island of Taiwan or attempt to determine its political status.
Arguments for Taiwan's inclusion as a non-member observer are challenged by China, which doesn't accept the view—held by the U.S. and others—that the island's status remains undecided.