What Sharon Osbourne's Former 'The Talk' Co-Stars Have Said About Her
The Talk remains on hiatus at CBS after the show was hit by a whirlwind of controversy based around former host Sharon Osbourne. After a tense interview in which Osbourne got defensive about racism while defending her friend Piers Morgan's comments about Meghan Markle, numerous accusations (all of which Osbourne has denied) began to emerge about the toxic work environment on set.
After days of headlines, it was announced that Osbourne was leaving the show, with CBS releasing a statement reading, "The events of the March 10 broadcast were upsetting to everyone involved, including the audience watching at home. As part of our review, we concluded that Sharon's behavior toward her cohosts during the March 10 episode did not align with our values for a respectful workplace."
At that time, none of the present The Talk hosts commented on Osbourne's exit, but a number of former presenters have since spoken out.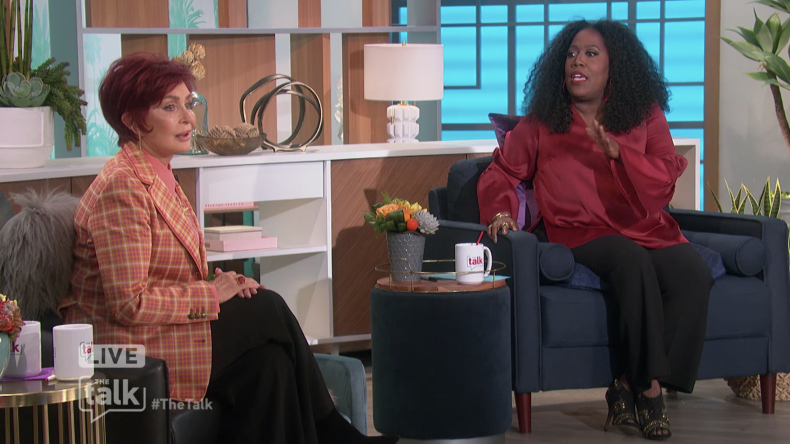 Sheryl Underwood
On the Sheryl Underwood Radio podcast in April, Underwood finally spoke about the situation that led to Osbourne's exit from the show.
She said: "Sometimes in life, something happens and you go, 'Gosh, if I just would've ... 'There's nothing I could have 'just would've' — this was going to happen, out of my control."
Speaking on the conversation about racism on the show that sparked the controversy, Underwood added, "In my gut, I thought this was going to go left," recalled Sheryl. "And so I wanted to put it in its proper order, be very calm, but there were a few people that criticized me on that...It's not about the reaction of the person, it's about me and who I'm trying to evolve and mature to be."
She also alleged that friends had warned her about Osbourne before Underwood joined the show. She said, "I had heard things, and I got phone calls of this and that and so what I said to those people, I said, 'Thank you for the information.' Because listen, in this business you've got all types of personalities, right?"
Osbourne has disputed some of Underwood's claims on the podcast. Particularly, she publicly disagreed with Underwood's claim that Osbourne had not contacted her since the controversy.
The former Talk host shared screenshots of messages she had sent Underwood with the Daily Mail, telling the outlet, "I not only sent these messages to Sheryl but I apologized to her in person in her dressing room. Why are you saying I never apologized Sheryl? What are you trying to do to me?"
Holly Robinson Peete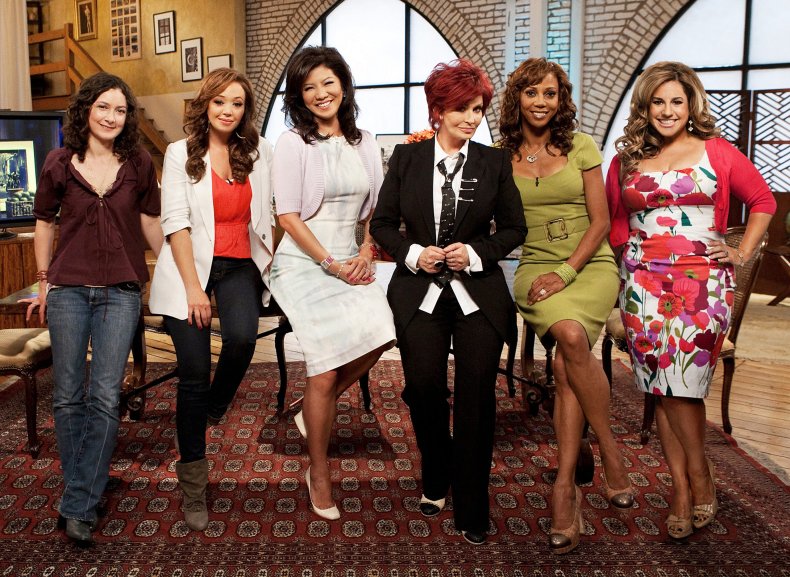 Though Osbourne's defence of her friend Piers Morgan on The Talk was the inciting incident of this controversy, things were inflamed by a tweet from one of the show's former hosts, Holly Robinson Peete.
Peete, who hosted the show's first season, tweeted, "I'm old enough to remember when Sharon complained that I was too 'ghetto' for #theTalk...then I was gone. I bring this up now bc I was mortified watching the disrespectful condescending tone she took w/ her co host who remained respectful because...she HAD TO."
Osbourne tweeted, "In response to Holly Robinson Peete's accusation of me getting her fired from The Talk, I am sharing an e-mail sent to me from Holly one month after she was let go by CBS," alongside a message that appeared to show the pair on good terms. She then tweeted, "Never in my life did I utter the words that Holly was 'too ghetto' to be on The Talk, as well as not having her fired."
Leah Remini
No stranger to controversy, Leah Remini also shared her experiences from the first season of The Talk.
Speaking to journalist Yashar Ali, Remini alleged that Osbourne had used racist slurs to refer to one-time co-host Julie Chen Moonves, and homophobic ones against another host, Sara Gilbert.
She went on to call The Talk a "toxic environment," adding: "Although being fired was devastating at that time, in part because someone we considered a friend turned on us for a show we helped to create, I am grateful for the time away to do the work I needed to do.
"Coming from Scientology, where racism, bullying and bigotry is taught, I had to unlearn a lot. I'm still learning and hopefully evolving. I can't say that Sharon has focused on the work she needs to do."
In that article, Osbourne's representatives responded to these accusations by writing, "The only thing worse than a disgruntled former employee is a disgruntled former talk show host. For 11 years Sharon has been kind, collegial and friendly with her hosts as evidenced by throwing them parties, inviting them to her home in the UK and other gestures of kindness too many to name. Sharon is disappointed but unfazed and hardly surprised by the lies, the recasting of history and the bitterness coming out at this moment."
Marie Osmond
Prior to this latest controversy on The Talk, the show had two hosts leave within a short time of each other, with Marie Osmond exiting followed by Eve.
Eve's exit seems to be as a result of her move to London amid the coronavirus pandemic. On the show, she said, "This is one of the hardest decisions in the world because I wish I hated one of you, but I don't...I wish I hated someone on the set. It would just make it so much easier to blame this because I have had the most beautiful experience."
The reasons for Osmond's departure were more ripe for speculation. After she and Osbourne had a notable clash over the seriousness of the pandemic, many speculate that there was a feud between them.
Osmond shut down those rumors on a Watch What Happens Live segment in which she said, "Sharon and I are great friends...Everybody who sits at that table is a very strong woman, and so she'll say things and I'll go, 'Uh, no.' That doesn't mean you don't like each other."
Newsweek has reached out to a representative for Osbourne and will update this article when we get a response.