'The Talk': What the Hosts Said About Sharon Osbourne on First Show Without Her
The Talk dedicated its first post-hiatus show to addressing the fall-out from a recent episode that led to the show being paused and Sharon Osbourne leaving the CBS series.
After a discussion about racism on the show on March 10 got heated between Osbourne and Underwood, the former issued an apology on her Twitter. After journalist Yashar Ali released a piece detailing allegations of a toxic work environment on the show created by Osbourne, however (which she denied), CBS announced she was exiting the series.
On their first show after the hiatus caused by the controversy on April 12, Sheryl Underwood led the show with a statement about all that had gone down while the show was on hiatus. She said:
"It's time for an episode of The Talk that will be unlike any other we've had before. As you may know, during our break, Sharon decided to leave The Talk.
"We need to process the events of that day and what happened since, so we can get to the healing. Over the next hour, we will honestly discuss what occurred and explore some of our feelings. And we'll also show you how anyone can become more comfortable discussing important issues and having difficult conversations. By the end of the hour, we want everyone to feel empowered and ready to move forward."
The show then saw Underwood and co-hosts Carrie Ann Inaba, Amanda Kloots and Elaine Welteroth joined by guest Dr. Donald E. Grant, a self-described "trainer & coach, mental health expert [and] social justice advocate" (per his Twitter bio). They also spoke to trauma therapist Dr. Anita Phillips.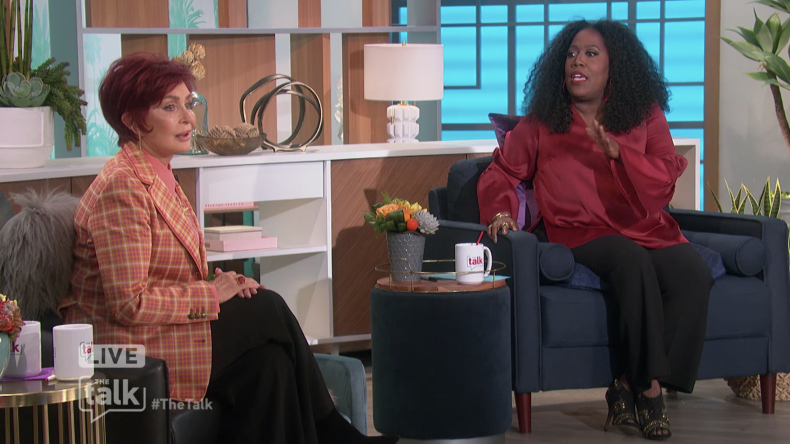 In a conversation about the March 10 discussion about Piers Morgan that became heated between Osbourne and Underwood, the latter said "I didn't want to escalate things with Sharon because I thought I was having a conversation with a friend. But also I knew I had to be an example for others to follow because I didn't want to be perceived as the angry Black woman.
"That really scared me. I didn't want to be that. I wanted to remain calm and focused. It's difficult to go back to that day because I feel the trauma. I feel fearful, a little apprehensive."
Also in this race-focused special episode of The Talk, Inaba discussed the conversations she and her co-hosts had while the CBS show was on hiatus.
Inaba, who was not on the show during the March 10 incident, said that over the "past few weeks individually and as a group we've been in our own healing sessions" with a diversity and inclusion consulting firm.
Welteroth said that the conversation about Morgan, "saddened me because part of the reason I joined this show, with these diverse, beautiful, intelligent women is I thought we had an opportunity here ... to have conversations to show people how we can bridge these divides in our country and we can do it with empathy."
Speaking of re-watching the episode, the former Teen Vogue editor-in-chief said she saw: "Two Black women walking the same tightrope that Black women are walking every single day in the workplace. As Sheryl said, we knew that we had to stay composed — even in the face of someone who was a) not listening and b) went off the rails into disrespect when we were maintaining our respect within the context of this very complex charge, emotional conversation."
After weeks of opposing messaging from Osbourne via her social media and Underwood via her podcast, Underwood said that what made the initial incident so difficult for her was that Osbourne was, "somebody that I love and I trusted."
One of the biggest points of contention between Osbourne and Underwood has been the question of whether the pair have spoken since the show went on hiatus. Underwood said on her podcast she had not spoken to Osbourne, only for Osbourne share messages she had sent to Underwood via text with the Daily Mail.
On The Talk, Underwood clarified that she had received the texts, adding: "I have not had a phone call from her... People have asked me, 'Well, if you see Sharon, what would you do?' First of all, if she greeted me warmly and sincerely, I would give her that in the same because we've been on the show together for 10 years."