Tampon Shortage: Which Alternatives Are Cheaper and Where to Find Them
Amid increased prices in gasoline and shortages in baby formula, tampons appear to be the newest essential item that has grown scarce on shelves in stores across the country.
Some tampon makers, including Procter & Gamble, which makes Tampax, have said that trying to stock shelves with their products has become "costly and highly volatile," according to CNET. And according to a report from NielsenIQ, the average price of tampons for the consumer has risen 9.8 percent in the year through May 28 as a result of inflation.
"To put it bluntly, tampons are next to impossible to find," Michelle Wolfe, a radio host in Bozeman, Montana, said on her station's website. "I would say it's been like this for a solid six months."
Several big-chain stores across the country have been combating the shortage in recent weeks, including Walgreens, whose spokesperson told Newsweek, "Walgreens works diligently with our suppliers to ensure we have supply available. However, similar to other retailers, we are experiencing some temporary brand-specific tampon shortages in certain geographies. While we will continue to have products at shelf and online, it may only be in specific brands while we navigate the supply disruption."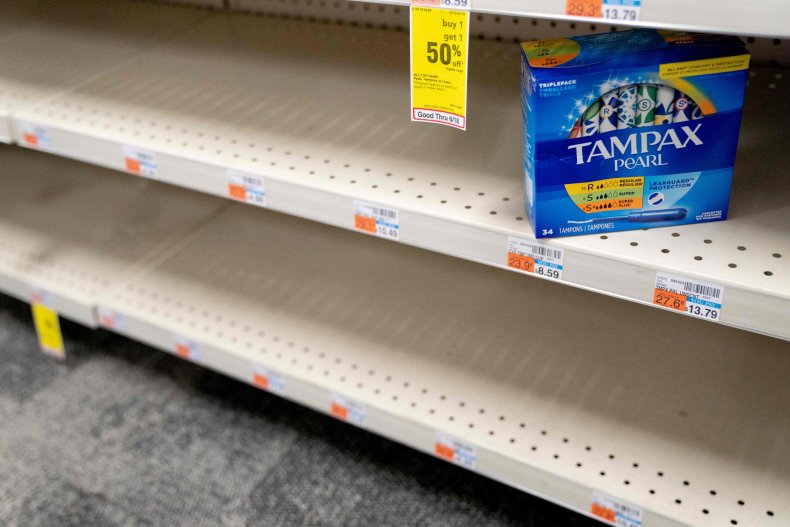 With the increased prices and low supply, many menstruating people are turning to other alternatives for tampons. So which alternatives are cheaper, and where can you find them?
Menstrual pads are disposable and perhaps easier to find than tampons at the moment. The Always brand can be found at Walmart, Walgreens, CVS and on Amazon, and packs of 18 to 24 are sold for roughly $7 to $10 at all of those locations. Bigger packs of 60 on Amazon are sold for $22.
Other brands, like U by Kotex and Poise, are comparable in terms of price and can be found on the websites of those four locations as well.
Menstrual cups are another alternative, and unlike tampons and pads, the cups are reusable, making them more sustainable and ultimately cost-effective. One of the more popular brands, Diva, can be found cheapest at Walmart, one cup being sold for under $30. At Walgreens, CVS and Amazon, you can find the same product for $30 to $40.
Similar brands, like Cora and the Honey Pot Company, are also cheapest at Walmart and on Amazon.
Period underwear is yet another sustainable alternative to tampons. While some brands are reusable and some are disposable, a good pair of reusable period underwear tends to start around $16 and can be easily found at Walmart or on Amazon.
The brand Always also has disposable pairs that come in packs of seven, which can be found cheapest at Walmart for only $7.37. The same brand at the other stores is roughly only $10.
These alternatives are healthy and some more cost-effective, but remember to use what is best for you and consult a physician or health care provider for any questions and concerns you may have.
Newsweek reached out to Walmart and CVS for additional comments.