Man's Tattooed Six-Pack Sparks Fierce Debate Online Amid Claims It's 'Fake'
A man claiming he got a tattoo of a six-pack on his stomach has divided opinion online, with some people sure the inking is fake.
Tattoo artist Dean Gunther shared two clips of a client, explaining that despite numerous trips to the gym, he wasn't able to get the abs he wanted.
Gunther, whose bio states he's a traveling tattoo artist from Capetown, South Africa, but currently based in the United Kingdom, uploaded two videos to his TikTok page, @dean.gunther, showing off the design.
The first video, shared on Thursday, was captioned: "My bro struggled for years to get a 6 pack to no prevail. He was not happy. So he came to me for help!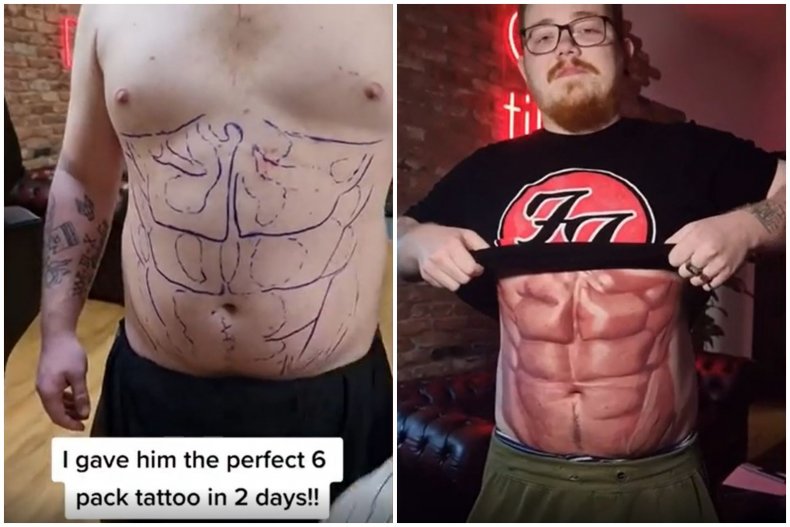 "I gave him the perfect 6 pack tattoo in 2 days!! Summer ready. Watch out ladies."
It was seen more than 730,000 times, and can be viewed here. In it the man produces a photo of strongman athlete Eddie Hall, and Gunther gets to work supposedly permanently etching the design onto his skin.
Amid questions surrounding the tattoo, Gunther shared a second clip, on Friday, supposedly showing off the process.
The video, seen more than 800,000 times, was: "This 6 pack tattoo is in fact real. Added a video while I'm tattooing him. Don't hate bro. Mr Olympia here we come."
Despite Gunther repeatedly asserting the inking was real, people still had their doubts.
Jordan Wright wrote: "There ain't no way, truly up there as one of the worst tattoo decisions I've ever seen." Bengilmore57 joked: "That's what you call instant results."
Biggie said: "Immediately and absolutely entirely without a doubt no." Toasty commented: "I'd rather get a tattoo of all my exes names."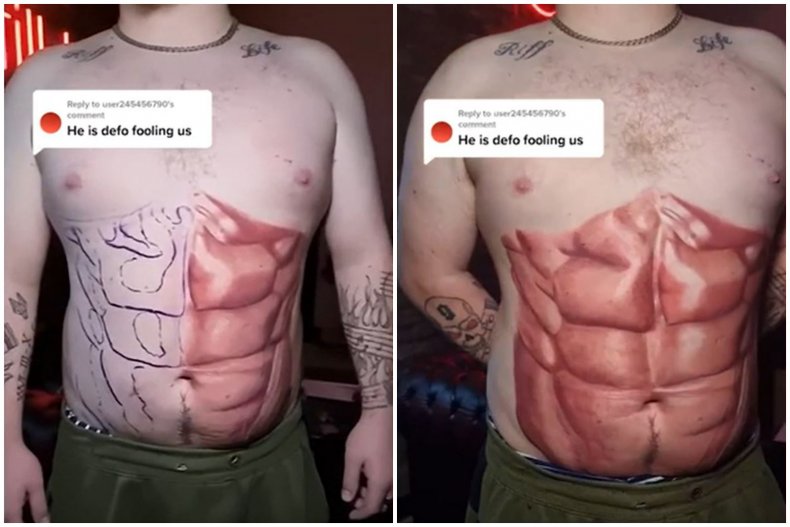 IT asked: "Surely it's a temporary tattoo." Syn replied: "Please tell me this isn't real. Please."
Arron crawford thought: "Future regrets right there. Artist done an amazing job though." G.duncan commented: "Better be fake or I'm calling the cops." While Charlie added: "Awful taste but great execution."
Tattoos have risen in popularity over the last few years, as Statista noted: "Only a few decades ago, tattooed people were often perceived as socially inadequate, maladaptive, and even as criminal.
"Body ink was associated with people who lived on the fringes of society, people who had been to jail or worked as sailors at best.
"Today, tattoos are a means of self-expression, especially embraced by the younger generations.
"They have become acceptable for professionals as well, while they have been hidden in public under long sleeves and collars for decades, they are now often shown off proudly; professional reasons are rarely cited for not having a tattoo nowadays."
Citing figures from Tattoos, Guns & Love 2019, published by the Statista Research Department, it revealed that 35 percent of adult Americans surveyed had at least one tattoo.
Some 19 percent had between two to three inkings, 18 percent had between four and five, 16 percent had between six and 10, while 9 percent had between 11 and 20, and just 3 percent had over that number.
Update 5/23/22, 11:07 a.m. ET: This article was updated with video and photos from @dean.gunther.