'Tax! Bezos!': Demonstrators Gather Near Amazon's Seattle HQ, as Retailer Expects to Rake in Huge Holiday Sales
Protestors congregated near Amazon's headquarters in Seattle on Friday to demand better pay and working conditions, as the online retail giant is expected to rake in record-breaking sales this holiday season.
The demonstrators were heard outside of the company's South Lake Union corporate headquarters, chanting demands such as "Tax! Bezos!," "Stop Union Busting" and "Paid Sick Leave!"
Though Amazon shares have nearly doubled their value since the pandemic took hold in March—and the company's CEO, Jeff Bezos, has gained nearly $67 billion this year— protesters maintain that frontline workers have not benefitted from that wealth.
Others have stated that the company has not done enough to protect employees from the coronavirus pandemic, as tens of thousands of warehouse workers have tested positive for the virus since March.
"We're going to march and rally and tell these people who are making six figures what they need to hear: We're essential workers. And we still exist," former Amazon employee and protest organizer Chris Smalls told the Seattle Times.
"They need us. And they need to take care of us. They're not doing that right now."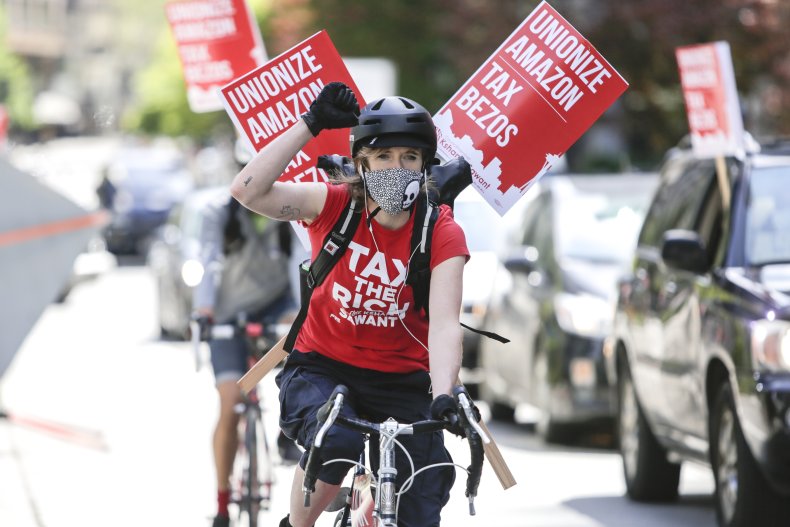 The protest in Seattle echoed other calls for change around the world.
On Black Friday, Amazon workers and activist groups staged a demonstration called "Make Amazon Pay" throughout 15 different countries, Business Insider reported, to demand better working conditions, higher pay, and a commitment from the company to end its relationship with fossil fuels.
"During the Covid-19 pandemic, Amazon became a trillion dollar corporation, with Bezos becoming the first person in history to amass $200 billion in personal wealth," their demands statement said. "Meanwhile, Amazon warehouse workers risked their lives as essential workers, and only briefly received an increase in pay."
The protests took place in Brazil, Mexico, the U.S., the UK, Spain, France, Belgium, Germany, Luxembourg, Italy, Poland, India, Bangladesh, the Philippines, and Australia, Business Insider reported.
In Germany, an estimated 2,500 employees across six different Amazon facilities went on strike in an effort to increase the pay rate. And in Alabama, employees at a newly opened warehouse have made an effort to unionize to receive higher pay and safer work conditions.
The protest movements come as Amazon saw an incredible boost in sales throughout the pandemic, raking in as much as $1 billion a day in its third-quarter earnings.
The company is predicting a blowout holiday shopping period with revenues for the fourth quarter expected between $112 billion and $121 billion.
On Thursday, Amazon announced that it plans to give out bonuses worth more than $500 million to workers over the coming holiday season – a number that seems generous, but only amounts to roughly half of the company's earnings in a single day.
This time of year is known as the company's "peak" season, when Amazon expects workers to clock as much as 60 hours a week, in shifts that some have called "punishing."
"It's going to be awful as the holiday season ramps up," a protester told the Seattle Times, noting that peak season could result in stress injuries for employees.
Newsweek reached out to Amazon for comment, but did not hear back in time for publication.