Senate Democrats want Majority Leader Mitch McConnell to include millions of taxpayers who missed out on stimulus checks and are at risk of being excluded again in a second round of payments: undocumented immigrants.
More than two dozen Democratic senators urged the Kentucky Republican in a letter on Friday to include language in any forthcoming relief bill that would ensure undocumented immigrants with Individual Tax Identification Numbers (ITIN) would only eligible for the likely second economic payment, and would also receive the $1,200 individual checks from the CARES Act.
The document was first obtained by Newsweek.
"Immigrants are disproportionately working in essential jobs to keep Americans healthy, safe, fed and poised for economic recovery—often at great risk to their own lives and health," the Democrats wrote. "Excluding immigrant families, many of which include U.S. citizen children and spouses, from the federal government's economic disaster relief response will impair our Nation's ability to not only restore our economy but also to maintain critical essential services during the pandemic."
Their provision would benefit roughly 7.8 million people—4.3 million adults and 3.5 million children—according to the left-leaning Institute on Taxation and Economic Policy. Roughly 4.4 million undocumented immigrants who are ITIN holders paid $23.6 billion in taxes in 2015, according to the Internal Revenue Service. Democrats included the same provision in the House-passed HEROES Act.
And there are signs that at least a watered-down version of Democrats' appeal could muster enough support among Republicans.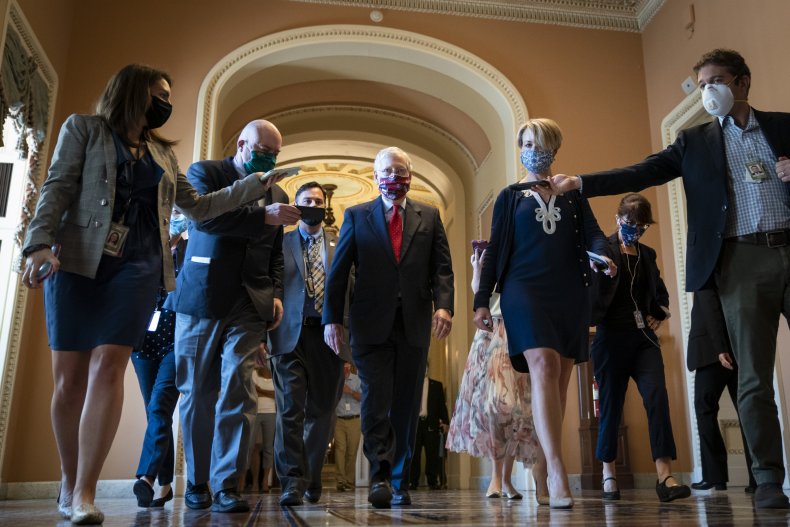 The request represents increasing bipartisan pressure for McConnell to ensure immigrant families receive cash assistance. Senator Marco Rubio (R-Fla.) is urging GOP leadership to adopt a similar provision that would allow U.S. citizens in mixed-status families—where one spouse is undocumented—to receive the checks, which was excluded from the Republicans' stimulus bill. GOP Senators Thom Tillis (N.C.) and Bill Cassidy (La.) also back Rubio's measure.
Under the CARES Act, even American citizens in mixed-status families missed out on the relief because the legislation required joint filers to both have a Social Security Number (SSN). Rubio's bill would only require one of the tax filers to have an SSN.
"It is the right thing to do," Rubio told Newsweek on Wednesday. "What's the remedy, you divorce them?"
However, his proposal would stop short of making ITIN holders eligible, which means anyone in the country illegally, such as a spouse, and children who are U.S. citizens but whose parents are undocumented would be omitted.
The Democratic letter to McConnell, which was spearheaded by Senators Mazie Hirono (D-Hawaii) and Patty Murray (D-Wash.), says that "At the very least," Congress should extend the "crucial coronavirus cash assistance" to citizens in mixed-status immigrant families.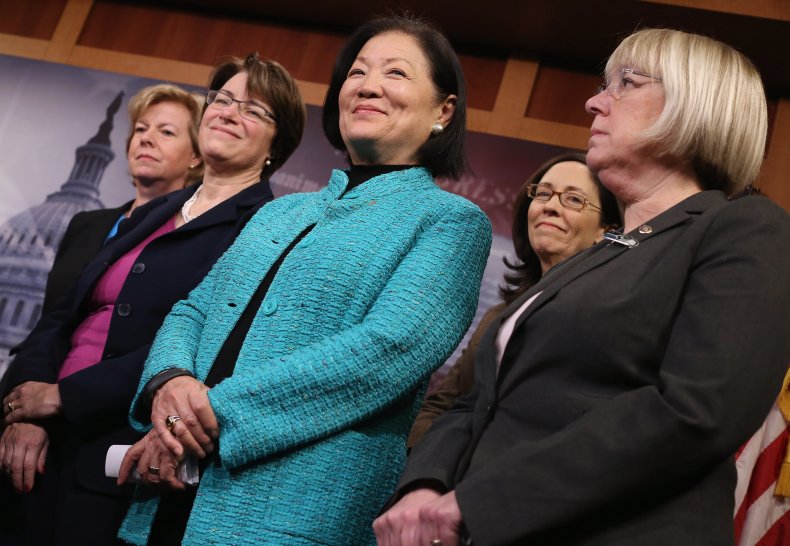 Representatives from McConnell's office did not immediately respond to Newsweek's request for comment.
The Center for Migration Studies estimated that nearly 20 million essential workers are immigrants, which Democrats said lends credence to their argument that they should qualify for a piece of the pandemic relief from the federal government.
"Moreover, many of these indispensable immigrant workers also face additional vulnerabilities such as low incomes and lack of health insurance coverage," the Democrats wrote.
It remains unclear when more pandemic relief will be provided by lawmakers as congressional and White House leaders remained deadlocked over key provisions, such as how to extend the enhanced unemployment benefits even as the surplus officially expired Friday.
The letter was signed by 27 Democrats: Hirono, Murray, Richard Blumenthal (Conn.), Cory Booker (N.J.), Catherine Cortez Masto (Nev.), Ed Markey (Mass.), Michael Bennet (Col.), Jackey Rosen (Nev.), Kirsten Gillibrand (N.Y.), Sheldon Whitehouse (R.I.), Ron Wyden (Ore.), Chris Murphy (Conn.), Martin Heinrich (N.M.), Dianne Feinstein (Calif.), Tom Carper (Del.), Dick Durbin (Ill.), Tom Udall (N.M.), Jeff Merkley (Ore.), Amy Klobuchar (Minn.), Kamala Harris (Calif.), Tim Kaine (Va.), Bob Menendez (N.J.), Bernie Sanders (Vt.), Chris Coons (Del.), Chris Van Hollen (Md.), Elizabeth Warren (Mass.) and Jack Reed (R.I.).