Taylor Swift's Reaction to Jill Biden's Grammy Appearance Goes Viral
Social-media users think they can spot a beef brewing between Taylor Swift and Jill Biden after a viral moment from the 2023 Grammy Awards.
First lady of the United States Biden was appearing at the annual music event to give out an award for which Swift was nominated, but the singer, 33, seemed less than impressed with Biden's entrance to the stage.
The televised moment from Sunday's awards went viral online, with people weighing in on the moment and discussing why Swift might seemingly have a problem with Biden.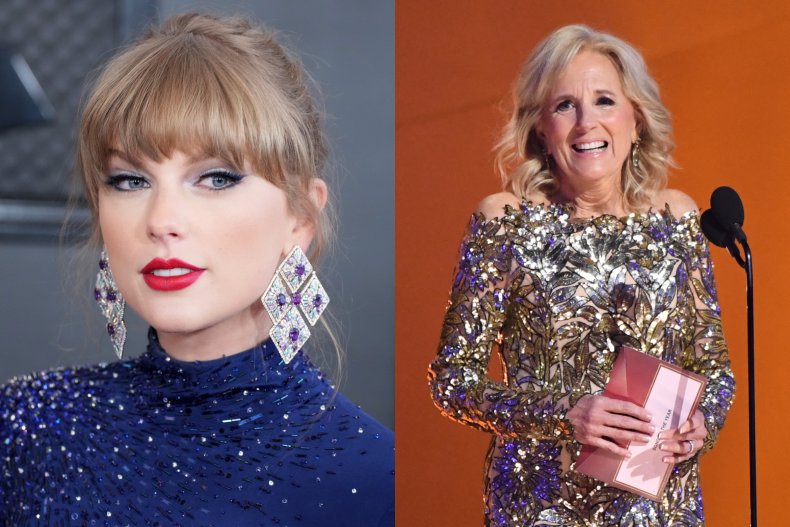 A 21-second clip spread across Twitter of the moment that host Trevor Noah introduced Biden. The first lady walked on stage to a round of applause, but then the cameras switched to Swift, who was visibly unenthusiastic about clapping for Joe Biden's wife. In the moment caught on camera, the star looks at the floor but continues to clap.
"Really disappointed in [Taylor Swift's] reaction here to our [First Lady] who is doing fantastic things for education & cancer research & access to treatment," Twitter user Dolly Maddison wrote. She also reminded everyone that she should have been referred to as Dr. Jill Biden.
Biden's role at the 2023 Grammy Awards was to hand out the awards for Best Song for Social Change and Song of the Year, the latter being a category Swift was nominated in.
Some fans suggested that Swift's reaction can be explained because she was simply nervous in anticipation for her category coming up. That wasn't a good enough explanation for others, though.
"Taylor Swift hates Jill Biden? Didn't have that on my Grammy's Bingo card tonight," tweeted author Ross Patterson.
Swift's seemingly vague political affiliation has often been discussed online. She didn't endorse candidates earlier in her career, but in 2020, she backed Joe Biden and Kamala Harris over a second term of Donald Trump and Mike Pence. This Grammys moment sparked speculation all over again.
"Guessing Taylor is a closet Republican?" one user asked, though others brought up conspiracy theories surrounding the Bidens. "Always knew Taylor was a Bernie bro," wrote user @ceejgates on Twitter.
When Biden finally announced the winner of the Song of the Year Grammy, some of Swift's fans were angry that it went to Bonnie Raitt for "Just Like That."
"Taylor Swift lost her Grammy so I blocked Jill Biden," wrote Twitter user @willbowery, sharing a screenshot of a now-blocked FLOTUS.
Some fans, and TV producer Carina Adly MacKenzie, suggested that Swift's expression can be put down to her inebriation. "I'm no expert* but that is not an 'I don't respect the First Lady' face. It is an 'oopsie I just stood up very fast and immediately realized I am drunk' face," MacKenzie wrote before adding, "*I am an expert."