Teachers Fear Juneteenth School Lessons Amid Critical Race Theory Clampdown
Last year, President Joe Biden signed a bill making Juneteenth a federal holiday.
Juneteenth marks the anniversary of June 19, 1865, when Union soldiers brought the news of freedom to enslaved Black people in Galveston, Texas, two months after the Confederacy surrendered. That was more than two years after the Emancipation Proclamation freed slaves in Southern states.
But many of those Republican-controlled states have in recent years banned so-called critical race theory teachings from K-12 classrooms.
Critical race theory, or CRT, is a decades-old academic theory that examines America's history and institutions through the lens of racism. Some conservatives argue that it promotes division.
Although it is not typically taught in public schools, Texas and 16 other states have imposed bans restricting how race can be taught in schools through legislation or other means, according to an Education Week analysis.
And as June 19 approaches, there are concerns among some educators about whether and how teachers can speak to their students about the history of the nation's newest federal holiday.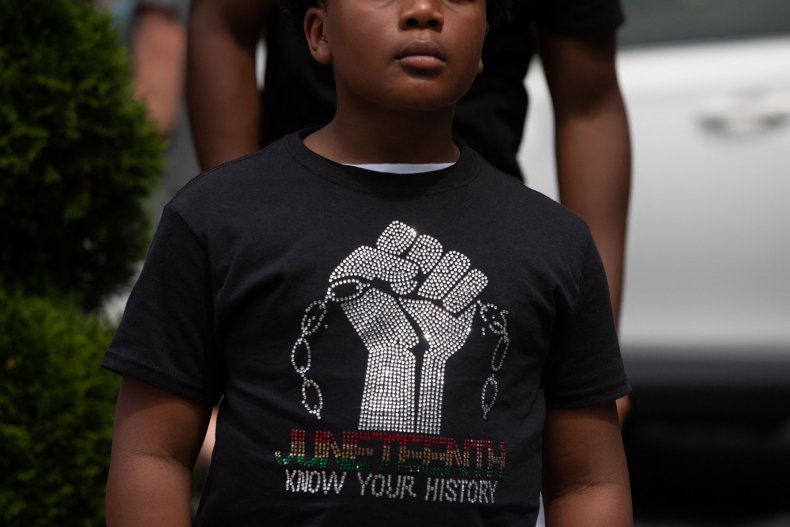 Nothing in the laws as enacted specifically prohibit teachers from telling their students the "objective facts" about the origins of Juneteenth, said Adrienne Dixson, a professor of critical race theory and education at the University of Illinois at Urbana-Champaign.
"There is a way to talk about Juneteenth, even within the limitations that are set by states in terms of the anti-CRT laws," she told Newsweek.
But Dixson, educators and other experts agree the language of the legislation can be interpreted differently and has sown confusion about what kind of instruction is permissible.
"These laws will have a chilling effect for teachers in general, because there isn't a lot of guidance in terms of what can be taught. A lot of the laws are really legislating feelings... it's vague," added Dixson.
The laws prohibit teachers from delving too deep into the aftermath, including looking at the Jim Crow laws in the South and Black people's struggle for civil rights, said Randi Weingarten, the president of the American Federation of Teachers.
"What do these laws basically say? You can teach, quote, the facts, end quote, but not any current analysis of them," she told Newsweek.
That means a teacher would not be able to make reference to the last month's massacre at a Buffalo supermarket, she said. Authorities say the teenage gunman suspected of killing 10 Black people wrote a manifesto outlining his belief in a racist conspiracy theory that white people are being "replaced" by minorities.
"Say a student asks a question about the effect of racism in America today to a teacher in Texas in the middle of lesson plan about Juneteenth... a teacher by the terms of that statute couldn't answer that question," said Weingarten.
"These laws are intended to impede open and honest discussion about some of the hardest parts of our country's past and its impact on our present."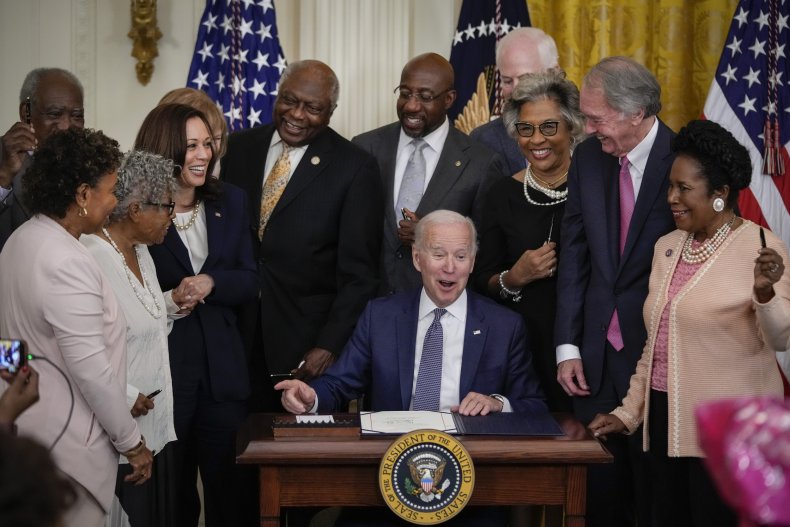 Pointing to tweets from Christopher Rufo, who helped make "critical race theory" a GOP rallying cry, she added: "Their intent is to create fear, their intent is to create chill, their intent is to stop teacher from helping kids learn how to think."
Daniel Santos, who teaches 8th grade U.S. History at Navarro Middle School in the Houston Independent School District, told Newsweek that he teaches the history of Juneteenth and its impact on the Black community in late April, ahead of standardized testing.
He said teachers in some Texas school districts have been "attacked and smeared" by conservative-leaning parents.
So while he is "committed to teaching accurate history" to his students, he fears less experienced teachers may be discouraged by "vocal parents and politicians who wrongly attribute any discussion of race or racism as CRT and thus, dilute their lessons to appease [them]."
Clay Robison, a spokesperson for the Texas State Teachers Association, told Newsweek that some teachers "maybe didn't do everything that they normally would do" on Martin Luther King Jr. Day out of concern they could be antagonizing conservative parents in their districts.
But he noted that Texas has over 1,000 school districts, so how concerned teachers are about the issue may depend on how conservative their district is.
Teachers have been struggling to navigate the minefield of teaching topics like racism and sexism following the increased restrictions in some states.
Many could avoid having difficult conversations with students about America's past for fear of harm to their career and reputation, particularly when cases of teachers being fired over lessons on race-related topics have made headlines.
Under the laws, teachers have to make a decisions about their lessons "at their peril," Weingarten added. The AFT has committed to legally defending any teacher who is targeted for termination, she said.
But there is a "real need" to teach students about the history of Juneteenth, said Colin Sharkey, the executive director of the Association of American Educators.
"Here's a great example of America's stated desires for individual rights being delayed for certain Americans, so there's a significant value in teaching about it," he told Newsweek.
"It's up to each educators to decide where their comfort level is, but the fact that it's a potential concern could be a distraction from the goal the educator has for teaching students about a holiday that many, many Americans weren't familiar with."
Sharkey said he can imagine scenarios where misunderstandings about what was discussed in a classroom lead some parents to think the law was violated.
He suggested teachers maintain transparency with parents who have concerns and called on parents to give teachers "the benefit of the doubt."
"The vast majority of educators we work with are highly educated, very dedicated," he said. "Professionals who don't bring a personal agenda to the classroom other than the wellbeing of their students, and providing them access to a tremendous education."