Teaching 'Oliver!' to the Children of Syrian Refugees in Jordan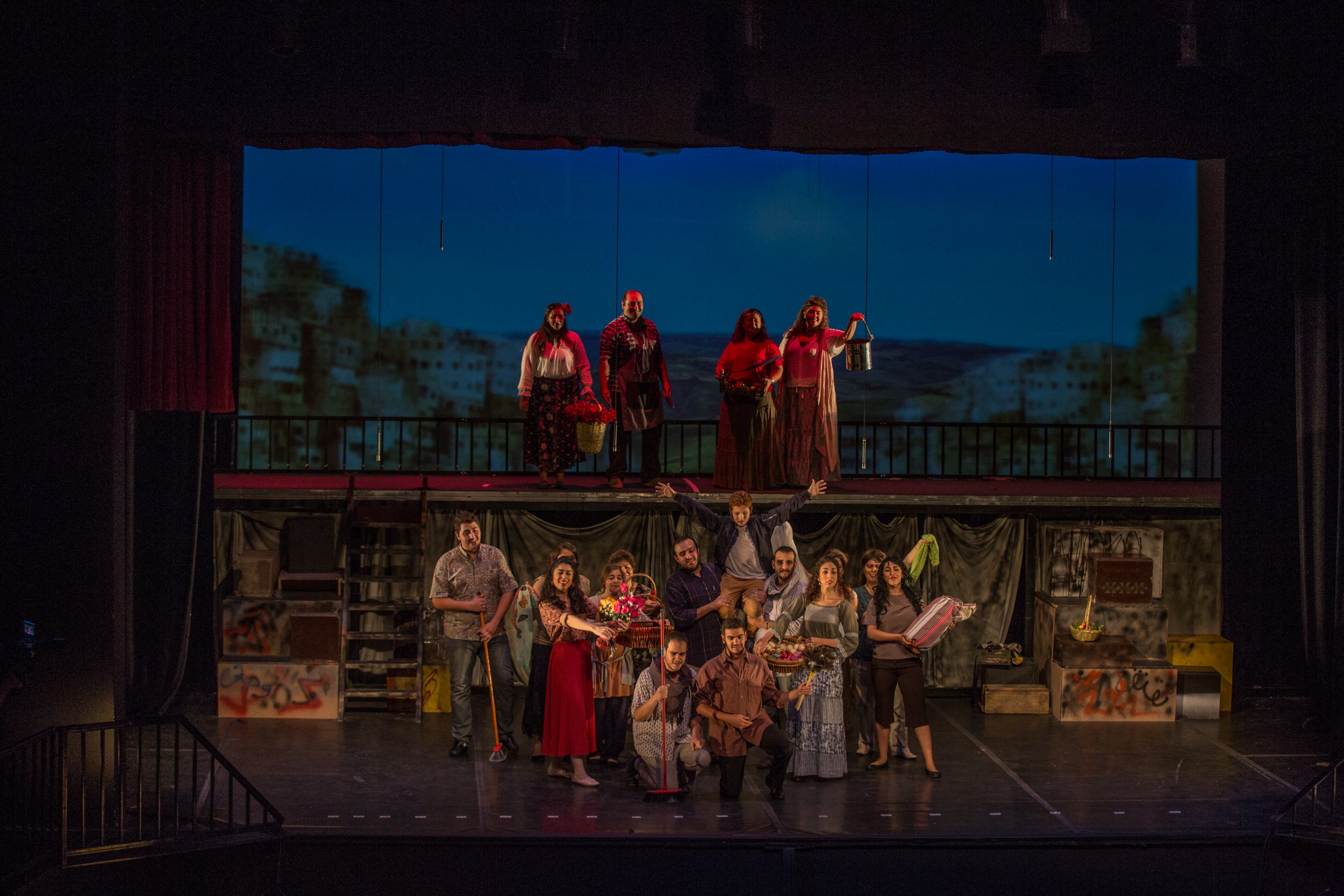 The now-famous photograph of baby Aylan Kurdi, a Syrian refugee who drowned en route to better opportunities, was particularly poignant for 23-year old Reem Al Sayyah. She is also a Syrian refugee, currently living in Amman, Jordan, with her parents and eight brothers and sisters. The family's tiny flat is located in Hashmi Shamali, a downbeat neighborhood and home to many of the 500,000 Syrians who have fled to Jordan since the war in their home country began.
For the last eight months, Reem and I have been running a children's workshop for the musical Oliver! in Arabic, a music and drama therapy project for young Syrian refugees and underprivileged Jordanian children. We translated Oliver!, Lionel Bart's great musical based on Charles Dickens' Oliver Twist, into Arabic, adapted it to fit within the context of a modern Arab city and put it on with a junior cast of Jordanian and Syrian refugee kids. The production was directed by movie star and human rights activist Khaled Abol Naga, the Egyptian answer to George Clooney; translated by Zainab Moborak, Disney's top Arabic translator; and backed by the U.K. impresario Sir Cameron Mackintosh, the man behind Les Miserables and Miss Saigon. It played this last week in Amman to packed houses and standing ovations every night—there was even a physical altercation over tickets at the Box Office.
But throughout August, while Reem was running our last few weeks of workshops in the community center in Hashmi, her 26-year-old sister, Ola, was smuggling herself into Europe with her husband and tiny baby—just three of the 10 million Syrians who have lost their homes since the war began. While Reem and a third sister, Anwar, were marshaling parents, ordering kids' lunches, organizing our move to Amman's Royal Cultural Centre theater, packing kids on buses and dealing with the families' concerns at the ever-changing last-minute rehearsal schedules, Reem kept us updated on Ola's progress.
First, Ola waited in Istanbul for days. Money had to be wired to her using Western Union—$1,500 per head for the journey to Germany. Then came the evening Ola was due to leave. We said facile things like, "It's a very short journey," and, "People go sailing in the Aegean for fun at this time of year," in order to reassure Reem—but we all knew that Ola's journey wasn't in the well-maintained, ballasted boats of the yachting set.
Then Ola's journey was cancelled, night after night: she kept her family updated on Whatsapp.
"Aren't you very worried about Ola?" I asked Khaowlah, Reem and Ola's mother, who was treating her daughter's odyssey surprisingly philosophically. "Life's an adventure," she said with a shrug. Veiled and clad in a long black robe, Khaowlah is the mother of eight and wife of a former lawyer and Syrian Army Colonel (though now her husband is an unemployed refugee); she has been living in Amman for the last three years.
"Would you have thought that before the war?" I ask her.
"Of course not!" she snorted at the absurdity. "The war changed everything for us."
One night, there was no news at all. Reem seemed unnaturally calm. The next morning we got a triumphant call. "Ola's in Greece!" Together with her husband and baby, she had arrived safely at the border-free Schengen land of the EU. We checked in with Ola daily as she caught a ferry to Athens and a bus to Macedonia, then Serbia. Eventually, Ola reached Hungary, and from there she went to Germany, where she's now in an asylum center with husband and baby.
Slowly, the details of Ola's boat journey came out. Although not the deflating death trap of little Aylan and his family, it still was dangerous. "They thought the boat would sink. They had to throw all their suitcases overboard," Reem told me.
Two year ago, Ola was one of our original cast members for Syria: The Trojan Women, the first drama therapy project for Syrian refugees that our company, Refuge Productions, did in Jordan. Our goal is to help refugees get over trauma and depression, give them renewed self-confidence, and new opportunities. The projects often also help them find new communities, get the chance to make friends. We were advised by the UN High Commission for Refugees that urban refugees in particular are often much lonelier and more isolated than those in camps.
The key thing, we've discovered, is to choose plays where the refugees can relate to the characters' experience. It not only helps them work through their trauma, but it means their performances tend to be very strong. For our first project, back in 2013, we chose Euripides' great anti-war tragedy, The Trojan Women, because it was about refugees. We had it translated into Arabic; we ran workshops for 50 Syrian women in Amman, putting their own stories into the text. The all-female refugee cast's performance was so good that the play was invited to tour Washington, D.C., New York, London and Geneva, though we could only get visas to go to Switzerland. Still, we did massive events using Skype at Georgetown University and Columbia.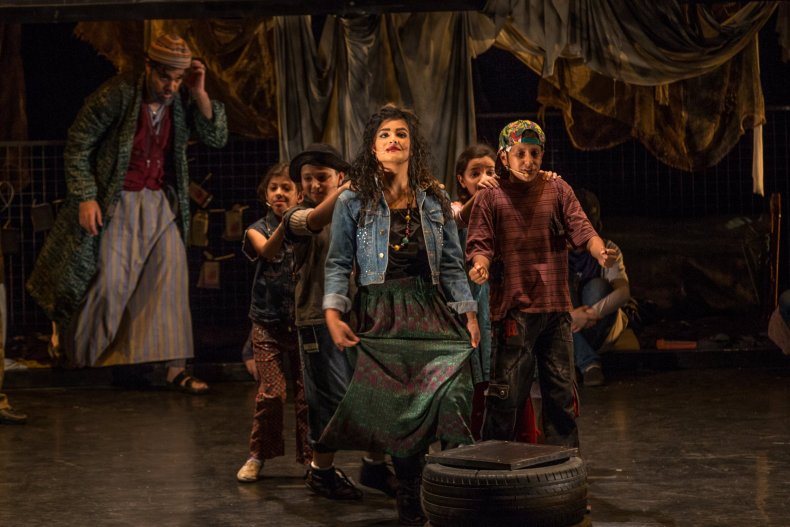 Back then, none of our Trojan Women wanted to flee to Europe. "The war will be over soon. We'll be going home to Syria," they said. They, and over 500,000 Syrian refugees, were waiting it out in neighboring Jordan, a tiny country which suffers from being the most stable place in the Middle East. The Syrians are the third major wave of refugees Jordan has welcomed in the last two generations.
Halfway through the workshops, Ola, who was living with her entire family in their two-room flat, decided to rejoin her husband in Syria. But a year later, the war became too much and they went to Turkey. Though Ola's husband was a doctor, he could only get a job working in a plastics factory. They decided they had to trek to Europe.
Ola is not the only Syrian we know making the trip. A couple of other members of our Oliver! cast have family who have either crossed or are planning to cross quite soon.
We put on Oliver! because a year ago, the Trojan Women asked us to do something for their children. We chose this play because it was about a child who had lost his rightful place in the world, faced temptation, overcame it and enjoyed a happy ending. We planned a six-month music and drama therapy program for 100 children, mixed Syrian and Jordanian, boys and girls, with a performance at the end.
The only problem was a lack of financial support to actually put the program in place. Fortunately, in January, Cameron Mackintosh responded to an email asking for support. "You can count on me and my money," he told me. The idea was to provide music and drama therapy and create bridges between Syrians and their Jordanian hosts while raising awareness of the Syrian refugee crisis which, nine months ago, seemed to be largely ignored.
There is also a gender element at play. Eight months ago, the boys and the girls played separately. Now they are just kids playing together. A couple of leading roles were re-written for girls. For example, the character Charley Bates became Shokolata, played by little Leijla Mustafa. Quite a few of the Syrian girls onstage even wore the hijab veil, which covers the head and chest, but it didn't stop them belting out the songs.
The show opened on the first of September, and begins with a roll of kettle drums. Down the aisles of the packed theater marched a grey-clad mass of children, all Syrian refugees, stamping their feet in unison, and singing the first bars of the iconic opening number, "Food Glorious Food," in Arabic. Instead of "hot sausage and mustard, while we're in the mood/Cold jelly custard," the kids started rhapsodying about "fool"–Egyptian beans with hot oil–"falafel with sesame" and plates of kebabs and hummus.
The theater hushed as the little Syrian Oliver asks, "Please Sir, May I have some more?"
"More?!" bellowed the cruel orphanage owner, before breaking into song. He is Jordanian, like most of the adult cast, with the exception of famous Egyptian opera singer, Elhami Amin, who played Fagin. The Jordanian Christian Dozan choir, all amateurs, provided the chorus and several of the solos.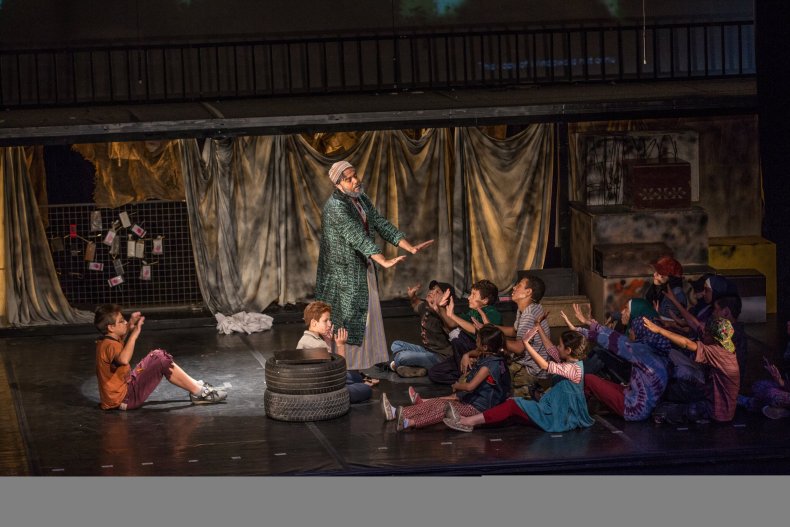 Director and movie star Khaled Abol Naga had an extraordinary vision for this musical. The set was divided into upper and lower stories—the street life of Fagin's underworld, and the uptown of the Arab elite. It's a stark social division that is very recognizable in the Middle East, where there is very little welfare provided by the state.
"This is a great play to choose," said 13-year-old Fadi, who played Oliver. "Because Oliver is a kid fighting for his rights, just like me!" Back in Syria, Fadi's father had his own kitchen appliance business. Now he ekes out a living in Jordan installing satellite dishes. His wife, Maysoon, is working as a seamstress in our costume department, one of several Syrians employed on the project.
"Charles Dickens wrote Oliver Twist as a slap in the face for Victorian England. We want this to be a slap in the face of the Arab World," said Naga.
The Artful Dodger—or NoqNoq in Arabic—was played by Ibrahim, a 14-year-old Jordanian boy from Hashmi. "I'm from the ghetto," says Ibrahim, whose father is a bank clerk. "Oliver! is just like life in Amman. There are loads of street kids in Hashmi. People are always nicking things."
Ibrahim and Fadi did not know each other before the program, despite attending the same school. Now they are firm friends.
"We've just become one big Oliver! family," said 12-year-old Leijla, who played Shokolata. Another boy, 16-year-old Sayyah, said, "This Oliver! play has changed something in my heart."
Oliver! got rather grander than we first imagined when we came up with the idea last autumn. Then it was a superior school play; it turned into the World Premiere of Oliver! in Arabic. But thanks to Khaled Abol Naga's star quality, the production was under the patronage of Jordan's Queen Rania and our director of music is Nayer Nagui, conductor of the world-famous Cairo Opera House.
"I wanted to take the kids who live on the fringes of society—refugees, the underprivileged—and turn them into something of which Jordan is very proud," said Naga.
Although the humanitarian workshops were funded by Mackintosh and other British philanthropists, the Jordanian business and diplomatic communities paid for much of the production. We were not even allowed to charge for tickets under the terms of our licence with Jordan's Ministry of Culture, who gave us the theater for free.
Every night, the audience stood and clapped their way through the five-minute finale, a rousing reprise of "Consider Yourself at Home," sung by our Jordanian Dodger and the Jordanian choir to Syrian Oliver and his gang of Syrian kids. It was a poster for refugee integration.
We have plans now—funding permitting—to record an album to raise money for Syrian refugees; to do a two-week Christmas run, to tour Oliver! around the Zataari and Araq refugee camps—even to try to bring it to London, given our government's U-turn on Syrian refugee applications. We're also looking at running the entire six-month project again in Egypt and Lebanon, with new Syrian and local kids.
Whatever happens with this production, it should stand as a reminder that we cannot abandon the Syrians—what's happening to them is unfathomable, as Aylan Kurdi's drowned body showed this week. The young men and women of this lost generation are extremely vulnerable: lonely, isolated, lacking a sense of their own future. They are ripe to be recruited by the brainwashers of the Islamic State group, or ISIS. We would be not only cruel to abandon them, but foolish.
Charlotte Eagar is an award-winning filmmaker, former foreign correspondent and communications consultant. She has worked on drama therapy projects in Jordan for two years and co-produced Oliver! in Arabic, about which she is currently working on a documentary. She has also co-produced a Syrian-Jordanian audio drama, We Are All Refugees and the play Syria: The Trojan Women.