Tech Workers in Ukraine Put Down Keyboards and Pick Up Rifles, Execs Say
As the Russian invasion of Ukraine continues, an unexpected group of Ukrainian citizens have taken up arms to protect themselves, their families and homeland: tech employees.
Employees in the tech sector are having to put down their keyboards and instead pick up guns, according to one tech executive who spoke to Newsweek. The executive said this is happening throughout the tech industry in Ukraine. Instead of going about their everyday lives and performing tasks at their IT jobs, they've been forced into an unexpected fight for survival.
A second tech executive, Andy Kurtzig, the CEO of JustAnswer.com, an online platform connecting people with experts for professional advice, said that tech employees in Ukraine are doing their part to fight back against the invasion of their country.
"Yes, this is happening. We're seeing them get drafted, we're seeing them volunteer, and we're seeing them training/preparing in the streets proactively for when they get drafted," Kurtzig said.
A third tech executive also said this is taking place. Andrey Klen, co-founder and chief marketing officer of Petcube, a company that produces cameras that monitor pets and connect them to their owners, spoke to Newsweek from a bomb shelter in Ukraine.
"We have several people joining Territorial Defense and regular military forces. Most of the company employees are fighting the informational war—the so-called Keyboard Resistance—while trying to relocate to safer cities in the West," Klen said.
As Klen pointed out, some are still using their keyboards to assist in Ukraine's fight against the Russians. Soon after the invasion began, Mykhailo Fedorov, Ukraine's vice prime minister, announced on social media the formation of an IT army.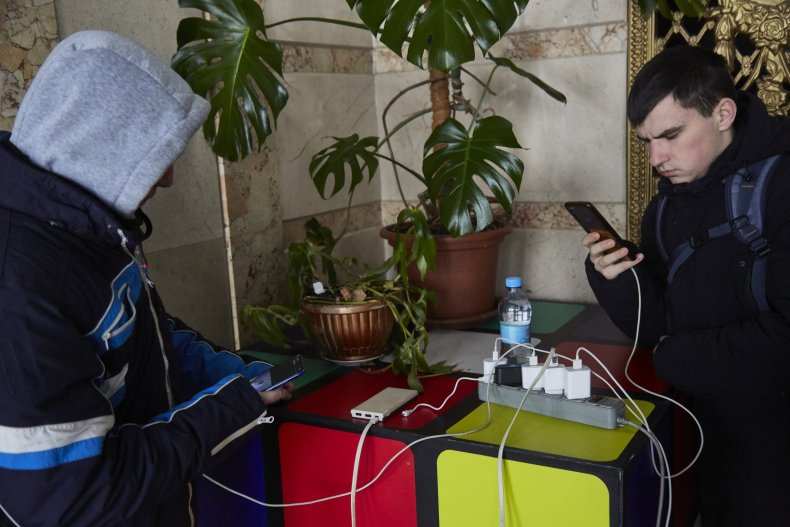 Hundreds of thousands have joined the virtual army, launching cyberattacks against several Russian entities, The Wall Street Journal reported.
The tech industry as a whole is being hurt by the invasion, Kurtzig said, "since many of the businesses you know have a large number of employees in Ukraine, like Google, Amazon to Oracle. But this also hurts thousands of small businesses like JustAnswer too."
Newsweek spoke to one man who wished to be referred to only as "Paul from Texas." While not a tech employee, he is a former infantry sergeant paratrooper in the U.S. Army who has taken up arms and joined the fight, battling the Russians alongside the Ukrainians.
"It is my moral duty to defend the Ukrainians and myself," he said. "Homes are being destroyed, fathers are being sent to the front lines. The least I can do is use my military experience to help these people."
He said he's helping to train Ukrainian civilians and reservists as well as fighting against the Russians himself with the International Legion. The legion, according to Business Insider, is a division created by Ukraine for foreigners looking to help in the fighting.
The man, who has been in Ukraine for more than a year, also said he fell in love with the country and its people while traveling there in 2020.
"It's just a beautiful country, and the people are very optimistic, always looking for solutions and not problems," he said.
Kurtzig said Russia's actions are affecting more than just the IT industry in Ukraine, with wide-ranging repercussions.
"What Russia is doing to Ukraine affects us all," he said. "It hurts our Ukrainian employees, it hurts the nation of Ukraine, and it hurts democracy everywhere."
JustAnswer, which is based in San Francisco, has two offices in Ukraine—in Lviv and Uzhhorod—and a little more than 250 employees in the country. Lviv, according to Lviv IT Cluster, is the "technological center of Eastern Europe."
An executive told Newsweek that while several massive tech corporations have places in Ukraine, bringing those employees to safety in the United States is difficult. He said immigration laws make such moves nearly impossible. For the most part, the executive said, these employees are being abandoned by America.
However, some tech companies are doing what they can to help employees as the fighting in Ukraine continues.
Klen said his company and other small businesses are working to push some of the world's biggest and most influential companies to assist in the fighting.
On its website, the #SupportUkraine movement, which was started just a few days ago, provides companies looking to get involved with an "easy, bare-minimum guide" of three things to do: 1) place a blue-and-yellow ribbon on their logo, 2) issue an official statement "condemning the war" and 3) "stop doing any business with Russia or restrict your business severely."
Some companies have already made moves to limit or suspend their activities in Russia. IKEA has pledged millions to fund the humanitarian effort.
Petcube is looking out for pets affected by the invasion. It recently launched a campaign with resources on how and where to help animals in Ukraine.
Kurtzig and his company, JustAnswer, are doing what they can to help their employees as they worry about their safety and that of their families.
"For this reason, we have committed to paying our employees who defend Ukraine and are guaranteeing their employment upon their return," he said. "Specifically, we will continue to pay 50 percent of their salaries on top of the salaries they will get from the military. We believe this is the best way to support their quest for freedom, and we're grateful to be able to help them fight for Ukraine."
Fiverr, which has an office in Kyiv and helps businesses find freelancers who offer their digital services in more than 500 categories, was working to assist its employees before the invasion.
"The safety and security of our employees in the Kyiv office is our top priority. In mid-January, we began working with our team on an evacuation plan and were successfully able to evacuate many employees and their families before the invasion," a Fiverr spokesperson said.
The spokesperson went on to say that while most of the employees in Ukraine have been moved to areas with better conditions, safety remains a top concern. Fiverr said it is using every channel available and has teams working around the clock to meet the employees' needs.
A spokesperson for the telecommunications company Ericsson, which has more than 200 employees in Ukraine, said, "We are deeply concerned about the situation in Ukraine and are following developments closely. Our priority is to ensure the safety of our people there. We are also in regular contact with our customers to ensure operational contingencies in what is a very dynamic situation."
In response to Newsweek, Grammarly sent the following:
"Grammarly has deep connections to Ukraine. Grammarly was founded in Ukraine, our co-founders are from Ukraine, and we have many team members who call Ukraine home. Grammarly stands with the people of Ukraine. We've been reflecting on how we can do more to help those impacted by the war.
We believe our efforts should be channeled to help Ukraine directly. Grammarly will donate all of the net revenue earned from Russia and Belarus since the war started in 2014 through 2022 to causes supporting Ukraine—totaling over $5 million. We've already contributed $1 million to trustworthy organizations."
Their statement goes on to state how Grammarly has suspended their service in both Russia and Belarus. Also, they mentioned a webpage they've set up that details the company's commitment to the country and also has helpful links to provide help to the Ukrainian people.
Additionally, in order to help get the facts out about what's taking place in Ukraine, the company says they are offering Grammarly Premium, free of charge, to those trusted media organizations in the country reporting about the invasion of Ukraine.
Newsweek reached out to Wix—another tech company with employees based in Ukraine—for comment but did not hear back before publication.