Ted Cruz Berates Garland Over Dobbs Leak Protesters: 'You Did Nothing'
Republican Senator Ted Cruz criticized Attorney General Merrick Garland for his response to protesters following the leak of the Supreme Court's opinion in the Dobbs v. Jackson Women's Health Organization.
"You just said yes, it's a crime to protest at the home of a judge. Same goes for jurors, by the way, with the intent of influencing a case. But in the wake of the leak of the Dobbs decision, when rioters descended on the homes of six Supreme Court justices, night after night after night, you did nothing," Cruz said to Garland during a Senate Oversight Committee hearing on Wednesday. "The Department [of Justice] did nothing."
During the hearing, Cruz said that the Department of Justice "in his judgment" has become "politicized to the greatest extent" that he has ever seen. The remarks by Cruz come amid ongoing Republican criticism of the Biden administration and the current DOJ for what they call a "weaponization" of the federal government.
In May, a draft opinion of a Supreme Court decision that eventually overturned Roe v. Wade was leaked to the public, prompting an array of responses from both sides of the aisle. One individual was arrested in June after he was seen outside of Justice Brett Kavanaugh's home and told police that he intended to hurt him.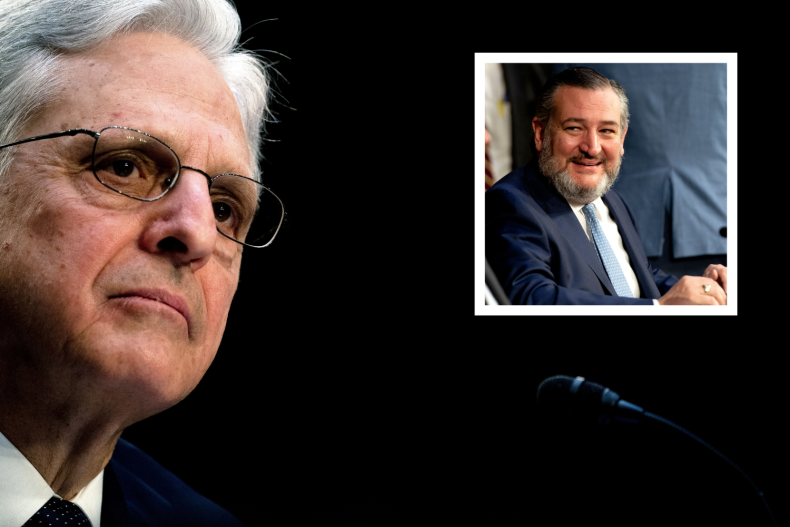 Cruz went on to ask if any other individuals who were seen protesting outside of the justices' homes were prosecuted by Garland's office.
"But did you bring even a single case to enforce this law or did the Department of Justice decide this law doesn't apply if it's harassing justices for an opinion we don't like," Cruz asked.
Garland attempted to explain that he ordered agents from the U.S. Marshal's office to defend the home of each Supreme Court justice, but eventually said that as far as he knows, the DOJ hasn't prosecuted any other individuals accused of protesting outside of the justice's homes.
Cruz also brought up an incident involving Mark Houck, who allegedly attacked a 72-year-old individual outside of a Planned Parenthood clinic in Philadelphia. Houck was accused of violating the Freedom of Access to Clinic Entrances (FACE) Act, which prohibits an individual from interfering, intimidating or injuring a person who provides abortion services.
Houck was later acquitted by a jury and said that he plans to file a lawsuit against the FBI after he described his September arrest and said that numerous SWAT team agents showed up at his home.