Activists Post SCOTUS Justices' Addresses After Roe v. Wade Overturned
Activists started posting addresses they claimed to belong to U.S. Supreme Court justices after the court released a decision Friday that overturns the landmark abortion rights case Roe. v. Wade.
On Friday afternoon several twitter accounts had post addresses that supposedly belong to conservative justices including Brett Kavanaugh and Clarence Thomas, with some of the posts receiving thousands of retweets.
In recent weeks, after the Politico published a leaked draft opinion from the Supreme Court stating the majority on the court favored overturning Roe, abortion rights activists have protested outside of justices' homes.
In May, people dressed as characters from The Handmaid's Tale protested outside of Justice Amy Coney Barrett's home, and Kavanaugh's home also saw protesters.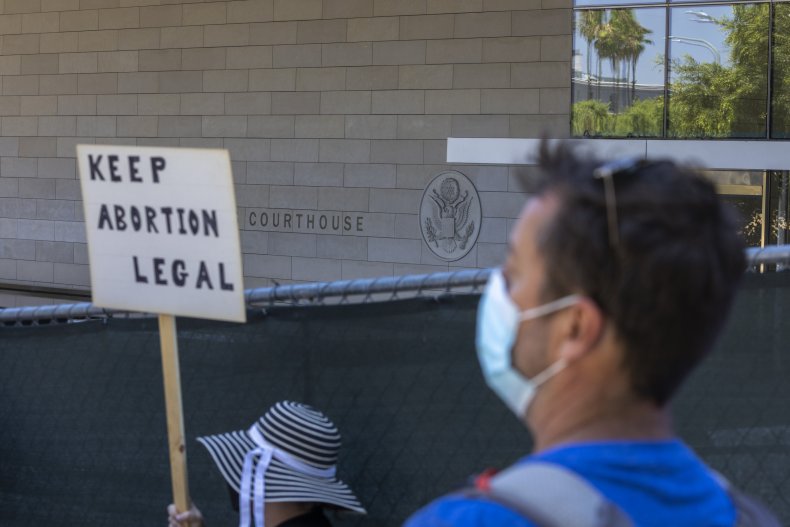 Republicans have criticized the protesters outside justices' homes, and have pushed for increased security for judges in recent weeks. Earlier this month, a man was arrested near Kavanaugh's home, and charged with attempting to murder the judge.
On Friday, President Joe Biden, who condemned the court's decision to overturn Roe v. Wade, urged for protests to be peaceful.
"I call on everyone, no matter how deeply they care about this decision, to keep all protests peaceful. Peaceful, peaceful, peaceful. No intimidation. Violence is never acceptable. Threats and intimidation are not speech. We must stand against violence in any form regardless of your rationale," Biden said.
The president added that with the decision, "the conservative majority of the Supreme Court shows how extreme it is, how far removed they are from the majority of this country."
"They have made the United States an outlier among developed nations in the world. But this decision must not be the final word," Biden said.
Newsweek reached out to the Supreme Court for comment.
On Friday in Washington, D.C., a Roe v. Wade protest resulted in the closure of the Frederick Douglass Memorial Bridge over "safety concerns."
Also on Friday, Representative Alexandria Ocasio-Cortez who marched with abortion-rights advocates, urged abortion rights advocates to march "into the streets."
In the wake of the move, experts say abortion is expected to become illegal in about half of all states.
Planned Parenthood released a statement condemning the decision.
Alexis McGill Johnson, the president of the Planned Parenthood Action Fund, said that with the decision, the court "has now officially given politicians permission to control what we do with our bodies, deciding that we can no longer be trusted to determine the course for our own lives."