Conservatives Blame Left for Inciting Violence Like Plot to Kill Kavanaugh
Conservatives are lashing out at the left for inciting "violence" in the aftermath of the thwarted plot to kill Supreme Court Justice Brett Kavanaugh.
An armed man arrested near the justice's Maryland home in the early morning hours of Wednesday reportedly told police that he intended to kill Kavanaugh. Conservatives have been pushing for increased security for justices as the Court's conservative wing faces backlash from abortion-rights advocates, including protests near their homes, following the leak of a draft opinion indicating that the landmark Roe v. Wade decision is set to be overturned.
Shortly after Nicholas John Roske, 26, of Simi Valley, California, was arrested and charged with attempted murder, Republican lawmakers and other conservatives took to Twitter to denounce the left over alleged calls for violence. Several directly blamed Democratic Senate Majority Leader Chuck Schumer for the reported attempt on Kavanaugh's life, citing a recently re-emerged clip of Schumer warning that Kavanaugh and fellow conservative Justice Neil Gorsuch would "pay the price" for opposing abortion rights in 2020.
"The left always unleashes violence," Republican Representative Marjorie Taylor Greene of Georgia tweeted alongside a clip of Schumer making his comment in 2020. "Now an armed gunman has been arrested near Supreme Court Justice Kavanaugh's house. He was going to kill Kavanaugh."
"Cause and effect," Texas GOP Senator Ted Cruz tweeted while sharing the Schumer clip spliced with a Fox News segment about Wednesday's arrest.
"The Biden White House encouraged a federal crime," Cruz added in a later tweet. "It's illegal to protest and picket outside the home of a judge with an intent to influence the judge's decision. Now a sick individual has been charged with attempted murder of Justice Kavanaugh."
"Attempted violence against a Supreme Court justice isn't random," tweeted Illinois Republican Representative Rodney Davis. "Remember when Chuck Schumer said Justice Kavanaugh 'will pay the price'? Dangerous rhetoric from Democrats like Schumer against SCOTUS threatens our institutions and the safety of justices and their families."
"In the Summer of 2020, Chuck Schumer said Justice Kavanaugh will 'pay the price," GOP Representative Jake LaTurner of Kansas tweeted. "And last month Jen Psaki refused to condemn protests outside the homes of SCOTUS justices. This dangerous rhetoric from Democrats threatens our institutions & the safety of our public servants."
"Radical Democrats and their allies have put a target on the back of the SCOTUS majority," tweeted Loren Culp, a Trump-endorsed Republican candidate for Congress in Washington state. "Left-wing violence is the greatest domestic terror threat in America."
"A man armed with a handgun, knife, and pepper spray was arrested by police near the home of Supreme Court Justice Brett Kavanaugh," tweeted Jenny Beth Martin, co-founder of the conservative group Tea Party Patriots. "The man told police that he was there to 'kill Kavanaugh.' Violence is the left's tactic. Pray for the safety of our Supreme Court."
"This is disturbing, given a man was just arrested outside Justice Kavanaugh's house this morning for wanting to kill him," Georgia GOP Representative Barry Loudermilk tweeted while sharing the Schumer clip. "The Left needs to condemn ALL violence and stop the #DemocratDoubleStandards and hypocrisy."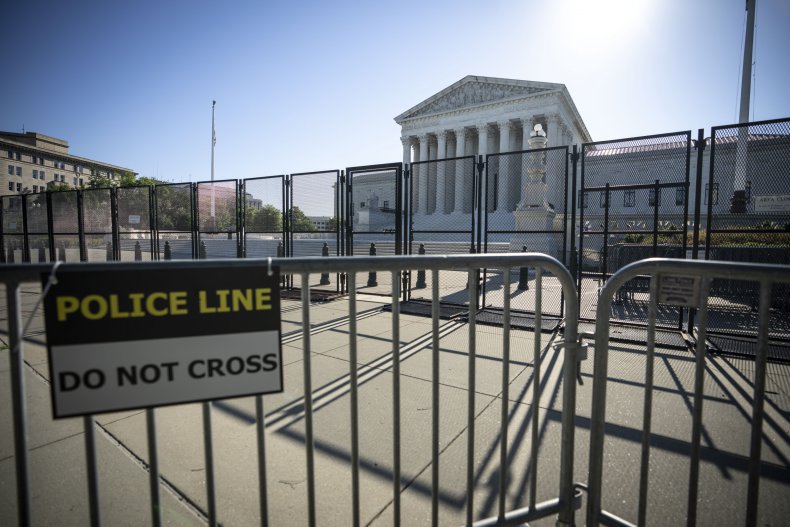 During a speech from the Senate floor, Senate Minority Leader Mitch McConnell of Kentucky also blamed "unhinged, reckless, apocalyptic rhetoric from prominent figures toward the court" for the Kavanaugh incident, while urging Democrats to back a Republican bill to increase security for justices.
Schumer retracted his "pay the price" comment following criticism one day after making it in early March 2020. The senator said that his words "didn't come out" the way he intended, while maintaining that he was speaking only about "political consequences" for those who "stripped away a woman's right to choose."
In response to a request for comment on the latest round of criticism on Wednesday, Schumer's communications director Justin Goodman told Newsweek that it was "clear" the Senate majority leader "supports peaceful protests" and was "thankful law enforcement arrested this person today."