Schumer Telling Brett Kavanaugh He'll 'Pay the Price' for Roe Resurfaces
A video of Senate Majority Leader Chuck Schumer telling Supreme Court Justice Brett Kavanaugh that he would "pay the price" for rolling back abortion rights has resurfaced amid an arrest outside the justice's home in Maryland.
Back in March 2020, Schumer made a speech outside the Supreme Court as justices heard a case about a Louisiana abortion law, warning Kavanaugh and Justice Neil Gorsuch—former President Donald Trump's other appointee at the time—that they could face dire consequences for their "awful decisions."
"I want to tell you, Gorsuch, I want to tell you, Kavanaugh, you have released the whirlwind and you will pay the price," Schumer, who was then minority leader, said at the time. "You won't know what hit you if you go forward with these awful decisions."
On Wednesday, GOP Representatives Marjorie Taylor Greene, Vicky Hartzler and Mike Johnson quoted the Democratic leader after it was reported that an armed man was detained near Kavanaugh's home overnight.
Schumer had previously retracted his comments, saying from the Senate floor that he "should not have used the words [he] used" the day before.
"They didn't come out the way I intended to," the senator said in 2020. "My point was that there would be political consequences—political consequences—for President Trump and Senate Republicans if the Supreme Court, with the newly confirmed justices, stripped away a woman's right to choose."
"Of course, I didn't intend to suggest anything other than political and public opinion consequences for the Supreme Court, and it is a gross distortion to imply otherwise," he added.
In a statement sent to Newsweek on Wednesday, Schumer's team reiterated that the senator has "been clear that he supports peaceful protests and is thankful law enforcement arrested this person today."
"The left always unleashes violence," Greene tweeted on Wednesday. "Now an armed gunman has been arrested near Supreme Court Justice Kavanaugh's house. He was going to kill Kavanaugh."
"Senator Schumer told Justice Kavanaugh that he will 'pay the price' for decisions Democrats don't like," Hartzler added. "And he is leading the Senate? Reprehensible."
Kavanaugh's home was also the scene of a flurry of protests last month after a draft opinion indicating the court's decision to overturn Roe v. Wade was leaked.
The Department of Homeland Security had recently warned that the potential overturning of the landmark case has resulted in increased threats of violence, including the "murdering" of the justices and their legal clerks.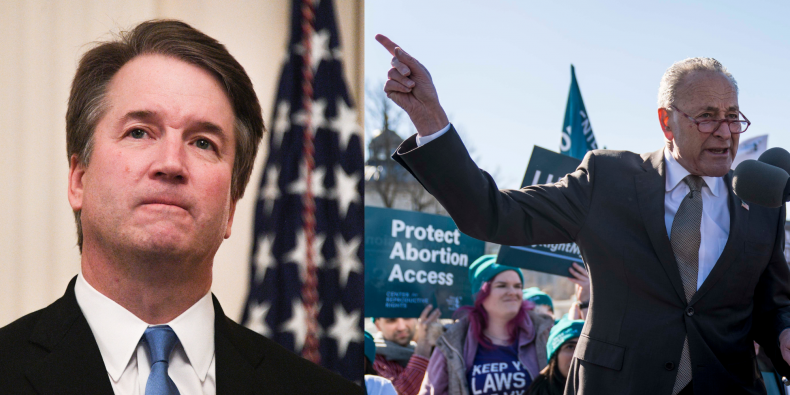 On Wednesday, Jonathan Turley, the Shapiro Chair of Public Interest Law at George Washington University, warned that Schumer's words could be misinterpreted by people like the man who was reportedly armed with a handgun, knife and pepper spray.
"While clearly unintended, some can take the wrong meaning from words like those from Senate Majority Leader Chuck Schumer on the steps of the Supreme Court that expressly referred to Justice Kavanaugh...," Turley tweeted.
In a statement confirming the arrest near Kavanaugh's home, police said, "The man was armed and made threats against Justice Kavanaugh. He was transported to Montgomery County Police 2nd District."
Two people familiar with the matter who spoke to The Washington Post on condition of anonymity said evidence suggested the man was upset by the potential rollback of abortion rights.
This is not the first time Schumer's quote has been criticized by conservatives.
Days after the New York senator made his initial remarks, Chief Justice John Roberts offered a rare rebuke of the "threatening statements."
"Justices know that criticism comes with the territory, but threatening statements of this sort from the highest levels of government are not only inappropriate, they are dangerous," Roberts said in a statement at the time.
Then-President Trump also criticized Schumer's "direct & dangerous threat to the U.S. Supreme Court," tweeting, "If a Republican did this, he or she would be arrested, or impeached. Serious action MUST be taken NOW!"
The senator previously defended his statement by saying that his words were being misinterpreted and that he was referring to the "political price Senate Republicans will pay for putting these justices on the court."
At the time, Schumer spokesperson Justin Goodman said it was "a warning that the justices will unleash a major grassroots movement on the issue of reproductive rights against the decision."
Updated 06/08/22 1:30 p.m. ET: This story was updated with comments from Schumer.