Man Claiming He Prepared to Kill Brett Kavanaugh Was Angry Over Roe v. Wade
A man who allegedly told police that he wanted to kill Brett Kavanaugh and was arrested near the Supreme Court justice's Maryland home overnight was reportedly angry about a leaked draft opinion that indicated the high court was poised to overturn Roe v. Wade.
Two people familiar with the matter who spoke on condition of anonymity cited in a report from The Washington Post said that initial evidence suggested the man was bothered by the potential rollback on abortion rights, as well as a recent wave of mass shootings in the United States. The man did not ultimately make it onto Kavanaugh's property but had been carrying at least one weapon and burglary tools.
Conservative justices have faced significant backlash from abortion rights advocates and protests near their homes since the draft opinion was leaked in early May. Kavanaugh, reportedly among the justices who voted in favor of overturning Roe v. Wade in the draft decision, has been the subject of some particularly strong scrutiny because of his purported comments on Roe being "settled law" prior to his confirmation to the Supreme Court.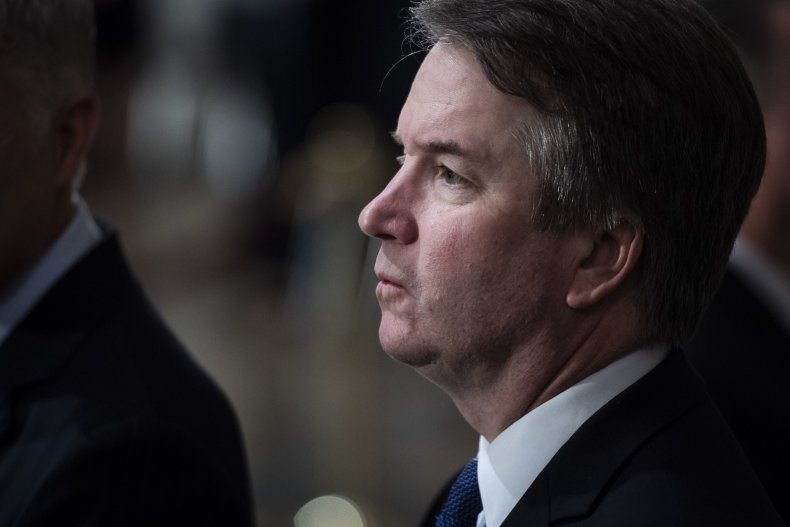 Republican Senator Susan Collins, who is somewhat of an outlier in her party due to her support for abortion rights, said that Kavanaugh told her he viewed Roe as a "settled law" and deeply rooted precedent. Collins was seen as one of the Republican swing voters who could have voted against Kavanaugh's confirmation, but she ended up backing him in a tight 50-48-1 vote in October 2018. Kavanaugh has not publicly confirmed that he made these statements to Collins.
In the wake of the Roe v. Wade draft decision leak, the Department of Homeland Security released a memo warning of an increase in threats of violence against Supreme Court justices if Roe is overturned.
"Some of these threats discussed burning down or storming the U.S. Supreme Court and murdering Justices and their clerks, members of Congress, and lawful demonstrators," the memo said.
While the court verified the legitimacy of the leaked draft opinion, which was released by Politico, it noted that it does not signal a final decision from the court.
In response to Newsweek's request for comment on the arrest and purported links to Roe v. Wade draft decision, Supreme Court public information officer Patricia McCabe shared the following statement: "At approximately 1:50 a.m. today, a man was arrested near Justice Kavanaugh's residence. The man was armed and made threats against Justice Kavanaugh. He was transported to Montgomery County Police 2nd District."
The Montgomery County Police Department told Newsweek in an email that the man, an adult male from California, was taken into custody and transported to one of their stations after they received a call for service near Kavanaugh's home.
The department added that the case has been transferred to the FBI and that it was not able to release any more identifying information on the suspect or the weapon he was allegedly carrying.
Updated 06/08/22, 12:55 p.m. ET: This story was updated with information from the Montgomery County Police Department.