Ted Cruz Blasted After Ripping Newsom on California's Electricity Issues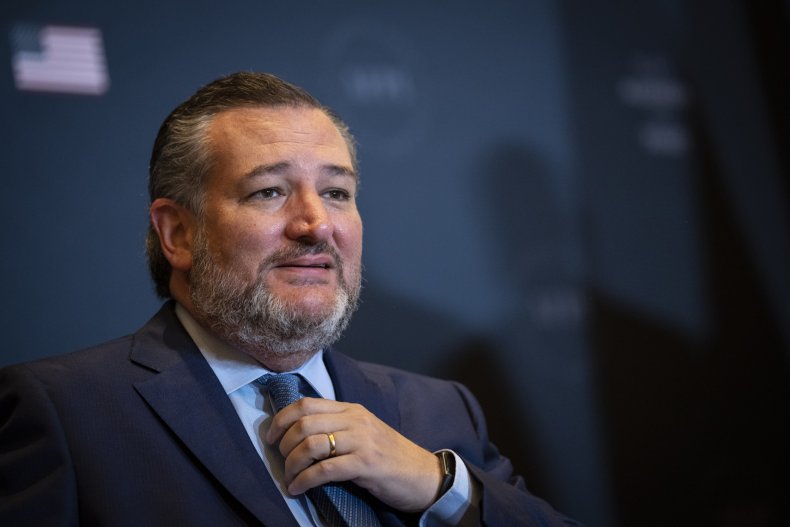 Republican Senator Ted Cruz of Texas is facing backlash after slamming Democratic California Governor Gavin Newsom over his state's electricity issues.
Concerns that California's energy grid could reach a breaking point have recently increased due to high power demands from those hoping to cool down amid an extreme heat wave. Cruz, speaking during a Wednesday night appearance on Fox News' Jesse Watters Primetime, mocked Newsom for wearing a fleece jacket in a video urging Californians to conserve electricity and avoid rolling blackouts by keeping air conditioners at 78 degrees or higher. Cruz also took aim at U.S. climate envoy John Kerry for "lecturing people" on climate change.
"I love that Gavin Newsom was wearing his fleece, obviously in cool air conditioning," Cruz said. "Saying, 'let them eat cake, let them sweat—you don't get air conditioning!' It's like John Kerry, who flies his private jet all over the planet lecturing people that you poor gritty working class with dirt under your fingernails: you need to go without an automobile, you need to turn your air conditioner off. In fact, you need to just stay home and eat worms."
Cruz's comments were received poorly by many on Twitter, with several people pointing out the senator's controversial 2021 family vacation to Cancun, Mexico, while his home state was facing an energy crisis during an unprecedented winter storm.
"I'm old enough to remember when Cruz fled Texas for Cancun during a deadly freeze," sportswriter Michael Schwab tweeted.
"Attn Senator Cancun Wheelie Bag @tedcruz @SenTedCruz," tweeted writer Tara Dublin, alongside a video of Cruz wheeling a bag through an airport at the time of his excursion to Cancun.
"Said the man who fled to Cancun when the separatist grid in his state failed," internet security specialist Amit Serper tweeted. "Ted Cruz is such a loser."
"Ooh, someone has air conditioning!" tweeted television writer Rick G. Rosner. "Ultra-douche Ted Cruz ran away, left his dog in a freezing house."
"Ted Cruz has absolutely no shame at all," tweeted Tim Fullerton, an ex-staffer to former President Barack Obama. "None."
"Ted Cruz flew to Cancun as millions of his constituents dealt with deadly power outages and freezing temperatures linked to a severe winter storm," tweeted journalist John Haltiwanger.
"If there's one person on the planet who shouldn't be talking about this, it's Ted Cruz," podcaster and writer Ryan Phillips tweeted.
Newsom's efforts to convince Californians to conserve energy to avoid large rolling blackouts may have been successful, since plans for the widespread blackouts have not yet come to fruition.
The Democratic governor celebrated avoiding the emergency outages on Tuesday night, although a smaller number of blackouts enacted by mistake were reported the next day.
California's power grid operator later blamed the erroneous blackouts on "miscommunication" that led electricity providers to believe that the outages had been ordered, according to The Center Square.
Newsweek has reached out to the offices of Cruz and Newsom for comment.