Ted Cruz Finds Common Ground With Ilhan Omar Over Ohio Derailment
Senator Ted Cruz found rare common ground with Representative Ilhan Omar over the derailment of a train carrying toxic chemicals in East Palestine, Ohio.
The Norfolk Southern train—carrying toxic chemicals including vinyl chloride, which releases highly toxic gases such as phosgene and hydrogen chloride when burned—fell off the train tracks in the northeastern Ohio town on February 3, resulting in a massive fire. Smoke engulfed the small town, forcing residents to evacuate.
The Environment Protection Agency (EPA), however, has said that it has not detected any signs of the deadly chemicals in the air following the derailment.
But concerns continue to grow about the effect the spill could have on the environment, including its effects on soil and surface water near where it derailed. Several East Palestine Residents have reported health issues and animals suffered from chemical exposure since the derailment. The Biden administration has faced criticism from both Republicans and Democrats over its handling of the situation. No injuries or deaths have officially been reported from the crash.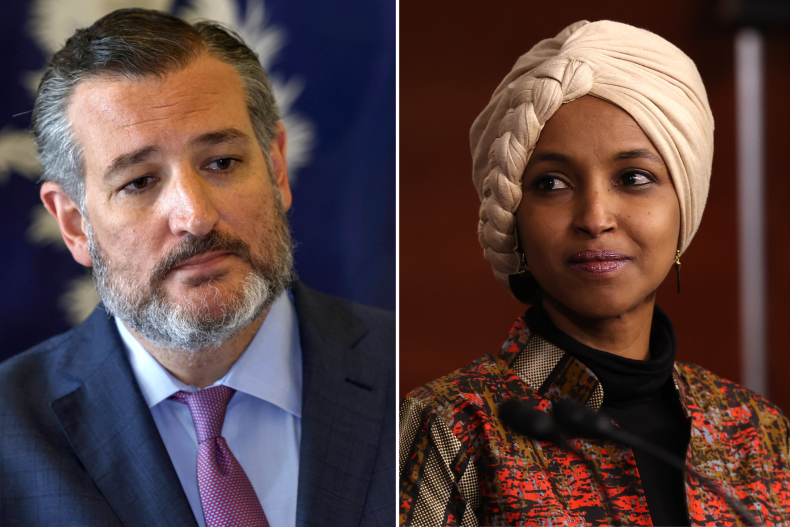 Omar, a Minnesota Democrat, joined the growing number of politicians urging the Biden administration to take further action, calling on Secretary of Transportation Pete Buttigieg to take "direct action" to address the crisis.
"East Palestine railroad derailment will have a significant negative impact on the health and wellbeing of the residents for decades and there is almost zero national media attention," Omar tweeted. "We need Congressional inquiry and direct action from @PeteButtigieg to address this tragedy."
Cruz, a Texas Republican, responded that he agrees with Omar's call for Congressional oversight and a stronger response from the Biden administration. He offered a two-word response to Omar, tweeting "Fully agree."
His response marks a rare moment of bipartisanship between the two lawmakers, who typically find themselves on opposite ends of political issues. Cruz is a staunch conservative, while Omar has built her brand as being one of the most progressive members of Congress. In the past, they have sparred over various issues.
But politicians from both political parties have come together to call for more accountability in the train derailment. Questions have emerged about the disposal of contaminated soil.
Under scrutiny for not issuing public remarks on the situation, Buttigieg first tweeted about the train derailment on Monday, pledging that his department will look into the results of investigations of the derailment's impact on the environment and "use all relevant authorities to ensure accountability and continue to support safety."
"I continue to be concerned about the impacts of the Feb 3 train derailment near East Palestine, OH, and the effects on families in the ten days since their lives were upended through no fault of their own," Buttigieg tweeted.
Newsweek reached out to the offices of Senator Cruz and Representative Omar for comment.